The Celebrification of the White House Staff
Ronald Reagan's former chief of staff says serving as the president's right-hand man isn't the job it used to be.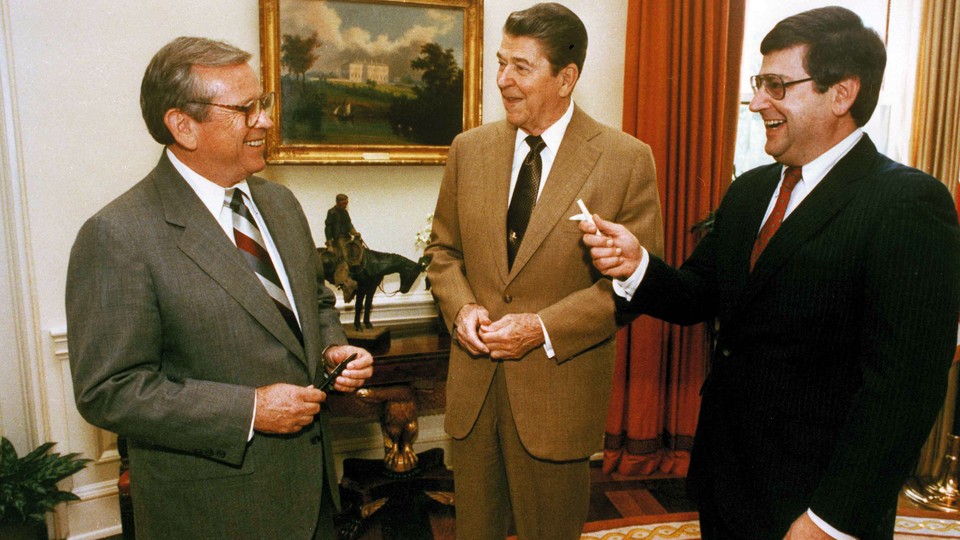 We've become accustomed to the celebrification of the White House staff. We read about their birthdays in Playbook, their marriages in The New York Times and even what shoes they wear in — wait for it — The Washington Post.
But Ken Duberstein, formerly chief of staff to Ronald Reagan, says working in the White House was once a much more behind-the-scenes kind of job. Particularly for the White House chief of staff.
"The job has grown," he said, "not necessarily in stature, because all your power is derivative and it's inside, but in the sense of the public profile. Back in my day, the White House chief of staff had a passion for anonymity."
His comments to National Journal came shortly after current White House Chief of Staff Denis McDonough took to the airwaves to make the administration's case for a Syria strike, appearing on five major Sunday-morning talk shows in advance of President Barack Obama's prime-time address last Tuesday. McDonough served as a figurehead for Obama, making the case that the U.S. needs to help enforce the international prohibition against chemical weapons by taking action against Syrian President Bashar al-Assad.
That kind of blanket media appearance contrasts with how a chief of staff would act in Duberstein's day. "You were working there on behalf of the president," he said. "You didn't have 10 people or 15 people on your staff. It was you and the staff coordinator. Now it has become an institution."
Duberstein was speaking to National Journal from the red carpet screening of The Presidents' Gatekeepers, the newly released documentary based on interviews with all 20 of the living White House chiefs of staff.
Although the documentary, which premiered Wednesday on the Discovery Channel, never settles on a single narrative about how the role of White House staff has evolved, attendees at last week's premiere had some ideas of their own.
Reggie Love, the 31-year-old former personal aide to President Obama, told National Journal the only change in White House staff he'd noticed had more to do with something else: "The only thing I noticed that was very different was that I was the only African-American."