The Biggest Reactions to Obama's Syria Address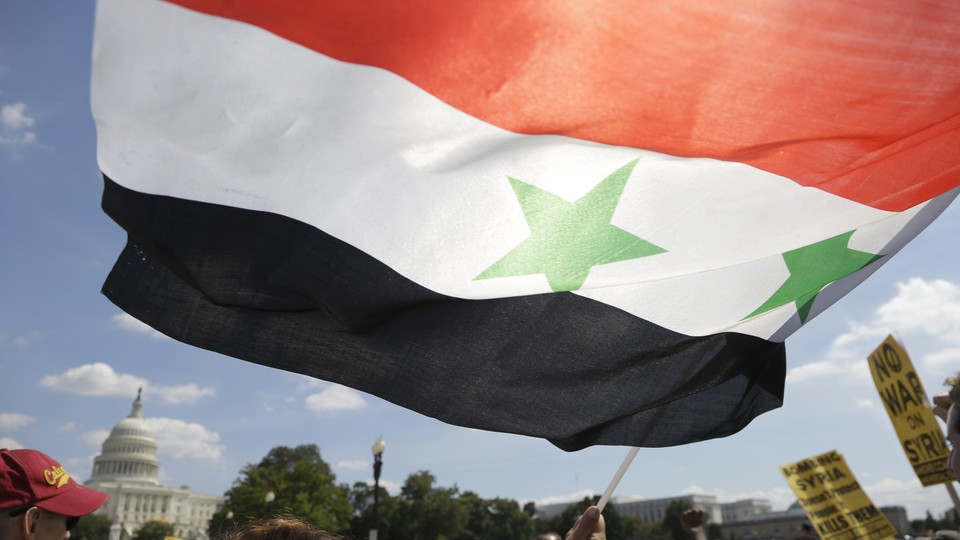 President Obama's big national address on Syria tonight wasn't aimed just at a deeply skeptical American public. It was also targeted to the members of Congress who could decide the fate of the Obama administration's actions on Syria, including the request for an authorization of force.
What those actions could look like is totally in flux as of Tuesday afternoon, with a new report from The Wall Street Journal that Syria is not only acknowledging it has chemical weapons for the first time, but also saying Syria would tell the "United Nations, Russia, and others" where they are located. This development comes a day after Syrian President Bashar al-Assad declared to an American audience that his country has never used such weapons and refused to comment on whether Syria had a stockpile.
With the White House privately starting to believe it may not have the votes for an authorization of force, the administration has spent some of the last day trying to win Republican Senate support for getting a new agreement through Congress, reports National Review's Robert Costa. That agreement could be pegged to the diplomatic progress made over the last day, and it could be something we all hear more about tonight.
So far, Obama has given many of his usual staunch opponents a good deal of face time to discuss the possibilities on Syria. Obama and Vice President Joe Biden hosted a group of Republican senators — including Lindsey Graham, Kelly Ayotte, and Saxby Chambliss — for dinner (Italian was served) at the Naval Observatory on Sunday. And a half-dozen Republican lawmakers were granted the attention of White House Chief of Staff Denis McDonough this week.
So how did some of the big names react to the president's speech? Below are the names we're looking out for. We'll update this story as reactions come in.
Sen. Mark Warner, D-Va.
After the speech, the Senate Select Committee on Intelligence member said he would work with his colleagues to draft a bipartisan resolution aimed at solving the conflict diplomatically. He echoed Obama's repeated calls for preserving international norms on chemical warfare: "This was an atrocity that has been banned by international agreement for almost a century, and this conduct deserves strong international condemnation."
Sen. Tom Harkin, D-Iowa
Sen. Patrick Leahy, D-Vt.
The chairman of the Senate Judiciary Committee has so far been "very, very wary" of action against Syria. He also had a meeting with the president on Tuesday. He hasn't commented on Tuesday's address.
Sen. Marco Rubio, R-Fla.
He voted against a strike last week, but he hasn't yet commented on Tuesday's address.
Sen. Rand Paul, R-Ky.
Because, well, also 2016. And the senator, who flirted with a Syria filibuster, gave a video response to the president's address. Key quote: "If the vote occurs, I will vote no."
He continued on Twitter:
I wont vote to send my son, your son, or anyone's daughter to war unless a compelling American interest is present. #RandResponds

— Senator Rand Paul (@SenRandPaul) September 11, 2013
Sen. John McCain, R-Ariz.
McCain, one of the prominent foreign policy voices in the Republican Party, supported the authorization of force in the Senate Foreign Relations Committee, all the while still not being quite on board with the Obama administration. On Tuesday, the senator noted he was "very skeptical" of a chemical-weapons deal.
McCain and joined Sen. Lindsay Graham to blast out a joint press release soon after the speech. "We appreciate the President speaking directly to the American people about the conflict in Syria," they began. But the appreciation ended about there.
We regret, however, that he did not speak more forcefully about the need to increase our military assistance to moderate opposition forces in Syria, such as the Free Syrian Army. We also regret that he did not lay out a clearer plan to test the seriousness of the Russian and Syrian proposal to transfer the Assad regime's chemical weapons to international custody.
Sen. Elizabeth Warren, D-Mass.
Progressive have praised Warren for being a strong voice on several economic issues. But how does she stack up on foreign policy? Does she stand by the president who has supported her in recent years, or does she join others on the left in opposing action in Syria, with the memory of Iraq still haunting them? She has yet to comment on the speech.
Rep. Steve Israel, D-N.Y.
POTUS appealed to people's hearts. I hope it changes people's minds. Also hope Russia deal is real.

— Steve Israel (@RepSteveIsrael) September 11, 2013
Sen. Kelly Ayotte, R-N.H.
Having joined Sens. McCain and Graham on several issues of foreign affairs, it would surprising if she separated from the two men on this issue. She was among the crowd dined by the president and vice president on Sunday. Late Tuesday, she took to Twitter:
POTUS gave impt speech tonight & I'll continue to ask tough Qs to ensure US is acting in our national security interests (1/3)

— Kelly Ayotte (@KellyAyotte) September 11, 2013
Am skeptical of Putin & Assad's credibility & the UN's ability to achieve this type of outcome (2/3)

— Kelly Ayotte (@KellyAyotte) September 11, 2013
But getting the Assad regime to turn over chemical weapons to intl community w/ verification would make the world safer (3/3)

— Kelly Ayotte (@KellyAyotte) September 11, 2013
Sen. Susan Collins, R-Maine
She was also at the dinner at the vice president's house. She's a "lean no" right now. Does she change her mind after this latest round of pressure from the president?
Rep. Buck McKeon, R-Calif.
The House Armed Services Committee chairman presided over a hearing with Secretary of State John Kerry, Defense Secretary Chuck Hagel, and Joint Chiefs of Staff Chairman Martin Dempsey on Tuesday, where he asked them if the president is still planning to ask Congress for an authorization of force. Kerry's answer — "We're not asking Congress not to vote" — didn't clear things up. We have yet to see a speech reaction from him.
Rep. Michael McCaul, R-Texas.
The House Homeland Security Committee chairman has been opposed to a strike on Syria, and doesn't buy into the Obama administration's national security arguments.
Here's what he stated Tuesday night:
Like all Americans, I am hopeful a diplomatic solution can be reached, however, I am skeptical of any proposal proffered by the Russians and doubt Assad's motives for agreeing to this plan. A credible threat of military force will have to remain on the table if diplomatic efforts are to have any hope of succeeding. Chemical weapons are only one of the many national security threats we face in Syria, and the President still urgently needs to develop and execute a coherent strategy to address all of those threats.
Rep. Justin Amash, R-Mich.
Although his Twitter feed suggests otherwise, Amash remains undecided on the resolution. The Michigan lawmaker has live-tweeted a series of town-hall meetings on Syria and retweeted fellow House members who say they will vote no. After the speech, Amash characteristically took to Twitter:
Pres Obama said nothing new in that speech. He simply restated unpersuasive points we've heard in public statements & private briefings.

— Justin Amash (@repjustinamash) September 11, 2013