Tea Party Express: Don't Let Syria Distract From the Fight Against Obamacare
The group sent out an "URGENT" fundraising message, accusing the president of using foreign intervention to derail the fight against his health-care law.
The missive arrived under the name of Andy Surabian, political director of the Tea Party Express, the most electorally powerful of the various national Tea Party groups. The subject line: "URGENT: Don't let Syria distract you."
Of course I had to click through.
"Fellow Tea Party Activist," the letter began. When did I sign up for this list again? I asked myself, recalling earlier in the day my surprise at discovering I still follow Herman Cain on Twitter.
While the Obama administration is busing [sic] fumbling the international crisis in Syria, they are hoping that this will distract the American people from the fight that we are waging back home: the battle to defund Obamacare.
So much is packed into that one sentence. Isn't Congress, which will decide what to do in Syria, back home now, too, for recess? But I understood what they were driving at, even as the email raised other questions, such as: This is really the argument they want to make right now?
President Obama would love nothing more than for us to lose focus and turn our attention to the tumultuous Middle East while he walks us off the government-run healthcare cliff.
I am going to have to ask the White House about this, clearly.
We can't be distracted and need your immediate support so we can continue to work tirelessly to rid America of this horrendous law.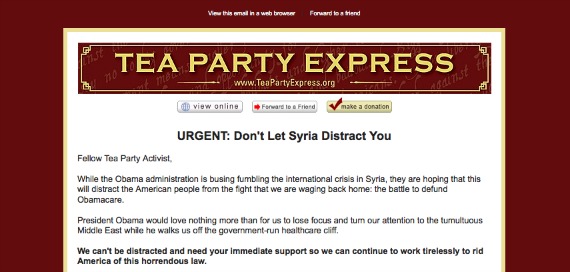 Ah, a fundraising appeal. Of course.
It can be hard for organizations to turn on a dime and tie their messaging to current events. Just ask whoever is behind Kenneth Cole's Twitter account. But sometimes mixing messages can, well, just send a mixed-up message.
That said, maybe it's just hard to compete with the Obama campaign's record-breaking header "Hey."