'Southern Avenger' Jack Hunter to Speak at Same Conference as Rand Paul
After his neo-Confederate alter ego was revealed in June, Hunter left a post as the Kentucky senator's social-media director.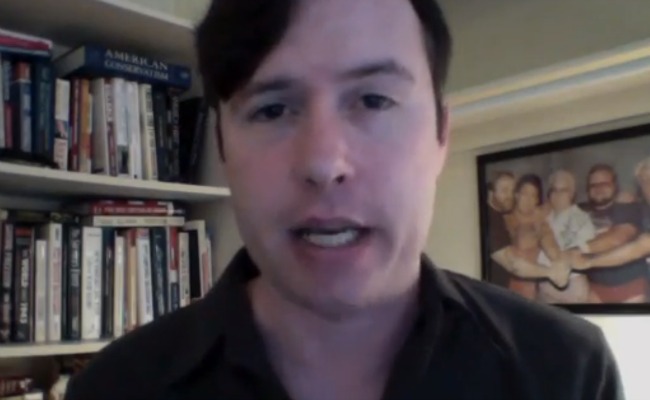 In June, Rand Paul parted ways with Jack Hunter, an aide and co-author of Paul's 2011 book The Tea Party Goes to Washington, after the Washington Free Beacon revealed that Hunter used to be a neo-Confederate shock jock called the Southern Avenger, a columnist who compared Abraham Lincoln to Saddam Hussein, and the former chairman of the Charleston, South Carolina, chapter of the League of the South, a secessionist group.
But no hard feelings: On Thursday, the Republican senator from Kentucky is scheduled to speak at the Liberty Political Action Conference in Chantilly, Virginia, sponsored by the libertarian organization Campaign for Liberty. On Saturday, so is Hunter, his former social-media director.
The Campaign for Liberty, which is sponsoring the conference, is chaired by former Rep. Ron Paul, the senator's father, who is also scheduled to speak along with an array of other libertarian and Paul-world figures. Hunter was a campaign blogger for Ron Paul's 2012 presidential primary bid.
The conference speaker list does not mention Hunter's work in the Senate for Paul and describes him as "Jack Hunter, Radio Host, Columnist":
Jack Hunter is a radio personality and author who has appeared on Fox Business, Glenn Beck, and Michael Savage, and who has frequently guest hosted The Mike Church Show on Sirius XM. Mr. Hunter is the co-author of The Tea Party Goes to Washington (2011) with Sen. Rand Paul and assisted former Sen. Jim DeMint with his book Now or Never: How to Save America from Economic Collapse (2012).
Rand Paul recently called Hunter's earlier writings "stupid" and said he was not aware of them when he hired him.
Other politicians on the speakers list for the conference include: Thomas Massie of Kentucky; Steve Stockman of Texas; Paul Broun Jr. of Georgia; Mark Sanford of South Carolina; and Justin Amash of Michigan. All are Republicans.
Megan Stiles, a spokesperson for the Campaign for Liberty, said both Pauls were aware of Hunter's participation in the conference and "are still speaking at our event." Senator Paul's office did not immediately respond to a request for comment.