Republican Rebranding Shows No Sign of Working
United Technologies/National Journal Congressional Connection Poll finds GOP still struggling with women, blacks, and Hispanics.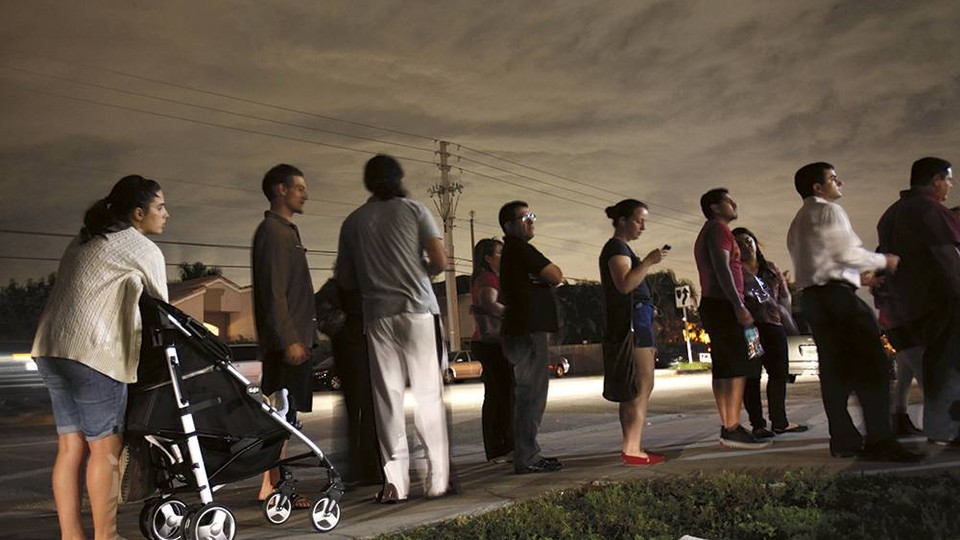 Despite months of Republican talk about rebranding the party to broaden its appeal, nearly half of all Americans say the GOP hasn't changed much since it lost the 2012 presidential election.
According to the latest United Technologies/National Journal Congressional Connection Poll, 46 percent of respondents said "there has been no change" in the Republican Party's views since the 2012 election.
Thirty-two percent of respondents said the GOP is "further from representing" their own views, twice as many as those who said the party has gotten closer to them (16 percent). Not surprisingly, Democrats were most likely to say the GOP has moved further away from their views, but a majority of independent voters (52 percent) said they had seen no changes in the GOP's views since the last election.
In the months after the 2012 election, the Republican National Committee planned an "autopsy" of the party's electoral failures. Part of the report's goal was mechanical: President Obama's win demonstrated that the Democratic Party's get-out-the-vote and targeting techniques had outstripped the GOP's, and party leaders wanted to close the gap. But another goal was to lay the groundwork for a more inclusive Republican Party. Presidential nominee Mitt Romney essentially matched his party's best-ever showing by a challenger among white voters, but it was not enough to win the White House, partly because Obama matched Democrats' best-ever performance among Hispanic voters.
That prompted RNC Chairman Reince Priebus to say his party and its policies had to be "more sellable, more believable, more heartfelt to people" and that "we cannot be a party of just white people." But more than nine months later, Republicans are still struggling to connect with two of their target groups — women and nonwhites.
According to the United Technologies/National Journal Congressional Connection Poll, 14 percent of female poll respondents said the party had moved closer to them, but 33 percent said it had moved further and 46 percent said there had been no change. Nonwhites responded at almost exactly the same rates: 14 percent said the party had moved closer to them, 34 percent said it was further away and the biggest group, 48 percent, said there had not been a change.
A follow-up question further illuminated the push and pull that animates the GOP. Of the poll respondents who said the Republican Party had moved away from them this year, most (57 percent) said the GOP had gotten too conservative. But nearly two-thirds of the Republicans and GOP-leaning independents who said the party had moved away said it was no longer conservative enough.
Overall, that works out to 13 percent of registered Republicans saying the party as a whole is not conservative enough for them — a relatively small fraction, but also one that is highly motivated and often influential. (Virtually no incumbent Republican senators manage to run for reelection anymore without some sort of challenge from the right, while the number of competitive House primaries is on the rise, too.)
The poll, conducted Sept. 25-29, interviewed 1,005 adults over landline and cell phones. It has a margin of error of plus or minus 3.7 percentage points.