Rapping American Terrorist Killed by Terrorists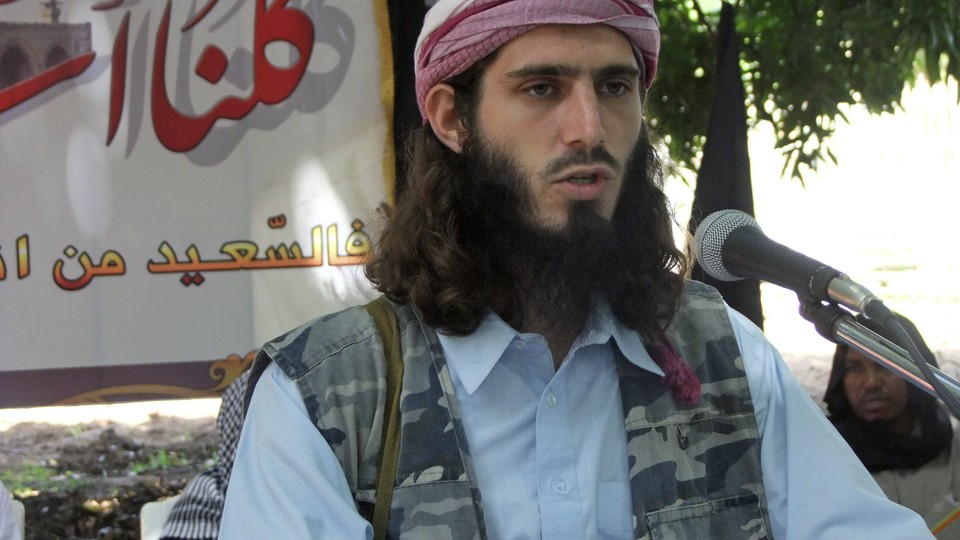 Members of a Qaida-affiliated group in Somalia killed an American-born Islamic militant Thursday. But this wasn't just any militant. This one was known for his raps.
Once part of al-Shabaab in Somalia, Omar Hammami — also known as Abu Mansoor al-Amriki ("the American") — had a falling out with some of the group's top commanders, leading to an apparent assassination attempt on him in April. Since then, he's been on the run, and tweeting about his troubles.
He was born in Alabama and is fluent in Somali; he joined the group in 2006 when he was 22. He became an influential leader, fighting against a Western-backed government in Somalia. In 2012, he was added to the FBI's Most Wanted Terrorist list with a $5 million bounty on his head.
But what got him more attention were his propaganda videos that contained some objectively pretty terrible rap songs, with no beats and with lyrics about jihad and killing Western forces.
Like this one, called "First Stop Addis," with lyrics such as:
From Mogadishu, first stop Addis, 

gonna knock America down to her knees. 

Better call Zenawi, Bush, and Condoleez, 

Marines, Army, Navy, and the police.
Or this one, called "Make Jihad with Me," rapping about:
Attack America now, martyrdom or victory. 

We're taking Nairobi to Addis, 

Paradise inside, 

come on, Muslim brother, bring your money or your life.
Foreign Policy has a compilation of rap songs from various Islamic militants.
Hammami's rap career is apparently over now, however, as al-Shabaab militants caught up with him and his colleague, Usama al-Britani, a British national, in a dawn raid in the southern Somali village of al Baate, Reuters reports.
But for good measure, he's another one of Hammami's classics, "Blow By Blow."
Unfortunately your browser does not support IFrames.