Poll Shows More Bad News For Obama
Only 25 Percent of Americans Say the Country Is onThe Right Track. Just 14 Percent of Whites Say His Agenda Will Help Them.
For President Obama, the season's first frost has arrived early.
As Obama prepares for another round of budget confrontations with House Republicans, the latest Allstate/National Journal Heartland Monitor Poll finds that attitudes about the country's direction, the economy's trajectory, the impact of his policies, and his job performance have all chilled conspicuously since the previous survey in June. On some of these measures, Obama faces the weakest rating — especially among whites — he has ever received in Heartland Monitor polling, which began in April 2009. The one silver lining for the president: Congress receives even worse assessments.
The survey, conducted by the Strategic Communications practice of FTI Consulting, surveyed 1,000 adults by landline and cell phone Sept. 3-7, immediately after Obama initially asked Congress to authorize military strikes against Syria.
The gloom starts with the most basic question. Just 25 percent of those surveyed say the country is on the right track, while 64 percent say it is moving in the wrong direction. That's the most pessimistic finding on both fronts since two surveys in the fall of 2011, shortly after the last debt-ceiling standoff.
Obama's job-approval rating has also skidded, with just 40 percent rating him positively. That's the lowest approval rating the president has received in any of the 18 Heartland Monitor polls. His disapproval rating spiked to 54 percent, also his weakest showing in the surveys. Both numbers represent a sharp deterioration since the June poll.
The share of adults who strongly disapprove of Obama's performance (39 percent) is now double the share of those who strongly approve (19 percent). This 20-point gap exceeds the poll's biggest previous disparity and raises the possibility that, as in 2010, Obama's critics will be more motivated than his supporters to vote in the 2014 midterm election.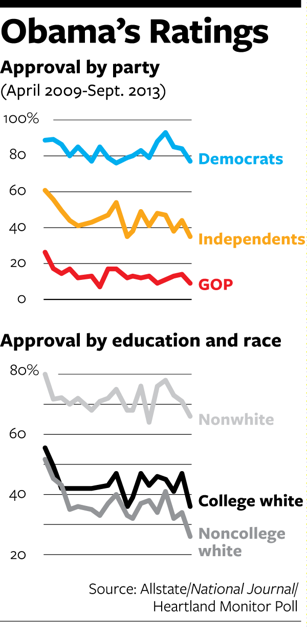 The president's grades deteriorated on two economic questions as well. Just 37 percent say his economic policies are helping "to avoid an even worse economic crisis, and are fueling economic recovery," compared with 50 percent who say they have "run up a record federal deficit while failing to significantly improve the economy." That's also a decline since last summer, and the most negative response Obama has received on that question.
Even more striking, just 22 percent say the Obama administration's actions would increase opportunity for people like them to get ahead, while 47 percent say his actions would decrease those opportunities. That's the smallest positive, and largest negative, responses Obama has ever received on this question.
And, for Obama, even these meager ratings are bolstered by continued (albeit somewhat slipping) support among minorities. With whites, his standing is much worse. In the latest poll, just 30 percent of whites say they approve of his job performance (compared with 64 percent who disapprove), and only 14 percent say his agenda will increase opportunity for people like them (compared with 56 percent who say it will diminish those opportunities).
On both fronts, that's the lowest rating among whites the poll has measured for Obama.
As throughout his career, the president's position is especially vulnerable among whites without a college education: Just 26 percent approve of his job performance, and a tiny 11 percent say his agenda would improve their prospects. But since June, he's fallen even faster with college-educated whites.
Congress doesn't fare any better. Only 13 percent approve of its performance, also the lowest the poll has ever recorded. Just over three-fourths disapprove.
All of these dim assessments are linked to gathering economic anxiety. The share of adults who describe their financial situation as excellent or good dropped from 49 percent in June to 44 percent now; perhaps more important, the share who expect the economy to improve over the next year fell from 37 percent to 28 percent. That decline was especially sharp among whites, only about one-fifth of whom now expect improvement over the next year. That's down from about half in September 2012.
Like Obama's sagging numbers, those results should ring alarms for Democrats before a midterm election in which whites (especially older ones) will almost certainly cast a larger share of the vote than they did in 2012.
---
Michael Mellody contributed contributed to this article