Pity the Poor Congressman: 'I'm Stuck Here Making $172,000 a Year'
Phil Gingrey, a Georgia Republican, complains about health care costs, lamenting that staffers can go to K Street to profit but he can't.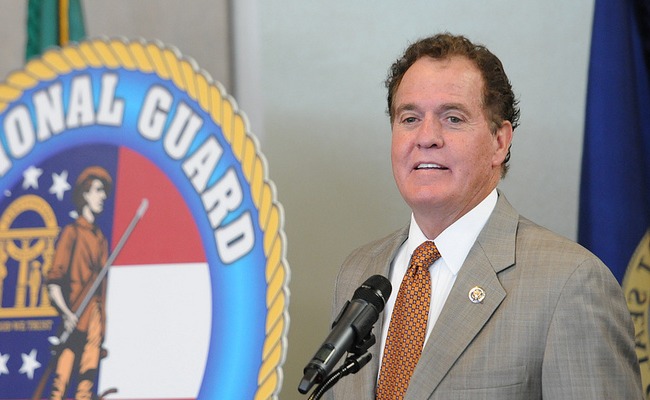 Woe is Republican Rep. Phil Gingrey of Georgia, who bemoaned in a closed-door meeting this morning that he's "stuck" making a paltry $172,000 a year in Congress. Never mind that this is more than three times the national average income, or that Gingrey is worth $3 million. Meanwhile, he's running for Senate, where can only expect a $2,000 raise.
Capitol Hill aides can go work for a lobby shop and make $500,000, the congressman said, according to National Review's Jonathan Strong. "Meanwhile I'm stuck here making $172,000 a year."
The context of Gingrey's comments is a bit complicated, but somehow makes the story even less flattering. By a quirk of partisan posturing and administrative rulings, the biggest victims of Obamacare may be members of Congress and their staffers, who — if some GOP lawmakers have their way — will lose the subsidized health insurance they currently enjoy, which operates like any other employer-provided insurance plan.
Republicans added an amendment to the Affordable Care Act to force members of Congress and their aides off of the federal government's employee health plan and onto the newly created health insurance exchanges. The exchanges weren't designed for this, and the unusual situation meant lawmakers might lose the subsidies they use to help pay for their premiums. Fortunately for denizens of Capitol Hill, the Office of Personnel Management (sort of the government's human resources department) ruled that the government could continue to provide the subsidy. Case closed?
Not exactly. The ruling prompted conservative groups like FreedomWorks to claim that Congress was giving itself an exemption from Obamacare. Gingrey, along with Louisiana Republican David Vitter in the Senate, has led the charge on the "No Special Treatment for Congress Act," which would end the subsidy.
And that brings us to the basement of the Capitol, where, per Strong, some less affluent lawmakers challenged Gingrey on the bill. Rep. Joe Barton of Texas, for instance, said the loss of the subsidy would cost him $12,000. "That's a burden. And it's a burden on our staff, too," he reportedly said.
Gingrey was unsympathetic, and had even less concern for those spoiled staffers, citing their ability to make bank on K Street while he wallows on $172,000. The obvious rejoinder, which Democrats are sure to make, is that they'd be happy to relieve of him the burden of his job and meek salary and send him through the revolving door to K Street.
Some of Gingrey's fellow lawmakers were "incensed" by the remark, hence the leak to Strong, but the comment probably won't help the GOP's problems of being perceived as a party exclusively for the wealthy.