Obama's Evolution on Syria at the United Nations
From a passing comment to chemical weapons, a look at the president's last five U.N. speeches.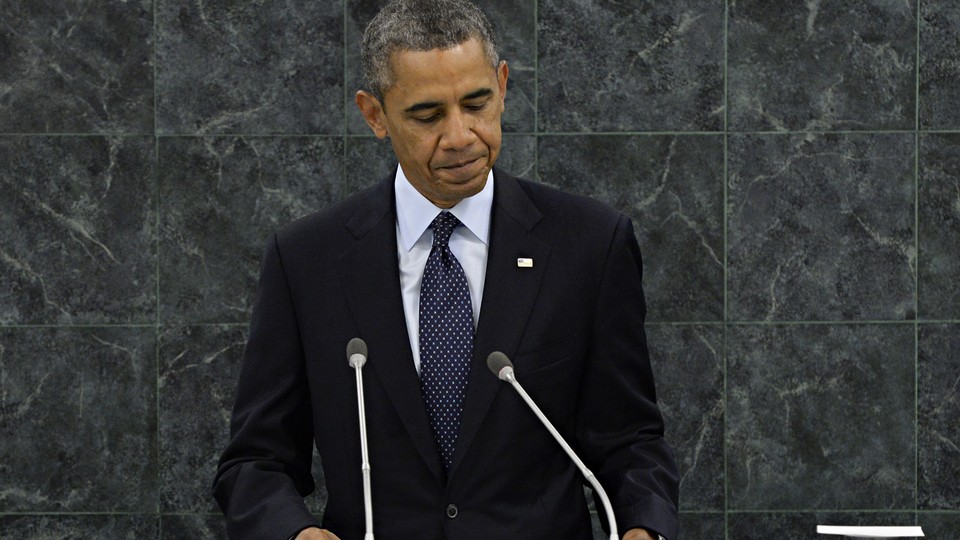 President Obama on Tuesday called on the United Nations Security Council to pass a resolution that responds strongly to Syria if the country does not cooperate on handing over chemical weapons. It was a firm address with a predictable message to the General Assembly on this difficult issue.
But Syria wasn't always the cornerstone of Obama's speeches at the United Nations during his tenure as president.
In his first address to the General Assembly in 2009, he spoke of Syria as one player in the search for broader peace in the region. The civil war wouldn't start for another year.
As we pursue this goal, we will also pursue peace between Israel and Lebanon, Israel and Syria, and a broader peace between Israel and its many neighbors. In pursuit of that goal, we will develop regional initiatives with multilateral participation, alongside bilateral negotiations.
While Syria is mentioned just once that year, it's not mentioned at all a year later in 2010. Just a few months later, violence would erupt in that country and result in the civil war between the Assad regime and opposition forces.
However, in the early months of the conflict, the only response by the U.S. was hard sanctions on the Assad regime and a general call for international action. Obama mentions Syria in his 2011 address, but only limitedly.
Already, the United States has imposed strong sanctions on Syria's leaders. We supported a transfer of power that is responsive to the Syrian people. And many of our allies have joined in this effort. But for the sake of Syria — and the peace and security of the world — we must speak with one voice. There's no excuse for inaction. Now is the time for the United Nations Security Council to sanction the Syrian regime, and to stand with the Syrian people.
In the following year, several activists and hawkish lawmakers, such as Sen. John McCain, R-Ariz., called on the president to support the moderate opposition with military aid in order to eventually oust Assad. The Obama administration attempted to work through the U.N. Security Council, but Syria's allies, including Russia, blocked action. In 2012, the Obama again calls for the Assad regime to come to an end.
Together, we must stand with those Syrians who believe in a different vision, a Syria that is united and inclusive, where children don't need to fear their own government and all Syrians have a say in how they're governed — Sunnis and Alawites, Kurds and Christians. That's what America stands for. That's is the outcome that we will work for, with sanctions and consequences for those who persecute and assistance and support for those who work for this common good.
On Tuesday, Obama not only recognized the failures of the U.S. and others in the international community — "Our response has not matched the scale of the challenge" — but he also focused heavily on Syria's chemical weapons, its alleged attack on Aug. 21, and an effort on behalf of Russia, the U.S. and Syria to rid that nation of its weapons of mass destruction. It was the first time that chemical weapons were center stage for Obama during this annual address.
Agreement on chemical weapons should energize a larger diplomatic effort to reach a political settlement within Syria. I do not believe that military action by those within Syria or by external powers can achieve lasting peace. Nor do I believe that America or any nation should determine who will lead Syria. That is for the Syrian people to decide. Nevertheless, a leader who slaughtered his citizens and gassed children to death cannot regain the legitimacy to lead a badly fractured country. The notion that Syria can return to a prewar status quo is a fantasy.
The tension between the U.S. and Russia was also apparent in the president's address, as Obama evoked the Cold War on the issue of Syria. While Obama alluded to Russia's obstructionism in previous addresses, this was the most direct shot at President Vladimir Putin.
We are committed to working this political trek and as we pursue a settlement, let's remember this is not a zero summit endeavor. We're no longer in a Cold War. There is no great game to be won, nor does America have any interest in Syria beyond the well-being of its people, the stability of its neighbors, the elimination of chemical weapons and ensuring that it does not become a safe haven for terrorists. I welcome the influence of all nations that can help bring about a peaceful resolution of Syria's civil war.
The president said that the recent deal between the Russians and Americans could bolster peace talks. Maybe the peace that Obama has called for in his last three addresses might be realized in 2014. Or the violence could just be another footnote of his speech.