Obama Says He's Not Worried About Style—but He Should Be
Staying aloof to appearances could endanger both Democratic chances in 2014 and the president's legacy.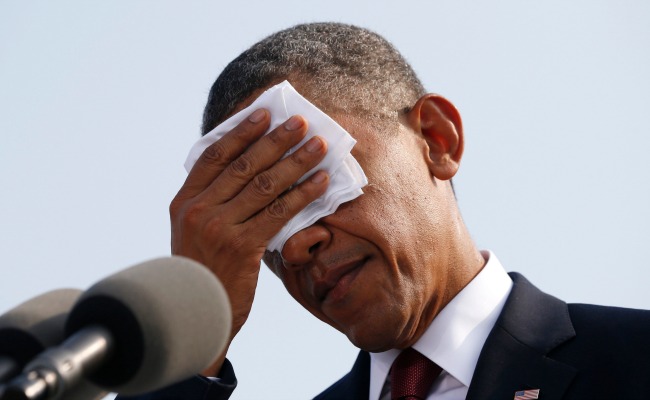 When President Obama told ABC News he was "less concerned about style points" than "getting the policy right," he was trying to hasten into oblivion a foreign-policy week from hell. But it's a risky business to disregard style.
From his Syria gyrations to Monday's ill-timed economic speech attacking Republicans as a mass shooting was in progress at the nearby Washington Navy Yard, Obama's apparently willful dismissal of style could do more than just hurt his poll numbers. It could yield midterm election losses and create perhaps insurmountable obstacles to achieving his policy goals.
The Syria moves were head-spinning, from beginning (Obama's stunning decision to ask Congress to authorize a military strike) to end (Russia convening negotiations on Syria's chemical weapons). What with Congress poised to reject Obama's request and Vladimir Putin's twin tours de force – coming up with a viable diplomatic path and landing an annoying op-ed in The New York Times – the commander-in-chief has appeared to be in a less than commanding position.
Ronald Reagan biographer Lou Cannon calls Obama's performance on Syria "appalling." Presidential historian Robert Dallek says he's coming across as "indecisive, almost Hamlet-like." Among the descriptions tweeted by Richard Haass, president of the Council on Foreign Relations, were unsteady, undisciplined, poorly executed, and "serial U.S. ineptitude."
Obama has a high-profile chance to step up and counter all that with strong, organized, consistent leadership in the budget and debt battles of the next few weeks. But he seized that opportunity prematurely -- deciding to go ahead and give his speech on Monday, the five-year anniversary of the financial crisis, despite the shooting incident.
In prefatory remarks, acknowledging the unfolding Navy Yard tragedy, Obama said: "We're going to be investigating thoroughly what happened, as we do so many of these shootings, sadly, that have happened, and do everything that we can to try to prevent them." Yet the incident itself was a reminder that he has been unable to win a single new gun restriction -- not even an expansion of gun-buyer background checks, supported by 80 to 90 percent in polls -- in the wake of last year's horrific school shooting in Newtown.
In some ways Obama's fifth year is typical of fifth years, when reelected presidents aim high and often fail. But in some ways it is atypical, notably in the number of failures, setbacks, and incompletes Obama has piled up. Gun control and immigration reform are stalled. Two Obama favorites withdrew their names as potential nominees in the face of congressional opposition -- Susan Rice, once a frontrunner for secretary of state, followed by Larry Summers, a top candidate to head the Federal Reserve. Secretary of State John Kerry's possibly offhand remark about Assad giving up his chemical weapons, and Putin's jump into the arena with a diplomatic proposal, saved him from almost certain defeat on Capitol Hill. Edward Snowden set the national-security establishment on its heels, then won temporary refuge from … Putin. It's far from clear how that will be resolved.
And that's as true for the budget and debt-limit showdowns ahead.
Some of Obama's troubles are due to the intransigence of House conservatives, and some may be inevitable in a world far less black and white than the one Reagan faced. But the impression of ineffectiveness is the same.
"People don't like it when circumstances are dictating the way in which a president behaves. They want him to be the one in charge," says Dallek, who has written books about nine presidents, including Reagan and Franklin Roosevelt. "It's unfair … On other hand that's what goes with the territory. People expect presidents to be in command, and they can't always be in command, and the public is not forgiving."
Obama's job approval numbers remain in the mid-40s. The farther they fall below 50 percent, history suggests, the worse he can expect Democrats to do in the midterm House and Senate elections next year. Obama would likely be in worse trouble with the public, at least in the short term, if he had pushed forward with a military strike in Syria. In fact, a new Pew Research Center poll shows 67 percent approve of Obama's switch to diplomacy. But his journey to that point made him look weak and indecisive.
Indeed, the year's setbacks are accumulating and that is dangerous for Obama.
"At some point people make a collective decision and they don't listen to the president anymore. That's what happened to both Jimmy Carter and George W. Bush," Cannon says. "I don't think Obama has quite gone off the diving board yet in the way that Carter or Bush did … but he's close to the edge. He needs to have some successes and perceptions of success."
That is going to be difficult, given the near total lack of bipartisanship on Capitol Hill. In fact, Cannon's description of Reagan's successes -- every time a bipartisan bill passed, his poll numbers went up -- is reason enough for Republicans to keep blocking Obama at every turn. Style points could be one way to stave off irrelevance. "Had we rolled out something that was very smooth and disciplined and linear" on Syria, Washington would have "graded it well, even if it was a disastrous policy," Obama told ABC. But the two don't have to be mutually exclusive. A smooth, disciplined and linear approach to budget negotiations and the debt limit would be a step back from the edge of the Carter-Bush cliff, even if a clear win proves elusive.