Obama Bets the House on Syria — and Is Losing
Early reaction shows the president has a long way to go to win congressional approval for a military strike.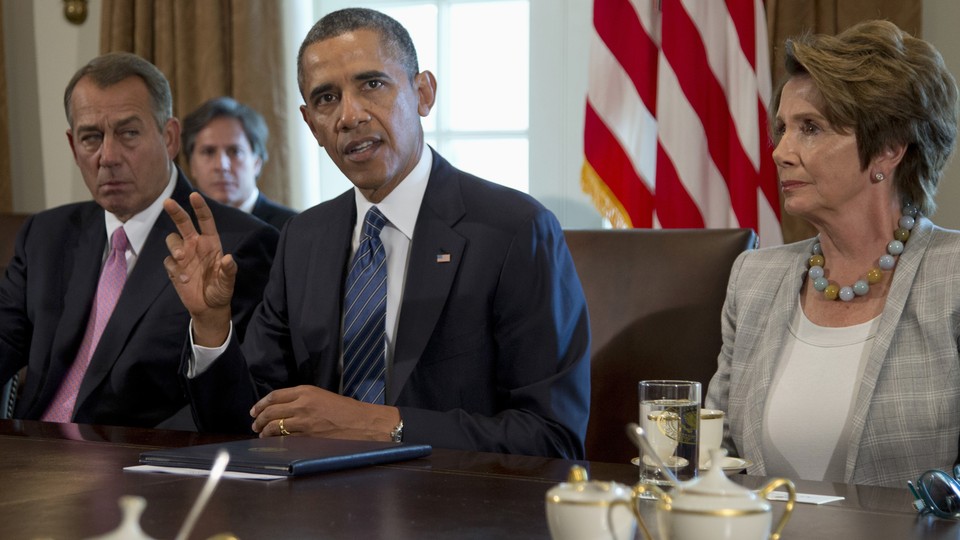 Facing the prospect of waging war against Syria unilaterally, President Obama belatedly gambled that Congress could give him some political cover for a risky decision. He's not likely to get it, based on the initial reaction from House members from both parties.
Despite the show of support from House Speaker John Boehner and House Minority Leader Nancy Pelosi on Tuesday afternoon, that's not going to move many votes. Neither is putting any pressure on their members to vote for a military strike against Syria despite their personal support. Both are calling it a vote of conscience and aren't urging members to join them.
That means members will be freer to take the politically safe route of opposing a war that a fresh round of polling shows a majority of Americans oppose. In a survey released Tuesday, Pew found a near-majority (48 percent) opposed conducting military airstrikes against Syria, with just 29 percent supporting. More ominous for the president, Democrats were more opposed than Republicans to any mission in Syria — by a robust 19-point margin. Likewise, a new Washington Post/ABC survey found 59 percent opposing military strikes, with independents opposing intervention by 66 percent to 30 percent. In a sign of the president's weak public case for intervention, nearly two-thirds supported the (hypothetical) case for intervention last December.
That degree of public hesitance is being reflected in members' reactions. The Washington Post found 105 representatives in the House opposed or leaning toward opposition, with just 16 publicly supporting.
For vote-counting purposes, the most important divide isn't between hawks and doves. It's between members in tough districts and safe seats. With military intervention unpopular, few at-risk members are sticking their necks out to support the president, even those from his own party. These members are acutely sensitive to public opinion, and self-survival is often more important than taking one for the team.
Indeed, opposition already is widespread among members in swing districts. Among Democrats, Rep. Rick Nolan of Minnesota accused Secretary of State John Kerry of suffering historical amnesia. Rep. Tammy Duckworth of Illinois, who lost several limbs fighting in the Iraq war, was one of the first Democrats to come out against intervention. Rep. Scott Peters of California, one of the most vulnerable Democrats up in 2014, hinted at opposition, citing his constituents' war weariness. Rep. John Garamendi of California has "deep, deep concern." Combine that with already strong antiwar sentiment in the Democratic Caucus — about 40 percent opposed the Iraq war resolution in 2002, with a more hawkish caucus and political environment — and it's a formula for mass defections.
Don't expect much support from Republicans, either, despite Boehner's support and the party's tradition of hawkishness during the Bush administration. Factor in the incentives to oppose Obama at all costs and a rising tide of libertarianism within the caucus, and it's hard to see a majority of Republicans supporting the president. When Sen. Marco Rubio of Florida, who generally supports an active American presence overseas, is on the fence, it's a clear sign Republicans won't be running to Obama's aid. Other examples abound: Representing a bellwether seat, Iraq war vet Chris Gibson of New York was an early Syria dove. Rep. Scott Rigell of Virginia, in a military-heavy swing Tidewater district, has also been an outspoken skeptic.
As publicly confident as the administration has been over winning a vote, the math for passage was always going to be exceedingly difficult. Surely the administration conducted its own polling that confirmed the degree of public hesitance, if not outright opposition, to an intervention. And it's hard to believe the Obama administration expected congressional acquiescence, given his dismissive approach to dealing with House Republicans. Building a strong relationship with Congress is not this administration's forte.
While several pundits generously interpreted Obama's action as a precedent to rein in his own war-waging executive powers, the reality was that his punting to Congress was an exercise in responsibility-avoidance. As Politico's John Harris and Jonathan Allen put it, "The delay is being interpreted in both parties, not as evidence of a principled belief in constitutional authority, but as Obama's attempt to share ownership if his Syria decisions go awry." Former White House adviser David Axelrod confirmed as much, excitedly tweeting that Congress was now "the dog that caught the car" after the president's Saturday address.
But by going to Congress for authorization, Obama has a lot to lose. After doing little to make the case for military action, he now has to personally lobby his own party's wavering members and persuadable hawks, with little leverage at his disposal. If Congress turns him down, he could blame House Republicans for political cover. This time, however, it would come at the expense of his administration's crumbling credibility on foreign policy.
{{ BIZOBJ (video: 4418) }}