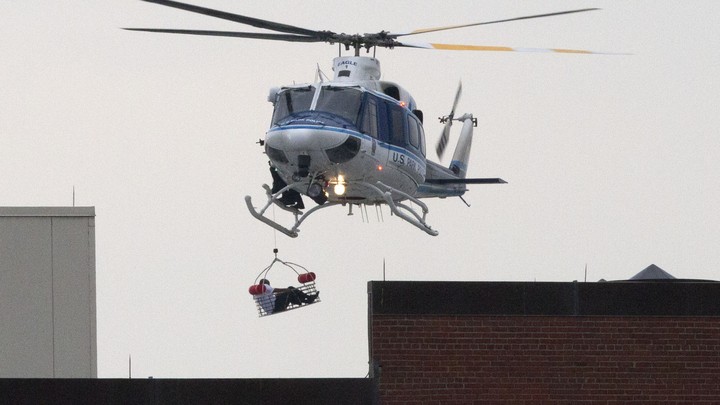 The identity of the Navy Yard shooter — or shooters — was unknown. The casualty count remained in flux. There was no information on what weapons were used or where they came from. But pundits were already up on their collective soapbox.
A member of Russia's parliamentary foreign affairs committee sought to capitalize on the situation, calling Monday's tragedy "a clear confirmation of "American exceptionalism." Russia's parliamentary foreign affairs chief, Alexey Pushkov, tweeted out a string of insults, as Buzzfeed first reported:
"A new shootout at Navy headquarters in Washington — a lone gunman and 7 corpses. Nobody's even surprised anymore. A clear confirmation of American exceptionalism."
Новая стрельба у штаба ВМС в Вашингтоне - одинокий стрелок и 7 трупов. Никто уже не удивлен. Наглядное подтверждение "амер.исключительности"

— Алексей Пушков (@Alexey_Pushkov) September 16, 2013
He went on to say the U.S. should part with the notion of American exceptionalism, arguing it "contradicts the principles of equal rights" and "smells of political racism." His gloating comes after the White House opted to accept a Kremlin proposal to avert a strike on Syria.
Meanwhile, CNN contributor David Frum was quick to pivot to policy and attack pro-gun advocates. 
Frum sarcastically said "it's important that we respect the feelings of gun enthusiasts", followed by a list of satirical "rules of etiquette" to "help the post-shooting conversation to proceed in appropriate ways."
Rule 1: It is "ghoulish" to suggest in any way that the easy availability of guns might in any way enable gun slaughter.

— davidfrum (@davidfrum) September 16, 2013
Rule 2: Gun crime in the president's hometown proves that guns anywhere else are no fit topic of conversation.

— davidfrum (@davidfrum) September 16, 2013
Rule 3: All gun owners are to be complimented as responsible and law-abiding until they personally have hurt themselves or somebody else

— davidfrum (@davidfrum) September 16, 2013
Rule 4: Any attempt to stop mass casualty shootings is "political." Allowing them to continue is"non-political."

— davidfrum (@davidfrum) September 16, 2013
Rule 5: Gun ownership is essential to freedom, as in Serbia & Guatemala. Gun restrictions lead to tyranny, as in Australia & Canada.

— davidfrum (@davidfrum) September 16, 2013
Frum's tweets drew a similarly political response from Fox News commentator Katie Pavlich, who noted the shooting happened in a gun-free zone. In past shootings, gun-proliferation advocates have said that gun control policies — including gun-free zones — exacerbate mass shootings, by drawing assailants to areas where they do not expect others to be armed.
In a gun free zone, again RT @davidfrum: Another mass casualty shooting, this time at Washington Navy Yard. (1)

— Katie Pavlich (@KatiePavlich) September 16, 2013
Dave Zirin, the sports editor of The Nation, a liberal magazine, suggested that the lack of gun control could have allowed the shooting to take place.
Shooter(s) in Naval Yard reported to have AR-15s. In DMV, there've been constant radio ads for people to buy AR-15s NOW b4 new regs come in.

— Dave Zirin (@EdgeofSports) September 16, 2013
No idea where/how shooter(s) got AR-15s but it's eerie they're using the gun that commercials locally are hardcore pushing people to buy.

— Dave Zirin (@EdgeofSports) September 16, 2013
Jim Treacher, a writer at the conservative website The Daily Caller, mocked the idea that gun-control policies can avoid mass shootings.
Why is it that mass shootings tend to happen in places with the strictest gun laws? In gun-free zones? And why aren't we supposed to ask?

— Jim Treacher (@jtLOL) September 16, 2013
The conversation has become a regular companion of America's mass shootings, and its cycle has grown familiar. During the tragedies, most politicians prefer to remain apolitical, confining their remarks to "sympathies" or "thoughts and prayers."
But among pundits, talk turns to politics, with both sides of the gun control debate launching into everything from arguments to vitriol.
We want to hear what you think about this article. Submit a letter to the editor or write to letters@theatlantic.com.