Mark Sanford Got an Exemption to Take His Fiancée on a Junket to Israel
Typically, only family members are allowed on privately funded trips, but the South Carolinian got permission to take his Argentine partner along.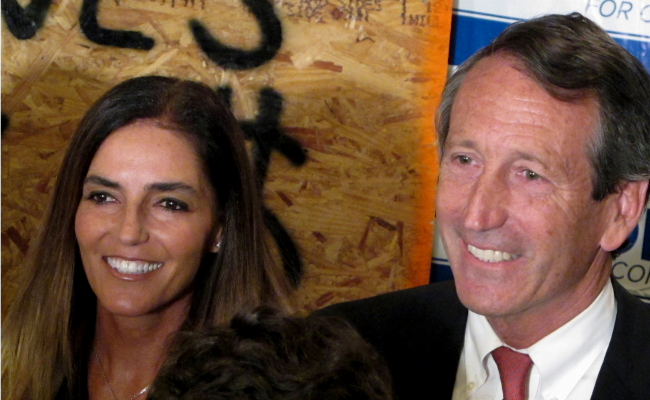 Rep. Mark Sanford, whose extramarital dalliance abroad while governor of South Carolina led to scandal, took his mistress-turned-fiancée, María Belén Chapur, to Israel in August, on a trip paid for by American Israel Education Foundation, congressional records show.
Such privately funded trips are typically limited to relatives, but Sanford, who won election to the House in a special election earlier in the year, asked for and received a special exemption to take Belén Chapur along.
Sanford gave a two-word answer on the congressional travel form when asked why he wanted to participate in the Israel trip. "Educational purposes," he wrote.
The American Israel Education Foundation spent more than $18,558 to fly Sanford and his fiancée to and from Israel for the weeklong journey. They flew business class, records show, with round-trip flights that cost more than $5,000 apiece. They were part of a delegation of roughly two dozen Republicans on the trip, which included House Majority Leader Eric Cantor and House Majority Whip Kevin McCarthy.
Many lawmakers take their spouses on such trips. Both Cantor and McCarthy took their wives. But for Sanford to take Belén Chapur, he had to ask the House Ethics Committee for a waiver. Congressional travel rules say those accompanying lawmakers on privately funded trips are supposed to be relatives.
The ethics committee, in a letter to Sanford, noted that "fiancés/fiancées and unmarried significant others are not 'relatives' for purposes of these [travel] regulations." The committee nonetheless approved her travel, noting that the regulations allow "travelers to seek advance, written permission from the committee to be accompanied by a non-relative."
Congressional travel records show that Sanford asked for an exemption on July 10. "AIEF has made an unsolicited offer to pay for the expenses of her travel," Sanford told the ethics committee.
The panel, which is led by Chairman Michael Conway, R-Texas, and ranking member Linda Sanchez, D-Calif., approved Belén Chapur's travel on July 24. The two lawmakers wrote that they had the power "to grant a waiver … in 'an unusual case,' provided 'there is no potential conflict or interest or appearance of impropriety.'"
Their trip to Israel departed on August 10 and returned on August 18. The website Legistorm, which tracks congressional travel, first noted the participation of Belén Chapur on the trip, which included stops in Jerusalem, Bethlehem, Tel Aviv and the Sea of Galilee.
Sanford's office did not immediately respond to a request for comment.
While governor of South Carolina in 2009, Sanford disappeared for a week, as his staff said he had gone hiking on the Appalachian Trail. It was later revealed that he had traveled to Argentina, where he was having an affair with Belén Chapur. He and his wife subsequently divorced, and he served out his term as governor despite being censured by state lawmakers.
Sanford was left for dead, politically, after he departed the governor's office in 2011. But the surprise resignation of former Sen. Jim DeMint, R-S.C., and the subsequent appointment of Sen. Tim Scott, R-S.C., opened up a House seat this year. Sanford ran in a special election, beating out Democratic nominee Elizabeth Colbert Busch, the sister of television personality Stephen Colbert.