How a Small Team of Democrats Defeated Larry Summers—and Obama
The president's presumptive choice for Federal Reserve chair withdrew his name from consideration on Sunday.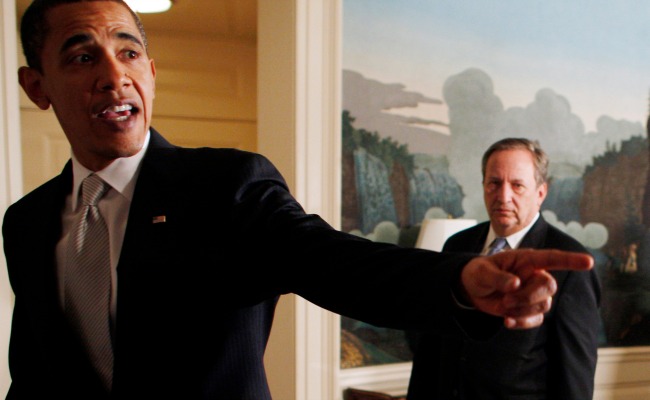 No one has ever said President Obama's relationship with Congress was warm. But with cool fall temperatures creeping in, that bond may also have gotten a little bit chillier on Sunday, when Larry Summers called the president to withdraw his name from consideration for chairmanship of the Federal Reserve.
"I have reluctantly concluded that any possible confirmation process for me would be acrimonious and would not serve the interest of the Federal Reserve, the Administration or, ultimately, the interests of the nation's ongoing economic recovery," Summers wrote in a letter to Obama following the call.
While opposition to Summers has been building for months, it's a surprise -- his confirmation still looked plausible, if not certain; Obama was reportedly determined to get his way on the pick; and Summers has been thought to covet the Fed job since, well, forever. The economist served as Treasury secretary under Bill Clinton and chair of Obama's National Economic Council. Summers also had a turbulent tenure as president of Harvard University.
"Larry was a critical member of my team as we faced down the worst economic crisis since the Great Depression, and it was in no small part because of his expertise, wisdom, and leadership that we wrestled the economy back to growth and made the kind of progress we are seeing today," Obama said in a statement Sunday. "I will always be grateful to Larry for his tireless work and service on behalf of his country, and I look forward to continuing to seek his guidance and counsel in the future."
Perhaps even more surprising is who did Obama in: a small team of Democrats on the Senate Banking Committee. On Friday, Montana's Jon Tester announced he would not back a Summers nomination. That followed similar comments, via aides, by Sherrod Brown of Ohio and Jeff Merkley of Oregon. Elizabeth Warren of Massachusetts, the progressive icon and former Obama aide, was also thought to be reluctant. That meant Summers would have required at least four Republican votes to clear the Senate Banking Committee, and around 10 from the wider Senate to reach the 60-vote threshold likely needed to overcome GOP procedural obstruction.
Until Sunday afternoon, these seemed like just the latest skirmishes in a war. In July, almost a third of the Democrats in the Senate sent a letter to Obama imploring him to appoint Janet Yellen to the job instead. While the letter didn't mention Summers, it was clearly a rebuke to the White House's reported preference. Progressives worried that Summers was too much a part of the Clinton-era economic team that they charged with helping to make the Great Recession possible, and they argued that Yellen had been right more frequently on crucial recent economic issues.
But Obama was reportedly angry at the letter, and dispatched aides to Capitol Hill to vent and get the troops in line. While Majority Leader Harry Reid promised to support whomever the president picked, he apparently wasn't able to keep his caucus completely in line, leading to today's withdrawal.
Here are three political takeaways from the demise of the Summers nomination. First, it suggests that the White House's hands-off style towards legislators has backfired -- or backfired yet again, depending on how you score it. Many political scientists and journalists (including me) have rolled their eyes at pleas for Obama to "reach out" to the Hill through dinners and golf rounds and the like. In short, the thinking is that opposition to Obama's agenda is so hardwired into the current political situation that there's no use making futile social gestures -- partisan exigencies will still keep Republicans following the lead of conservative activists, even if they like the president personally. But here's a case where the White House couldn't even keep a hold on its own senators when it needed them. This is where personal relationships matter.
Second, Sunday's events suggest the administration may have miscalculated its timing for the nomination to replace outgoing Fed Chair Ben Bernanke. Ever slow, methodical, and meticulous, Obama insisted he wouldn't make any pick until well into the fall. But liberal activists and the press weren't playing by his schedule. They had all summer to build up the case against Summers, get their message out, gather support, and make the argument for Yellen. Without even meaning to, Obama forfeited the game.
Third, what does this say about the state of discipline in the Democratic Party? It's tempting, and dangerous, to read too much into a single incident. While dissension in Republican ranks -- in both the House and Senate -- against leadership has been an object of fascination, horror, and handwringing, the Democrats have run a tighter ship on most matters. In August, Jeffrey Smith argued on The Atlantic that liberals actually deserved Summers because they'd been so unwilling to learn the lessons of the Tea Party and challenge centrist Democrats to stop things like this nomination. Yet on Syria and now on Summers, Senate and House leaders have shown themselves unwilling or unable to unify their caucus behind the president. Maybe Republicans don't have a monopoly on disarray after all.