GOP Chaos Isn't Making Obama Look Any Better
Politics isn't a zero-sum game: Views of the president are at near-all-time lows thanks to Syria and the economy.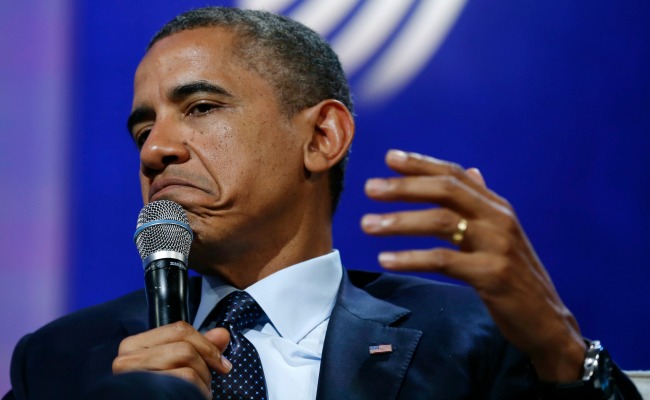 With Washington consumed by Republican squabbling and threats of a government shutdown, President Obama must be looking pretty good by comparison, right? Not so much.
GOP disarray has done nothing to improve perceptions of Obama, which stand at near-all-time lows, according to a rash of new polls. Just 43 percent approve of the president's performance in the latest New York Times poll, while 49 percent disapprove. Bloomberg (45 percent) and Gallup (44 percent) found similar results; all three noted it was his worst showing since 2011, in the dark days that followed that summer's debt-ceiling fiasco. (And we could be getting another one of those!) YouGov, polling for The Economist, put Obama's approval at just 38 percent, with 55 percent disapproval.
YouGov's chart of Obama's approval over time shows a sharp and continuing dropoff from the brief reelection high: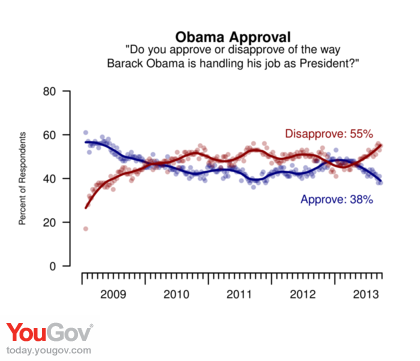 The complete poll helps to explain Obama's plunge. A series of questions on the handling of the Syria crisis suggest widespread public disenchantment with the administration's foreign policy. Americans were two times more likely to cite Russian President Vladimir Putin than Obama as the most effective world leader during the crisis, and 44 percent said Obama was the least effective: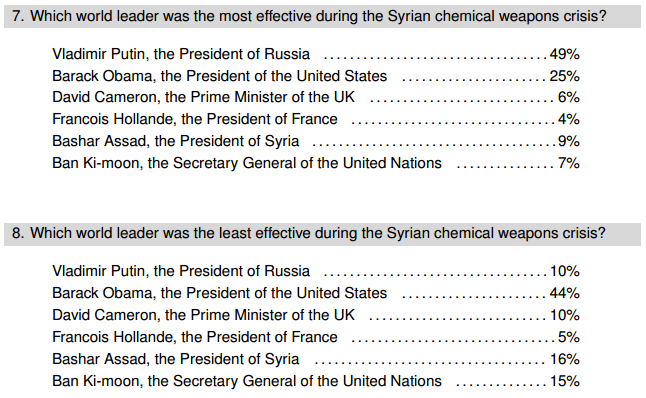 Gallup, meanwhile, notes that it is Democrats, the president's core supporters, who have abandoned him more than any other group in recent months. Obama's 13-point decline in approval among Democrats since December was his biggest decline among any group: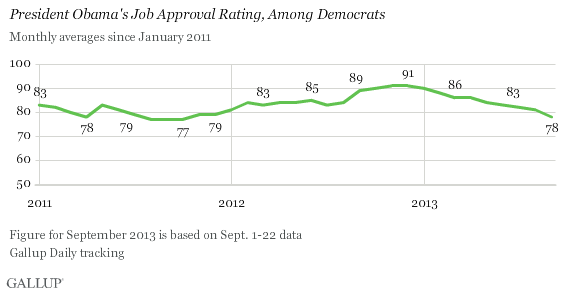 So there you have it: The current congressional crisis hasn't caused people to forget the Syria debacle, and Democrats aren't rallying to Obama's side. Plus, the polls consistently show, people don't feel good about the economy and aren't sold on Obamacare as its full implementation draws near.
Americans aren't wild about Republicans either: The GOP's 34 percent approval rating is the lowest Bloomberg has recorded since the company began polling in 2009. But politics isn't a zero-sum game. Voters are allowed to dislike both sides -- and lately, it seems they do.