Former EPA Administrator Lisa Jackson Is Back in the Spotlight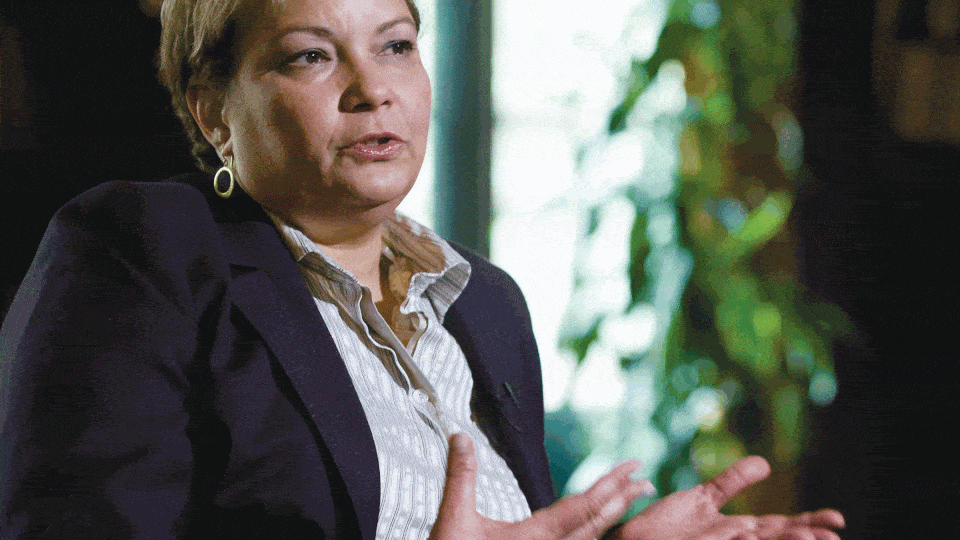 Lisa Jackson was back before a congressional committee Tuesday, seven months after ending a newsworthy four-year stint as head of the Environmental Protection Agency. But it wasn't the environment that members of the House Oversight and Government Reform Committee wanted to hear about. Rather, it was Jackson's e-mail habits.
On a day when the predominant question on Capitol Hill was how the United States should respond to the use of chemical weapons in Syria, committee Chairman Darrell Issa, R-Calif., and some of his colleagues grilled Jackson on whether e-mails she sent to a friend and lobbyist in 2009 should have gone out on her personal or her government account.
Jackson, 51, has mostly stayed out of the spotlight since stepping down from EPA in February and leaving behind the hot-button issues of climate change, oil and gas drilling, air and water pollution, and how to grow the economy without harming the environment.
Three months after her departure, she was named vice president for environmental initiatives in the Washington office of Apple, but so far Jackson has declined interviews about what she is doing for the California-based technology giant.
Asked by National Journal Daily after Tuesday's hearing if she was working on any specific projects, Jackson smiled and said, "I am, but we're not ready to talk about most of them. You know Apple's the most innovative company in the world, and it's really wonderful to be able to be there and work on innovative solutions to keep our earth clean and steward our natural resources."
Other than that, the only news about Jackson since she left EPA has been an announcement by Tulane University, Jackson's alma mater, that she was joining the board of the New Orleans school in August. "To be able to serve the university I love in the city I love is a remarkable new phase in my life's journey," Jackson said in a statement released by Tulane.
Jackson was born in Philadelphia and raised in New Orleans, and after graduating with a degree in chemical engineering from Tulane she went on to get a master's in the field from Princeton University. She then spent 16 years as an engineer at EPA, mostly in New York City, before joining the New Jersey Department of Environmental Protection in 2002 to work on environmental compliance and enforcement as well as land-use management.
She became head of the DEP in 2006 under then-Gov. Jon Corzine, and also served as Corzine's chief of staff before President-elect Obama tapped her for EPA administrator in 2008. Jackson became the first African-American to lead the agency and guided it through some troubled times: responding to the 2010 BP oil spill in the Gulf of Mexico and moving forward on environmental regulations deemed "job-killing" by many Republicans.
Because of her high profile at EPA, Issa demanded that Jackson set aside her new low-profile job for a day and answer questions about her use of a private e-mail account while working for the government.
Jackson gladly accepted his invitation to testify, saying she has been mindful throughout her career that the public's business must be done in public. "I believe my public-service ethic came from my father — a Navy vet, and mailman and machinist for the U.S. Postal Service," she told the House committee.
Jackson explained that when she became EPA administrator in January 2009, she was assigned two e-mail addresses ending in epa.gov. "One address was to be published on the EPA website and the in-box was managed by EPA staff," she said. "A second address was shared with a more limited number of people and the in-box was managed primarily by me."
When asked to decide on a name for the second account, Jackson said she suggested adminjackson@epa.gov, but aides said that would be an invitation to a flooded in-box. So she looked for something less obvious.
"My husband and sons were still living in East Windsor, New Jersey, and our family dog's name is Ricky," Jackson said. "So, with tongue in cheek, I named my account Windsor-dot-Richard at EPA-dot-gov."
Issa and Rep. Trey Gowdy, R-S.C., suggested at the hearing that Jackson's use of the windsor.richard@epa.gov account to communicate with at least one lobbyist appeared to be an attempt to keep the discussion out of the government record. But Jackson said she always transferred any e-mails that involved government business to her main EPA account, as she did with the e-mails from her friends whenever they got into EPA affairs.
"I can't separate knowing somebody in this city.... They have jobs, people have jobs and lives," she said.
"Well, I apologize, but that was what the [Jack] Abramoff scandal was about ... is that people said, "˜We were friends,' when in fact he was a lobbyist," Issa replied.
In the end, David Ferriero, the archivist of the United States, testified that it is not a violation of any laws for government officials to use a secondary e-mail address. Oversight and Government Reform ranking member Elijah Cummings, D-Md., also pointed out that "no federal law prohibits the use of personal e-mail for official business so long as those e-mails are properly preserved."
And Jackson, presumably, returned to her job at Apple, once again out of the limelight.