Cold War Mentality Creeps Into Americans' Feelings on Russia
Poll shows Americans have a negative view of Russia for the first time since 1999.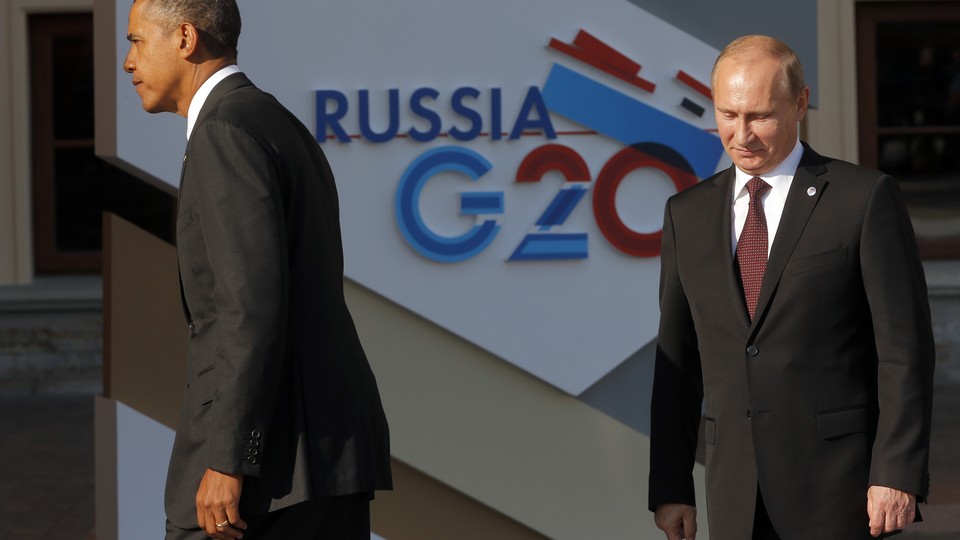 This isn't the Cold War. But you wouldn't know that by the way Americans now view Russia.
A new poll released by Gallup on Wednesday shows that for the first time in 15 years, more people in the U.S. think that Russia is unfriendly to American interests and is not an ally.
In the years after the fall of the Soviet Union, U.S. viewpoints of Russia improved steadily, and in 1999 more Americans finally considered Russia an ally and a friend than an enemy. The peak of the relationship between the two nations came in 2006, when 73 percent of Americans thought positively about Russia. Even in June of this year, 50 percent of Americans still maintained that Russia was friendly to U.S. interests.
But that's changed in recent months, as the dysfunctional relationship between President Obama and Russian President Vladimir Putin took center stage.
And the negative reactions toward Russia don't just stop at the broader level. Now, for the first time since he took office in 2000, a majority of Americans (54 percent) have an unfavorable view of Putin. Just 19 percent of Americans view Putin favorably.
That being said, it's not as if a majority of Americans ever viewed him favorably. His height of popularity came in May 2002 at 41 percent.
Still, the fact that Russia seems more willing to assist in the dismantling of Syria's chemical-weapons stockpile — and possibly reengage in peace talks to end the long civil war in the Middle Eastern country — is not lost on the American people. Of those polled, 72 percent approve of the U.S.-Russia plan agreed to over the weekend. Fifty percent of Americans think Putin's involvement was helpful. The poll was, in fact, taken on Sept. 15 and 16, right after the new plan was announced.
So, while Putin's engagement in recent weeks in foreign policy has been a positive step in the relationship between the U.S. and Russia, some major issues are still at play — not least of which is the Russian leader's crackdown on gays and lesbians, in addition to him sheltering National Security Agency leaker Edward Snowden. Both of the actions are disapproved by more than 60 percent of Americans who were aware of these steps taken by Putin.
President George W. Bush may have looked into Putin's eyes, saw his soul and liked him, but the American people have looked into Putin's actions, saw his record, and didn't like what they saw.
The poll was conducted with 1,010 adults by phone with a margin of error of plus or minus 4 percentage points.