Can Republicans Avoid the Next Todd Akin?
No matter how far they veer to the right, someone can always outflank them. As a result, the GOP has to worry about primaries in a way Democrats don't.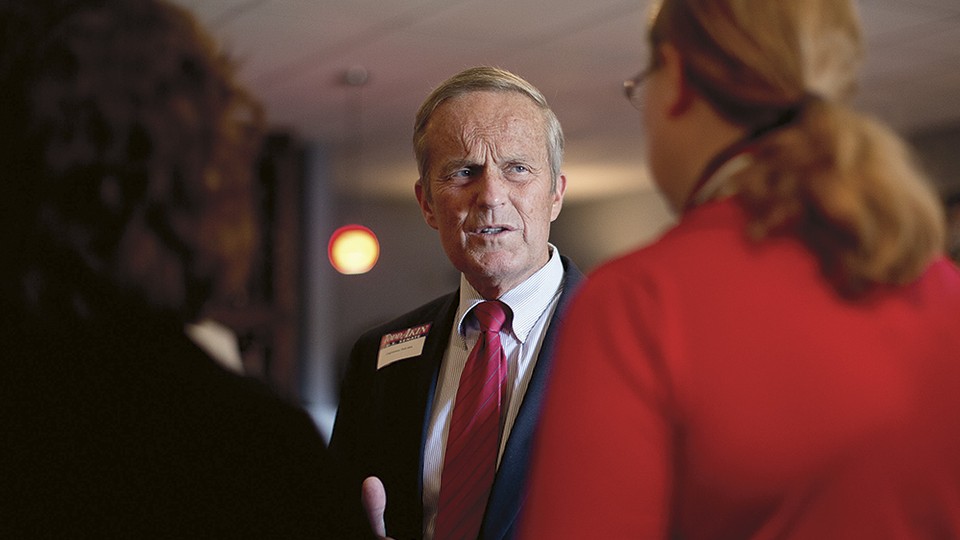 Primaries sometimes amount to healthy competition. Sometimes, they're bitter internecine conflicts. But always, they are risky. This year, that risk is being borne by the Republican Party alone.
In one of the Senate landscape's most remarkable developments, the Democratic Party appears primed to avoid primaries next year in all the battleground states. (It has one nasty fight in Hawaii, between Sen. Brian Schatz and Rep. Colleen Hanabusa, but Republicans haven't won a Senate race there since 1970.) So while Republicans gird themselves for damaging primaries in Alaska, Georgia, Iowa, Kentucky, and North Carolina — contests that will determine whether the GOP can take control of the Senate in 2015 — Democrats are comfortably preparing for the general election.
The gravest dangers are the stuff of Republican nightmares. These intra-party battles can produce nominees like Todd Akin and Christine O'Donnell, the kind of unelectable candidates who not only lose but also embarrass the party nationally. Republicans run the greatest risk of such a debacle in Georgia, where Rep. Paul Broun's fire-and-brimstone denunciations ranging from evolution to President Obama don't disqualify him from winning the party's multicandidate primary but very well could doom him in a general election, even in the right-leaning Peach State. (So far, the worst Broun has done is call evolution a "lie from the pit of hell," but stay tuned.) Meanwhile, Democrats have united behind Michelle Nunn, daughter of former Sen. Sam Nunn.
Alaska Republicans face a similar dilemma. Joe Miller, the party's 2010 nominee, threatens to reemerge while two establishment-friendly candidates battle each other. Miller's erratic campaign — one of his personal security guards handcuffed a reporter — nearly gave the Senate seat to the Democrats, had it not been for Sen. Lisa Murkowski's successful write-in reelection campaign. (Miller had defeated her in the primary.)
Democratic Sen. Mark Begich, like fellow red-state Democrats Mark Pryor, Mary Landrieu, and Kay Hagan, hasn't even had a whiff of a serious primary challenger.
And it's not only the next Todd Akin that Republicans need to worry about. It's the next Tommy Thompson, too. The popular former Wisconsin governor was almost the perfect candidate on paper in 2012, but before facing Democratic Rep. Tammy Baldwin, he ran in a four-man primary. Thompson won, but the tough fight left him battered, broke, and vulnerable. "He blew all his money going through the primary," said Brian Schimming, vice chairman of the Wisconsin Republican Party. "So when he gets through the primary, it was like three weeks before he was up on the air. [Baldwin] piled on immediately."
Schimming added, "If he hadn't had as ugly a primary, we could have won that seat."
Even strong general-election candidates are distracted from their ultimate goal when submerged in a battle for their party's nomination. Essential tasks such as messaging, voter-turnout operations, and fundraising can all suffer. "When you're fighting a primary like that, it is very difficult to do nuts-and-bolts things like building an operation for a general election," said Matt Canter, spokesman for the Democratic Senatorial Campaign Committee. Such a dilemma could afflict the eventual GOP nominee in North Carolina, where state House Speaker Thom Tillis, while not a perfect candidate, could be forced into a costly primary against a battery of tea-party foes while Hagan raises money largely unimpeded. The same could happen in Louisiana, where some conservatives are still mulling a run despite GOP Rep. Bill Cassidy's presence in the race.
Republicans lack the same sort of clear front-runner in Iowa, but that race offers its own complications. Nowhere is the difference in approaches between the parties starker than in the Hawkeye State, where the GOP field might ultimately run six candidates deep. The nominee likely won't be picked until a mid-June convention. Democrats, meanwhile, coalesced behind Rep. Bruce Braley from almost the moment Sen. Tom Harkin announced his retirement.
And in Kentucky, Senate GOP Leader Mitch McConnell has been forced to defend his right flank against insurgent Matt Bevin while the opponent he should be focusing on, Democrat Alison Lundergan Grimes, has a clear path to her party's nomination. McConnell's challenge is different from the others'; for one, not even the most partisan Democrat doubts that his political operation will be primed for a general-election fight regardless of a primary. But the positions he takes now — such as potentially leading Congress into a government shutdown — might make good primary politics but come back to hurt him later.
Conservatives will contend (in an argument mirrored by antiestablishment liberals) that primaries are like a sports tournament that determines the best team: They help the party find the best candidate. Recent history can be read this way. Marco Rubio was originally just an unwanted tea-party challenger to Charlie Crist in Florida, and some of the feckless candidates who cost the party the majority last year — Denny Rehberg in Montana and Rick Berg in North Dakota — never faced credible opposition in the primary. "I think, more times than not, a primary is actually good for the nominee," said Matt Hoskins, executive director of the Senate Conservatives Fund, a group that often encourages challenges to GOP incumbents. "It forces them to sharpen their candidate skills. It elevates their profile and offers a greater opportunity to define themselves than if they have no opposition." (Hoskins is quick to note that his group didn't endorse Akin last year until he won the primary.)
Other Republicans hope the National Republican Senatorial Committee, which last year largely avoided playing in primaries, steps in to aggressively ward off potential weak nominees such as Broun. (Said one senior GOP strategist not connected to the committee: "I think there were some mistakes made [last year]. But I think, like any good operation, you learn from mistakes, and you move forward.")
That's what the GOP might have to do. When it comes to primaries, fewer is not necessarily better. But it sure is a lot less risky.