Bill de Blasio Is Probably the Democratic Nominee for Mayor of New York
The populist progressive from Brooklyn came from behind to take first place in last night's primary and may even have avoided a runoff. Now what?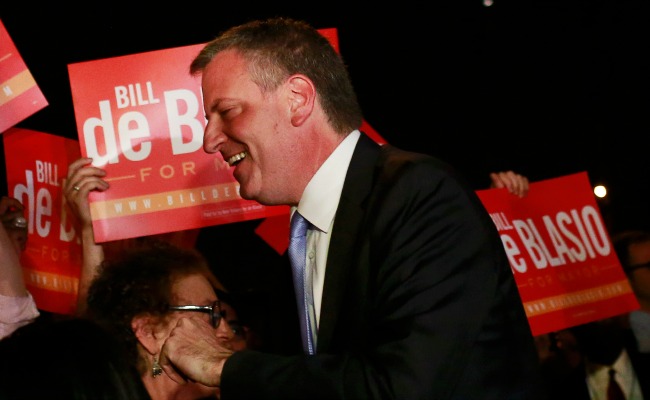 Updated, 10:03 a.m.
So, New York City had an election Tuesday night. What happened?
Public Advocate Bill de Blasio, who ran on a platform of uncompromising liberalism, came in first. But with 97 percent of the vote counted, he had 40.2 percent of the vote -- meaning it was too close to tell whether he'd reached the 40 percent threshold to win the nomination outright. Counting of paper and absentee ballots still outstanding will take several days, and the Board of Elections plans to conduct a recount, so it is likely to be at least a week before we know whether de Blasio avoided an October 1 runoff.
If there is a runoff, it will pit de Blasio against the second-place finisher, former Comptroller Bill Thompson, who had 26 percent of the vote. The general election is on November 5. In a stunning twist from the beginning of the race, Christine Quinn, the City Council speaker who initially seemed to hold an insurmountable lead, came in third as Democratic primary voters recoiled at her association with the current mayor, Mike Bloomberg. Her campaign is over.
What about that other guy, what's-his-name -- you know, the one with the dick pics?
Former U.S. Representative Anthony Weiner came in fifth, with 5 percent of the vote. Eliot Spitzer, the former governor who was also attempting a post-scandal comeback, similarly fell short, losing a close primary for city comptroller to Manhattan Borough President Scott Stringer. You may never have heard of Stringer, but he was backed by the powerful Scarlett Johansson political machine.
How did de Blasio do it?
He correctly read the political landscape from the start, running to the left of the field on a platform of taxing the rich, focusing on the outer boroughs, and turning the page on Bloomberg. (His campaign got a boost in the final weekend when Bloomberg called it "racist" and accused him of using his diverse family as a political prop.) He got lucky -- his rivals all imploded to some degree. And his campaign used its limited resources wisely: He didn't send a single piece of campaign mail, preferring to save the funds for TV ads. For more from behind the scenes of de Blasio's campaign, read Michael Barbaro's great story in the New York Times.
Now what happens?
If there's a runoff, de Blasio goes in as a heavy favorite thanks to his dominant first-place showing, but things are likely to get nasty fast. Thompson's campaign has already tried to dub his rival "Bill de Bliar" and paint him as a hypocrite for not disclosing his meetings with lobbyists. (De Blasio retorts that Thompson actually was a lobbyist for an investment firm.) Thompson's low-key presence doesn't exactly light audiences on fire, but he gets some credit from Democratic partisans for having run against Bloomberg in 2009 -- and come within 5 points, surprising those who expected a Bloomberg blowout. Expect de Blasio's campaign to highlight the fact that Thompson has been, in the words of Alex Pareene, "quietly running as the most conservative Democrat in the race" -- he's backed by former Republican Senator Al D'Amato, and his refusal to strongly oppose stop-and-frisk alienated his onetime ally Rev. Al Sharpton. Remarkably, exit polls showed Thompson, who is black, slightly lagging de Blasio, whose wife is black, among African-American voters.
Aren't there also Republicans?
Yeah, sort of. Republicans make up only 11 percent of New York registered voters. (Democrats are 68 percent.) On Tuesday, they selected as their nominee Joe Lhota, the former head of the Metropolitan Transportation Authority. Lhota, an appointee and intimate of former Mayor Rudy Giuliani, defeated John Catsimatidis, a buffoonish grocery magnate who poured his personal money into the race. Assuming de Blasio eventually is confirmed as the Democratic nominee, you can expect Lhota to paint him as a divisive class warrior who'll take New York back to the bad old days of high crime and shaky city finances. But with Democrats itching to take back Gracie Mansion after 20 years of being shut out, it will be an uphill battle for the Republican.
But what about the crucial kittens-and-subways issue?
Lhota has said he would not stop the subway system to rescue a kitten trapped on the tracks. Alarmingly, we still don't know de Blasio's position on this important issue.