Are Pundits Asking the Wrong Question About Christine Quinn's Loss?
The most interesting question isn't whether she was hurt by being an out lesbian and a woman, but why it is that lesbians can do well in big-city politics.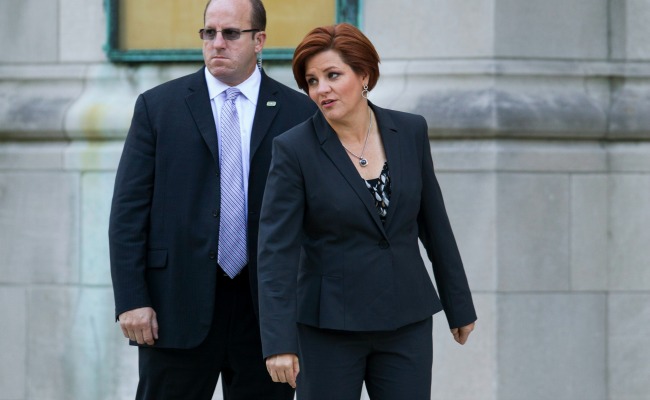 There's some second-day chatter today about whether gender and sexual identity played a role in Christine Quinn's loss to Bill de Blasio in New York City's Democratic mayoral primary.
I've got to figure the answer is no. She lost both women and gay and lesbian voters, as well as nearly every other group but the very well-to-do in Manhattan, as befits a person seen as the heir apparent to billionaire Mayor Michael Bloomberg. Quinn, the City Council speaker, was a transactional candidate in a change election, lacked a memorable message, and had raised the ire of many New Yorkers with her stalling on a paid-sick-leave bill and her pivotal role in overturning the term limits that would have ended the Bloomberg era four years ago. Besides, New York Democratic primary voters previously elected a woman, Ruth Messinger, as their standard-bearer in 1997; she lost decisively to incumbent Mayor Rudolph Giuliani. It's hard to imagine a primary electorate progressive enough to elevate Messinger suddenly turning squishy on gender equality.
As I observed in July, when Anthony Weiner was the momentum candidate most closely competing with Quinn in the polls:
The mayoral race is of interest to the national press primarily as a referendum on the comeback chances of the former seven-term congressman from Queens. It is of interest because of his 2011 sexting scandal and resignation, the redemption narrative of a disgraced national figure seeking to return to national life by governing one of toughest cities there is to run.

But on the ground, that's not what the contest is about. It is about privatization. It is about the poor. Ending stop and frisk. Unemployment, especially among the city's substantial black and Hispanic population. It's about what de Blasio had called "a tale of two cities." It's about the fact that New York City, after nearly 10 years of Republican (and independent) rule, is ready for a Democrat. Hungry for a Democrat. The extra final term of the Bloomberg administration has made some in the wealthier precincts of the city wish he could be appointed mayor for life. But to many others in the other New York, it has felt like democracy has been on hold for the last four years, stopped up like a rusty municipal-housing pipe. Nearly three-quarters of New Yorkers regret allowing him that final term.
That dynamic carried through all the way to Election Day, with de Blasio racking up his solid lead only once Weiner's campaign imploded, and Quinn, as I wrote, "playing the role of Hillary Clinton -- the establishment frontrunner, female, more of an old-school transactional politician." Like Clinton, she was ultimately outshined and out-campaigned by someone rallying an Obama-style coalition of progressive whites and minorities.
The more interesting question to me than whether gender and sexual identity sunk Quinn in New York City is the extent to which the metropolis was an open forum for her ambition. There is only one female mayor leading one of the top 10 largest cities in America, Annelise Parker of Houston. And like Quinn, she's also an out lesbian.
So as far as I can tell, big cities are better for ambitious lesbian politicians than any other sort of municipality. Quinn was able to rise in New York because there was a big enough gay and lesbian community in downtown Manhattan that she could win election when it was still harder for out gay people to win elective office anywhere. She got her start in politics managing the 1991 City Council campaign of Thomas K. Duane, ultimately succeeding him in office when he moved on to the state senate, where he is the only openly gay member. So their district has now produced a dynamic duo of gay state and city leaders: Duane and Quinn, whose position as City Council speaker makes her the second most powerful elected official in city government, and the first woman in the post to boot.
There are a lot of cities where this wouldn't yet be possible, and where one could fairly ask if sexual identity and gender were hindrances. It speaks well of New York that it's not really one of them any more. But it's also unrealistic to think that with so few women gunning for the top city job every election cycle, the tiny handful who do run should have a better shot of winning than the dozens of men, every decade, who have to retire their dreams of calling Gracie Mansion home.