Are Gay-Rights Laws Trampling on Freedom of Religion?
Some people of faith complain that laws mandating equal treatment for LGBT Americans are forcing them to betray their privately held beliefs.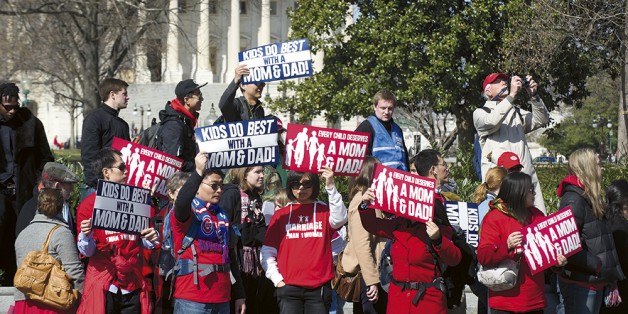 Conservatives may have found another way to stem the rising tide of rights for America's gays and lesbians. Rather than a frontal assault on the constitutionality of, say, same-sex marriage, they're taking another tack — asserting that their own civil rights are violated when they're forced to treat gay couples like straight ones.
Take the case of Elaine and Jonathan Huguenin, co-owners of a small Albuquerque, New Mexico, photography company. Last month, the New Mexico Supreme Court determined the couple had acted illegally in 2006 when they refused to take pictures of a commitment ceremony (held in lieu of a still-illegal marriage) between a gay couple. Noting that state law prohibits discrimination based on sexual orientation, the state court decreed that accommodating different types of people was the "price of citizenship" in America.
It was yet another victory for gay-rights advocates, who have watched public opinion swell in their favor in recent years. But to the Hugeunins and those who have rallied to their cause, the case represents something else: a rare opportunity to shift public opinion in the other direction.
The Huguenins argue being forced to photograph the ceremony amounted to a persecution of their faith and an infringement on their First Amendment rights. "This idea that people in America can be compelled by law to compromise the very religious beliefs that inspire their lives as the 'price of citizenship' is an unbelievable attack on freedom," Jim Campbell, an attorney for the Huguenins, told National Journal. "Jonathan and Elaine Huguenin were simply trying to live their lives and operate their business in accordance with their faith."
Campbell is selling the notion that people of faith — not gay men and women — are the real victims. That's a jarring claim to LGBT advocates, but it's a tactic they acknowledge could upend the gay-rights debate. It's not a new idea; claims of religious freedom have been used for decades to stave off the reach of nondiscrimination laws. But it's one that opponents of gay rights hope resonates with the public — and perhaps, down the road, the courts. They feel they have found a higher ground in a debate they otherwise appeared destined to lose. "I think there is an opportunity for our side if we can help people understand how this movement is not, or isn't anymore, about obtaining freedom for homosexuals," said Peter Sprigg, senior fellow for policy studies at the Family Research Council. "It's about taking freedom away from anyone who disagrees with them or their conduct. I do think that goes beyond what most Americans support."
The Huguenins' case isn't an isolated one. Campbell, who is part of the Christian nonprofit group Alliance Defending Freedom, said he is working on similar cases in Lexington, Kentucky, where a T-shirt printer refused to make apparel for a gay-pride celebration, and in Washington state, where a florist declined to make floral arrangements for a gay-marriage ceremony.
Beyond those cases, the issue may move to the forefront of the public's mind when the Senate begins debate this fall on the Employment Non-Discrimination Act, which would ban discrimination on the basis of sexual orientation in hiring and firing employees. The act, known as ENDA, is different because it's about employment rather than public accommodation, but it raises similar questions of religious liberty — whether, for example, a private Christian bookstore can refuse to hire a gay clerk. (Gays and lesbians are not considered a protected group under the landmark Civil Rights Act of 1964.)
Gay-rights supporters acknowledge the contours of the fight will be different — and likely more difficult — than the battle over marriage equality. An argument focused on religious liberty, they say, is a potent one. "That's absolutely now the primary argument opponents of LGBT equality are making," said Brian Moulton, legal director of the Human Rights Campaign. "They're trying to assert that the people experiencing discrimination here aren't LGBT people necessarily but are people of faith who want to preserve their opposition to homosexuality."
Polling suggests that Moulton shouldn't worry. A survey conducted earlier this year by the Human Rights Campaign and the Third Way, a centrist Democratic think tank, found broad opposition to new laws that would allow businesses to deny services to gay men and women. Sixty-four percent, for instance, said they oppose such a law even if it only applied to small businesses providing wedding-related services. In a question tailored for the New Mexico case, 54 percent of adults said it was wrong for a business to deny wedding-related services to a gay couple; only 15 percent agreed the company should be allowed to refuse service for weddings because of religious reasons.
The key politically, Moulton said, is distinguishing between businesses that operate in the public sphere and strictly religious institutions such as churches. The public supports letting churches hire based on their beliefs, he said. Regardless of public opinion, Moulton might also have the law on his side. Traditionally, groups that lose a civil-rights debate resort to claiming a religious exemption for their beliefs — and courts rarely recognize such an exemption.
But cases like the one in New Mexico offer Republican politicians a chance to sidestep their increasingly fraught opposition to gay marriage while still defending the values of social conservatives. The question is likely to be central to the 2016 presidential race. One leading candidate for the GOP nomination, Sen. Rand Paul of Kentucky, sparked a furor three years ago when he suggested that owners of private businesses such as restaurants should be beyond the reach of federal civil-rights law. (Paul has since walked back those comments.)
But it's easy to see the appeal of the argument to religious voters in Iowa, South Carolina, and elsewhere. And while the Huguenins are still considering whether to appeal the New Mexico decision to the U.S. Supreme Court, it's entirely possible this will be a question that plays out in the political arena before it's definitively settled by a court. That makes the battle for public opinion now all the more crucial.