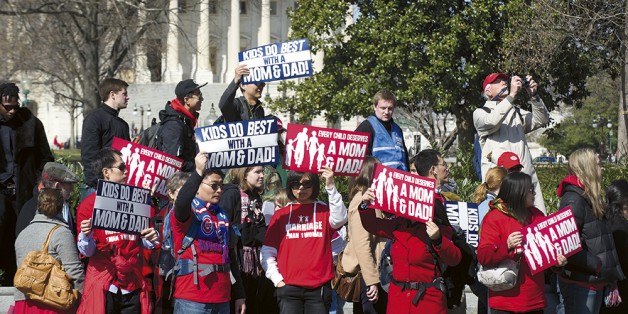 Conservatives may have found another way to stem the rising tide of rights for America's gays and lesbians. Rather than a frontal assault on the constitutionality of, say, same-sex marriage, they're taking another tack — asserting that their own civil rights are violated when they're forced to treat gay couples like straight ones.
Take the case of Elaine and Jonathan Huguenin, co-owners of a small Albuquerque, New Mexico, photography company. Last month, the New Mexico Supreme Court determined the couple had acted illegally in 2006 when they refused to take pictures of a commitment ceremony (held in lieu of a still-illegal marriage) between a gay couple. Noting that state law prohibits discrimination based on sexual orientation, the state court decreed that accommodating different types of people was the "price of citizenship" in America.
It was yet another victory for gay-rights advocates, who have watched public opinion swell in their favor in recent years. But to the Hugeunins and those who have rallied to their cause, the case represents something else: a rare opportunity to shift public opinion in the other direction.
The Huguenins argue being forced to photograph the ceremony amounted to a persecution of their faith and an infringement on their First Amendment rights. "This idea that people in America can be compelled by law to compromise the very religious beliefs that inspire their lives as the 'price of citizenship' is an unbelievable attack on freedom," Jim Campbell, an attorney for the Huguenins, told National Journal. "Jonathan and Elaine Huguenin were simply trying to live their lives and operate their business in accordance with their faith."