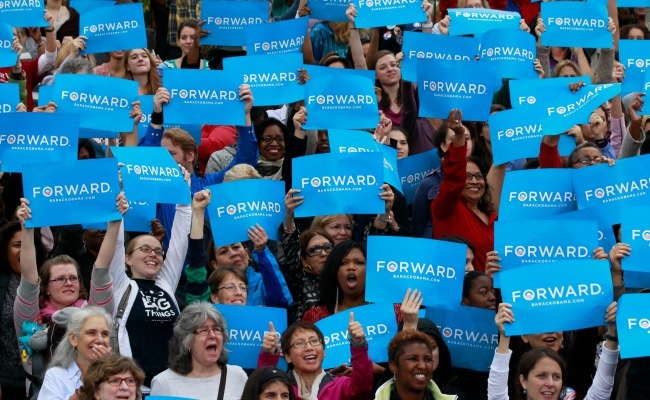 To hear some Democrats tell it, the bold, progressive future is on the horizon. It's a matter of simple demographics: The segments of the electorate that are growing -- young people and minorities -- all overwhelmingly favor Democrats, while those that favor Republicans -- older voters and whites -- are declining. The "rising" electorate doesn't just like President Obama, either; its members evince broadly progressive attitudes, from a weariness with divisive social issues to an earnest belief in government's ability to do good. Add it up, and you have an unstoppable recipe for victory for populist pols in the mold of Elizabeth Warren and Bill de Blasio. After all, if the 1980 electorate (88 percent white) had had the same makeup as that of 2012 (72 percent white), with all the racial and ethnic groups voting in the same proportions, Ronald Reagan would have never been elected president.
A new study released by the center-left think tank Third Way on Friday aims to pour some needed cold water on liberals' excited claims. Not so fast, says researcher Michelle Diggles, a Ph.D. political scientist.
"Faith that demographics will deliver Democrats to power over the next several decades rests on ... illusions about voters and their beliefs and behaviors, for which there is conflicting evidence," Diggles writes. Rather than assume a mandate for untrammeled liberalism, "Democrats must resist complacency and develop an accurate understanding of the new electorate."