An Awkward Day to Be Terry McAuliffe
Obama's new carbon controls put this Virginia Democrat in a political pickle.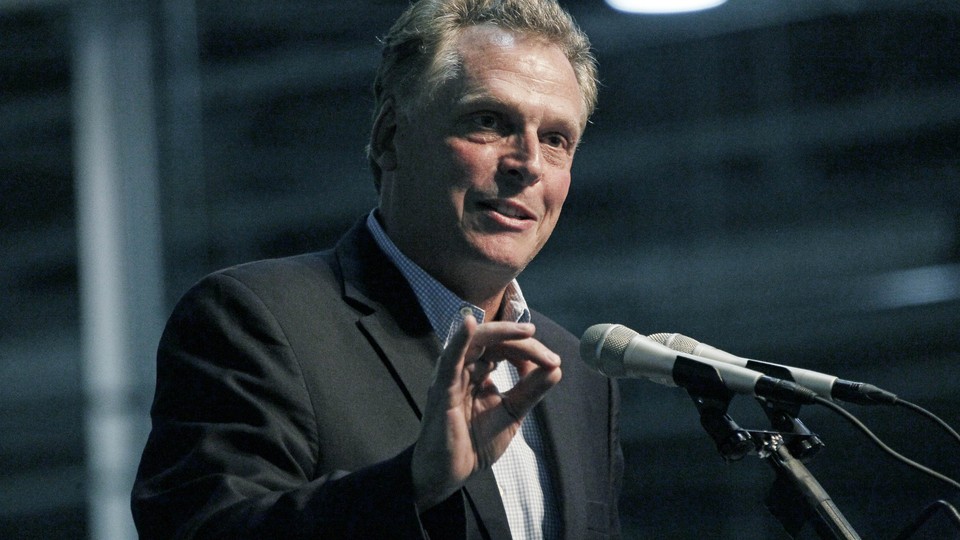 It's difficult day for Virginia Democratic gubernatorial nominee Terry McAuliffe. That's because the Obama administration on Friday announced its landmark power-plant regulations, setting strict limits on how much greenhouse-gas pollution can be generated by any future plant and instantly sparking backlash from the coal industry.
The state's southwest is coal-mining country, and many Virginians rely on coal plants to keep the lights on. While Democrats in other coal states have distanced themselves from the Environmental Protection Agency's announcement, so far McAuliffe has been mostly keeping quiet. Don't be fooled though. As National Journal's Coral Davenport reported, this is an extremely important if uncomfortable time for the Old Dominion Democrat.
Virginia has a complicated relationship with climate politics, and those priorities are apparent in McAuliffe's own conflictions. While he's walked a careful line on coal, voicing his support for a "clean coal" solution, McAuliffe has been outspoken in his broader climate politics, criticizing opponent Ken Cuccinelli for his climate denial and noting in particular Cuccinelli's attack on the climate scientist Michael Mann.
That's a brave move in Virginia, given its identity as a coal state, and environmental groups like the League of Conservation Voters have been campaigning aggressively on his behalf.
Cuccinelli has been quick to pounce on the tension in McAuliffe's position. "The needs of our job creators and families are much more important than special-interest groups and radical environmentalists," Cuccinelli wrote in a statement moments after Obama's new regulations were announced. "It's disappointing that the president and Terry McAuliffe either don't understand that or don't seem to care."
But Cuccinelli may be vulnerable on climate issues, too. Obama's proposed regulations have strong public backing, particularly from young people around the country. And climate change could have a tremendous impact on Virginia's coastal areas. Norfolk, in particular, is listed as one of the U.S. cities most threatened by sea-level rise according to the U.S. Geological Survey. Cuccinelli has actively ducked questions about whether he accepts the science behind human-caused global warming, effectively stonewalling reporters who pressed the question a few weeks ago.
McAuliffe's campaign broke its radio silence Friday, releasing a cautious statement saying, "He looks forward to further reviewing the president's proposed rules." Even that's impressive for a Democrat from Appalachia. Three years ago, such politicians were all running away from Obama's record on coal as if their political lives depend on it.
In some cases, they did. Former Democratic Rep. Rick Boucher was booted from office in 2010 simply for backing the 2009 climate-change bill and even though he successfully negotiated significant carve-outs for the coal industry.
If McAuliffe can walk the line as an environmentalist candidate for governor, we may be seeing a big shift in Virginia and beyond.