Americans Oppose House GOP's Obamacare Strategy
United Technologies/National Journal Congressional Connection Poll finds people don't want changes to health reform tied to government funding or the debt limit.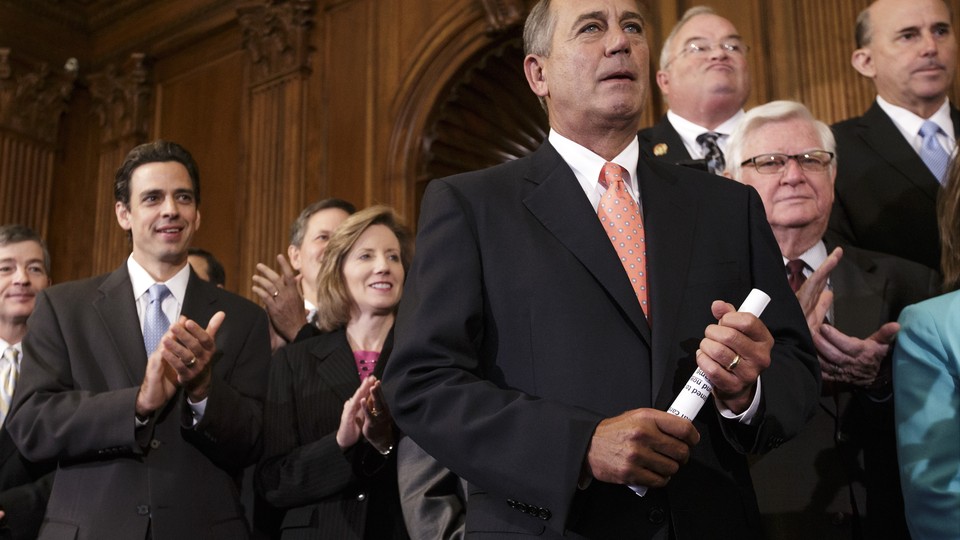 Republicans, take note. Americans might not like President Obama's signature health care law, but they don't dislike the massive program enough to risk a government shutdown over efforts to unravel it.
According to the latest United Technologies/National Journal Congressional Connection Poll, a solid majority of Americans said Congress should consider legislation that might delay or defund the program known as Obamacare separate from any government funding or debt-limit measure.
The poll results should stir angst among House Republicans about the wisdom of last week's vote to link funding for the Affordable Care Act with a continuing resolution to fund the government. The Senate is expected to strip the defunding measure this week and return a bill that only funds the government. The clash could lead to a government shutdown.
But in an encouraging development for nervous GOP apparatchiks, if a shutdown occurs, the survey showed the public is poised to blame President Obama as much as House Republicans. Many Republican officials worried that voters would hold the GOP solely accountable for the government closure.
Still, an overwhelming majority of Americans prefer the Senate's approach to the government-funding negotiations: 63 percent said Congress should "provide the funding to keep the government operating and deal with the health care issue separately." Only 27 percent said "only fund the continuing operations of the federal government if Obama agrees to delay or withdraw his health care plan."
Even Republicans are skeptical of the House GOP's approach. A majority, 51 percent, said Congress should keep the two issues separate, while 42 percent said a continuing resolution should be passed only if Obama agrees to defund the health care law.
Republican officials and strategists have warned that linking the two measures would be a political disaster for the GOP, reinforcing impressions with the public that the party doesn't work constructively to solve problems. They worry it would repeat the fallout of 1995 and 1996, when the shutdown led by then-House Speaker Newt Gingrich spurred President Bill Clinton's reelection landslide.
Notably, only one subset of Republican-leaning groups was inclined to push for the dissolution of Obamacare. White men without a college degree said they preferred to hold up government funding, 49 percent to 44 percent. Every other Republican group disagreed, and disagreed enormously. White men with a college degree, for example, preferred keeping the issues separate by a margin of 66 percent to 31 percent, a 40-point swing from their blue-collar brethren. More than 60 percent of white women, both those with and without a degree, wanted to deal with Obamacare later.
The findings suggest the defund effort is being driven by the GOP's most conservative wing while more moderate elements of the party's coalition look on anxiously. Blue-collar white men are the most conservative of the four education-gender subgroups — just 33 percent of them backed Obama in 2012, according to exit polls, compared with 38 percent of white-collar white men.
Opposition to linking Obamacare with debt-ceiling talks is less severe, but nonetheless potent. A majority, 52 percent, say "increase the U.S. debt limit and deal with the health care issue separately," while 31 percent say "only increase the debt limit if Obama agrees to delay or withdraw his health care plan."
By a margin of 48 percent to 33 percent, Republicans say they should hold out on the debt-ceiling until Obama rescinds the health care law. The plurality indicates a more congruous, if still far from united, front within the GOP. That explains why many GOP strategists think a fight over the debt ceiling is smarter than one over government funding.
But independents are more hostile to the idea — 51 percent of them want to wall off the Affordable Care Act from the debt ceiling, and only 33 percent say the two measures should be linked. For their part, 68 percent of Democrats want to keep them separate.
Republicans can find a silver lining in the data on one question: whom voters would blame for a government shutdown. Nearly as many named the Obama administration (36 percent) as Republicans (39 percent), while 17 percent said both would be equally to blame.
The split in sentiment was especially stark along educational lines among white voters. A strong plurality of blue-collar whites, 45 percent, said they'd hold Obama accountable, while just 29 percent tapped Republicans. But 43 percent of white-collar whites said they'd blame Republicans, more than the 36 percent who said the White House.
The poll, conducted Sept. 19-22, interviewed 1,003 adults over landline and cell phones. It has a margin of error of  plus or minus 3.6 percentage points.
{{ BIZOBJ (video: 4459) }}