American 'Boots on the Ground' in Syria? John Kerry's Facepalm Moment
The secretary of state said troops could be deployed to Syria if the situation "imploded" -- then quickly walked the statement back.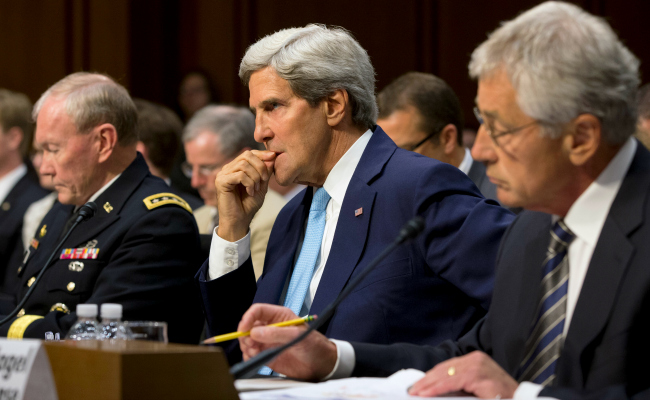 John Kerry is no longer a member of the U.S. Senate.
It's a fact he and some of his former colleagues struggled to recall at moments during a Senate Foreign Relations Committee hearing Tuesday on "The Authorization of Use of Force in Syria." Kerry and John McCain bantered like old friends, Kerry stood up for his successor's right to display a nameplate, and Barbara Boxer addressed her former colleague as "John," before quickly correcting herself to "Mr. Secretary."
Kerry, too, at one point seemed to lose sight of the fact he was there as an administration spokesperson seeking to reassure and convince a skeptical public, as well as his former colleagues, and not to think out loud as the discussant he had been for so many years when he served as chairman of the committee. The topic: the critical question of whether the Obama Administration plans for there to be American troops on Syrian soil.
In the House, Democrats Chris Van Hollen and Gerry Connolly have been drafting a reworked version of the proposed White House authorization for use of force. The representatives' version, according to the Washington Post, includes "a legally binding stipulation that no ground troops would be deployed."
"Mr. Secretary, we received from the administration a proposed resolution for the authorization of force, and of course that is a negotiation between the Congress and the administration," current Chairman Robert Menendez of New Jersey asked. "Would you tell us whether you believe that a prohibition for having American boots on the ground -- is that something that the administration would accept as part of a resolution?"
"Mr. Chairman, it would be preferable not to, not because there is any intention or any plan or any desire whatsoever to have boots on the ground," Kerry replied. "And I think the president will give you every assurance in the world, as am I, as has the secretary of defense and the chairman.
"But in the event Syria

imploded

, for instance, or in the event there was a threat of a chemical weapons cache falling into the hands of al-Nusra or someone else

and

it was clearly in the interest of our allies

and

all of us, the British, the French

and

others, to prevent those weapons of mass destruction falling into the hands of the worst elements, I don't want to take off the table an option that might or might not be available to a president of the United States to secure our country.
"
Menendez interrupted. "If we said that there'd be no troops on the ground for combat purposes, that clearly would, I assume ...."
"Well, assuming that, in the going to protect those weapons -- whether or not they had to, you know, answer a shot in order to be secure, I don't want to speak to that. The bottom line is this -- can I give you the bottom line?" Kerry replied.
Menendez said something inaudible, b
ut everyone was eager for the bottom line.
"I'm absolutely confident, Mr. Chairman, that it is easy -- not that complicated -- to work out language that will satisfy the Congress

and

the American people that there's no door open here through which someone can march in ways that the Congress doesn't want it to, while still protecting the national-security interests of the country," Kerry unspooled his answer. "
I'm confident that can be worked out. 
The bottom line is, the president has no intention

and

will not,

and

we do not want to, put American troops on the ground to fight this -- or be involved in the fighting of this civil war, period."
Senator Bob Corker, a Tennessee Republican, was less than satisfied with this answer.
"I will say that -- in response to your answer to Senator Menendez, I didn't find that a very appropriate response regarding boots on the ground," he said later in the hearing

. "And

I do hope as we move through this, the administration can be very clear in that regard."
Kerry walked his earlier comment back: "Well, let me be very clear now because I don't want anything coming out of this hearing that leaves any door open to any possibility. So let's shut that door now as tight as we can. 
All I did was raise a hypothetical question about some possibility --
and
I'm thinking out loud -- about how to protect America's interests.
"But if you want to know whether there's any -- you know, the answer is, whatever prohibition clarifies it to Congress

and

the American people, there will not be American boots on the ground with respect to the civil war."
It was that kind of a day, a picture captured by McClatchy made clear: