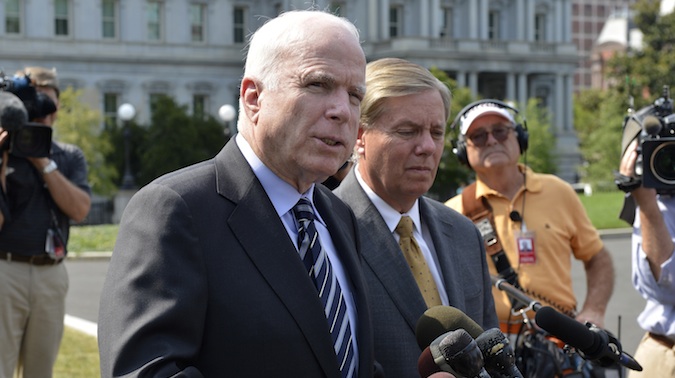 President Obama's decision to gauge congressional opinion on Syria has inspired proponents of war to issue a series of overwrought warnings in recent days. John McCain says a vote against war would be "catastrophic" for Obama, the institution of the presidency, and the credibility of the United States. William A. Galston agrees. "One thing is clear," he writes in the Wall Street Journal: "a loss would shatter his presidency, and a lot more." And columnist Roger Cohen says much the same in the New York Times: "If Assad can thumb his nose at America anyone can, including the Islamic Republic of Iran."
All of this is hogwash.
The journalistic obsession with what the Syria vote means for Obama personally is unseemly. The effect of war on the president's personal reputation and legacy are not matters that should factor into whether the U.S. intervenes abroad. It is nevertheless the case that losing the Syria debate won't "shatter" or derail his presidency, because a majority of Americans do not want him to intervene, and if he loses the vote, a majority of Congress will feel the same way. Intervening in Syria probably won't shatter or derail his presidency either, but an unpopular strike that carries a chance of severe unintended consequences is surely riskier! It is easy to imagine how events spiraling out of control after an American strike could be catastrophic for and derail the president who pushed it.