Why It's Vital to Get the Truth About Ibragim Todashev's Killing
It's been almost three months since he was shot by the FBI. The public still has no clear explanation of what happened.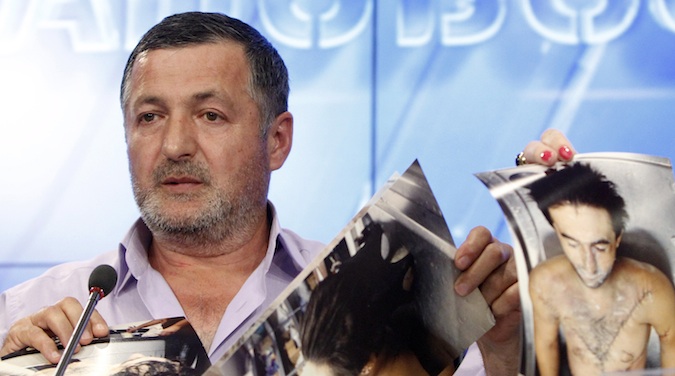 Earlier this summer, the FBI shot and killed Ibragim Todashev at his Orlando, Florida, apartment, where he was being questioned by law-enforcement officials. Afterward, police sources gave wildly conflicting accounts of what happened just before his death: Some said he was unarmed but agitated; others said he was armed, but disagreed about the weapon. Did he reach for a gun? A samurai sword? A knife? A metal pole? A broomstick? Every news report seemed to tell a different story. The FBI wouldn't go on record with an official version of events, and was unusually tight-lipped about the case, even as the dead man's grieving father speculated that his son was murdered. The ACLU, the Council on American-Islamic Relations (CAIR), and various newspaper editorial boards called for an independent investigation, in part because when the FBI investigates itself, its agents are basically always found blameless for fatal shootings.

Then the story faded from national headlines.

Two and a half months later, the FBI has yet to release the results of its investigation. The Boston Globe, Orlando Sentinel, and CAIR have kept pressing for answers. It's time that the rest of us rejoin them. Perhaps the FBI will ultimately produce evidence that clears those present of culpability. Until then, America's federal police force has killed a man, clammed up, and offered no answers for going on three months!
That should never happen. And when it does, the public should demand answers.
Priority one should be multiple competing investigations. "Massachusetts and Florida both have an interest in the case," The Boston Globe points out. "The shooting happened in Florida, and two Massachusetts State Police troopers were present." As Maria Sacchetti, a reporter following the case, has reported, "Jeffrey L. Ashton, the top prosecutor in Orlando ... is reviewing witness and forensic evidence from the US Department of Justice's preliminary investigation ..."
Boston Globe columnist Joan Vennochi is upset that Massachusetts officials aren't following suit:
Given the involvement of Massachusetts law enforcement, the American Civil Liberties Union asked Attorney General Martha Coakley to launch an independent investigation. The AG turned down the request. What happened in Florida was out of her jurisdiction, Coakley said. That was fine with Governor Deval Patrick.

Talk about curious.

When a state police sergeant released photos showing the capture of accused Marathon bomber Dzhokhar Tsarnaev, Patrick acknowledged that rules were broken and the matter was quickly investigated. But when two state troopers are involved in a shooting death that is connected to the Marathon bombing, Patrick has nothing to say and defers to Coakley.
Meanwhile, Todashev's father has traveled to the U.S. from Russia, understandably refused to meet with the FBI, hired a prominent attorney, and retained the services of a private homicide investigator. His attorney says that the FBI sent a clandestine observer to a press conference they held.
The Associated Press reported five days ago that DoJ has finished a preliminary report into the killing.
When does the public get to see it?
Whatever happened in that Orlando apartment -- and it is totally possible that the police didn't do anything wrong -- this case is going to send a strong signal to FBI agents all over America about the degree of scrutiny they'll face when they kill someone under suspicious circumstances. Most FBI agents are honest. But I'd like the few who aren't to know they'll always be subject to thorough, independent investigations and public scrutiny. And I'd like grieving men like Ibragim's father to be confident that they got the truth, whatever it turns out to be.