What's Going On in Yemen?
Yemeni officials say a major, complicated Qaida attack on oil infrastructure and a takeover of port cities has been thwarted.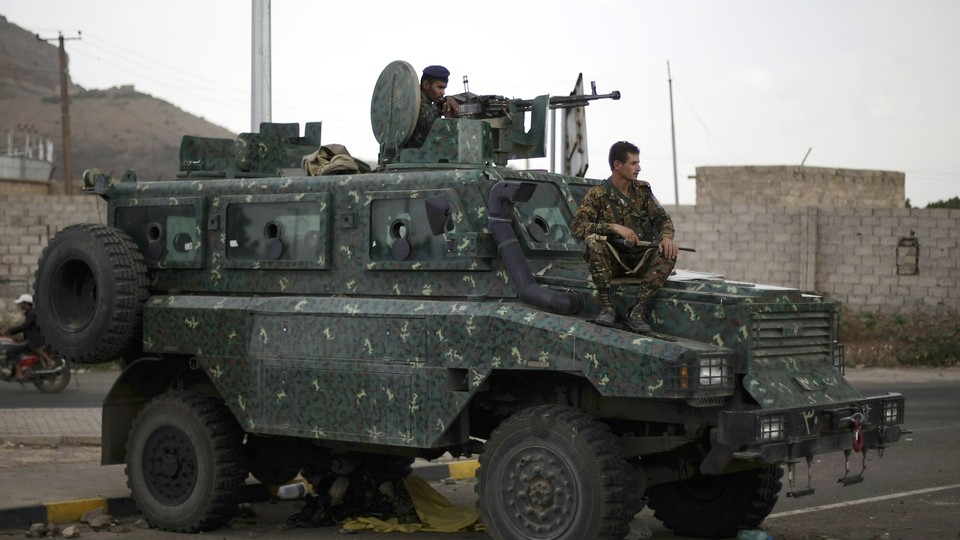 We now know more details about why 19 U.S. embassies were closed across the Arab world earlier this week, and why Americans were urged to leave Yemen. U.S. and Yemeni security officials tell various news outlets that a Qaida plot was in the works to take over the Yemeni oil supply and blasting foreign embassies with suicide bombs.
As relayed to the Daily Beast, U.S. spies intercepted a conference call that a security official likened to "a meeting of the Legion of Doom" of 20 Qaida operatives in Pakistan, Nigeria, Iraq, and elsewhere.
Perhaps the evil-villain connection is warranted here, as the details spell out an elaborate plot that involve disguises, mass destruction of infrastructure, and the seizure of a couple cities. Here's what we know.
1. Included on the call were Ayman al-Zawahri, the leader of al-Qaida, and Nasir ul-Wuhayshi, the leader of al-Qaida in the Arabian Peninsula (who was formerly Osama bin Laden's personal assistant). During the course of the call, relays the Beast, Wuhayshi was promoted to control the groups "many affiliates across the Muslim world." The paper reports that the CIA has been tracking Wuhayshi for months.
2. In addition to the oil pipelines, the terrorists were planning to take control of two important port cities. Dressed like Yemeni soldiers, they were going to seize the cities and kill or kidnap foreigners, relays The New York Times.
3. Yemeni officials tell the BBC the plot has been thwarted.
4. According to Yemeni officials, the attacks were to be a retaliation for U.S. attacks against Qaida leaders. The Associated Press reports:
Yemeni investigators looking into the threat said they believe the motive of the attack was retaliation for the killing of Saudi-born Saeed al-Shihri, who was released from the U.S. prison in Guantanamo Bay after nearly six years and later became the No. 2 al-Qaida leader in Yemen.
Though not all reports agree. The Times says the connection between American strikes and this plot "was not clear."
However, U.S. attacks have stepped up in recent days. Just Wednesday, Reuters reports, the U.S. killed six Qaida militants in Yemen. On Monday, five were killed in a drone strike. Yemen expert Greggory D. Johnson writing in Foreign Policy estimates that over the last four years, the U.S. has killed 600 in Yemen.
5. Yemeni officials also say al-Qaida shot down a Yemeni helicopter with military personnel who guard the oil infrastructure.
6. U.S. diplomatic officials in the country were evacuated to Germany. In all, 90 Americans were airlifted from the country.
{{ BIZOBJ (video: 4378) }}