'What the Girls in the East Wing Think'
Michelle Obama's team in the White House has tackled issues like ending obesity and supporting veterans. How effective is its soft-power approach to policy?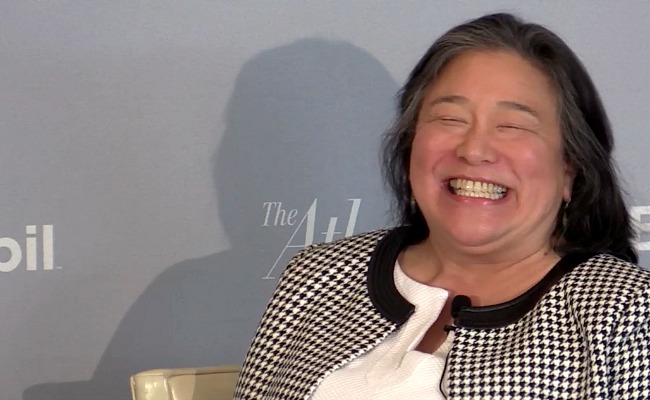 Michelle Obama's focus on healthy living and obesity has drawn criticism from conservatives and liberals alike. On the right, detractors
claim
that her advocacy represents yet another government intrusion into the average American's life. On the left, critics
argue that the first lady has kowtowed to "Big Food," letting industry interests trump policy progress. Still others say her efforts have been ineffective, even a little silly.
But Tina Tchen, Michelle Obama's chief of staff and a senior policy adviser in the West Wing, thinks the first lady's efforts have shaped the national conversation on complicated, serious issues.
"Four years ago, was anybody really talking about calorie counts?" she asked during an interview with Linda Douglass at The Atlantic's Women of Washington event on Wednesday. "Was anybody really talking about putting more physical activity back in schools? Were we really talking about sugary sodas? Childhood obesity was something that health experts knew about, some child advocates knew about, but in terms of a general consciousness that we have a severe epidemic happening, it really wasn't there."
This poses two interesting questions: First, have Michelle Obama's non-legislative efforts to influence public policy been as effective as Tchen says? And second, what is the right role for public officials, elected or not, in raising awareness and creating a sense of urgency about an issue?
On the first question, Tchen's assessment seems right in at least one way: Over the past several years, healthy eating and childhood obesity have taken permanent root in public consciousness, with calorie counts showing up on fast food menus and companies looking at ways to make their junk food a little bit healthier. Obama has rallied star power on behalf of her "Let's Move!" campaign, dancing with a Jimmy Fallon (who was dressed in what must have been the most unexciting drag ever) and recruiting Beyonce for some intense school cafeteria exercise. Her efforts also contributed to the passage of the Healthy, Hunger-Free Kids Act of 2010, which sought to improve the nutritional value of school lunches.
But it's difficult to tell just how much the first lady's efforts have shaped public conversations compared to the many food activists, writers, and politicians who advocate healthier living for all Americans. One prominent example is New York's mayor, Michael Bloomberg, who was requiring restaurants to post calorie counts and banning trans-fats well before President Obama took office. His efforts in New York inspired similar policies in other cities, including Philadelphia and San Francisco. So in at least a few cities, people were thinking about these issues more than four years ago.
The second question, about the right role for public officials in shaping awareness and mores, is trickier. Prickly reactions to Obama's "Let's Move!" campaign went beyond legislative disagreement, especially after her efforts were called out by the president at the 2010 State of the Union address; her critics felt micromanaged, especially since the initiatives were coming from someone associated with the federal government. It's hard to dispute that rising levels of obesity place a burden on the nation's healthcare system, especially government programs like Medicare and Medicaid. Even so, some have argued that demonizing Coke, hamburgers, ice cream, and everything else that makes America delicious is the peskiest possible invasion of privacy.
Regardless of their critics, the Obamas seem to be fully embracing their larger cultural cache as a policy tool. According to Tchen, Michelle Obama is part of a one-two punch for the administration's policy priorities. "Do the boys in the West Wing care about what the girls in the East Wing think? It helps that we have the most popular person in the White House," she joked. "A lot of our issues are right in the sweet spot of the administration. We really see ourselves as amplifying [issues] that are the administration's priorities."