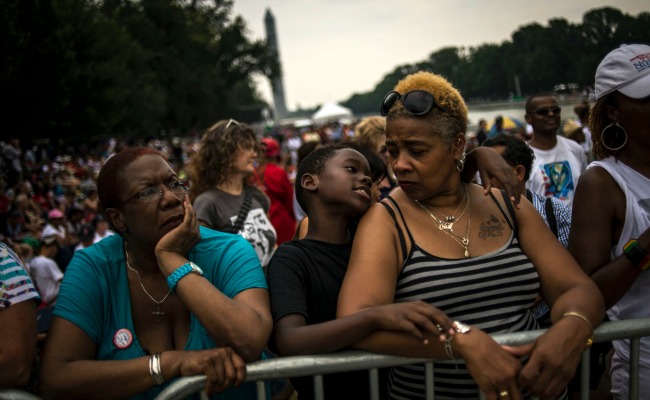 WASHINGTON -- The hottest accessory at the "Let Freedom Ring" ceremony commemorating the 50th anniversary of the March on Washington for Jobs and Freedom was a yellowed button from the original march, worn by a man or woman with white hair.
Paul Stanley, 70, wore a baseball cap's worth of old buttons, as well as ones from earlier commemorations of the 1963 march, which he attended as a young man. "I grew up here when Washington, D.C., was Jim Crow," he said.
He couldn't go into restaurants back then, and if he wanted to buy food from one he had to eat it outside, he recalled. Thanks to the civil-rights movement, he can can go into the restaurants, hotels, and movie theaters that he was not able to enter in some places in the South as late as 1968, he said, ticking off the improvements. As importantly, "We're able to speak our minds."
But there was still work to do when it came to the jobs, education, and voting-rights outlook, he said. "We're only halfway there." That's why he appreciated Barack Obama's political speech at the rally so much. "I'm very happy today to see our black president and the speech he made," said Stanley, now a resident of Bethesda, Maryland.