The Watergate Cover-Up Trial: Justice Denied?
There were real crimes and real criminals. But newly found documents suggest a denial of due process of law to the defendants, a move that did the Constitution no favors.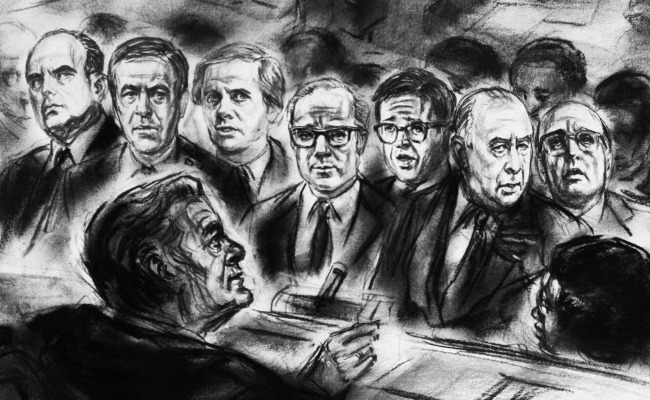 Foul deeds will rise, though all the earth o'erwhelm them, to men's eyes. -- William Shakespeare, Hamlet
Watergate remains the greatest political scandal in modern American history. It culminated not only in President Nixon's announcement of his resignation, 39 years ago Thursday, but in the conviction and imprisonment of his three most senior aides. Attorney General John Mitchell, White House Chief of Staff H.R. Haldeman, and Assistant to the President for Domestic Affairs John Ehrlichman were found guilty of conspiracy, obstruction of justice, and perjury in the three-month Watergate cover-up trial, which ended on January 1, 1975.
I saw it all unfold. I was a young lawyer working on the White House staff and assisting in Nixon's defense efforts. It is true that we failed spectacularly. Of course, I'm disappointed we weren't more successful. But whether the defendants were innocent or guilty, I've always worried on a more basic level that the heightened emotions of the times denied them the due process of law envisioned by our Constitution.
As a result of some recent discoveries I made while researching a book on the Watergate trials, my concern has been vindicated. It turns out that the notion that "no man is above the law" somehow didn't apply to judges or prosecutors involved in the cover-up trial. Documents I have uncovered indicate that the efforts to punish the wrongdoings of Watergate led to further wrongdoing by the very officials given the task of bringing the Watergate defendants to justice.
The new documents suggest that defendants in the Watergate cover-up trial, held before Judge John Sirica, received anything but a fair trial. Indeed, they suggest prosecutorial and judicial misconduct so serious –- secret meetings, secret documents, secret collusion -- that their disclosure at the time either would have prevented Sirica from presiding over the trial or would have resulted in the reversal of the convictions and the cases being remanded for new trials.
It matters not whether you believe that a retrial, under a different judge and perhaps held outside of the District of Columbia, might have resulted in one or more acquittals. That could well have been the result. The strong possibility remains that the Watergate defendants did not receive the fair trial guaranteed by our Constitution. For a nation that prides itself on the rule of law, even in cases of intense publicity and partisanship, this should be cause for concern.
Due process of law requires a trial judge who is both fair and impartial. Central to this tenet is the idea that judges cannot meet in private with just one side ("ex parte") and without keeping a record that can be reviewed on appeal. Indeed, the Code of Conduct for United States Judges contains a specific and explicit ban on ex parte meetings. Canon 3.A.4 provides in pertinent part, emphasis mine:
4. Except as set out below, a judge should not initiate, permit, or consider ex parte communications or consider other communications concerning a pending or impending matter that are made outside the presence of the parties or their lawyers. If a judge receives an unauthorized ex parte communication bearing on the substance of a matter, the judge should promptly notify the parties of the subject matter of the communication and allow the parties an opportunity to respond, if requested. A judge may:

b) When circumstances require it, permit ex parte communication for scheduling, administrative, or emergency purposes, but only if the ex parte communication does not address substantive matters and the judge reasonably believes that no party will gain a procedural, substantive, or tactical advantage as a result of the ex parte communication.
Yet this is precisely what happened in the Watergate cover-up trial held before Sirica. The documents I have uncovered raise two basic and vital questions: How much private contact could Sirica, in his role supervising the Watergate grand jury, legitimately have with prosecutors presenting evidence to that grand jury before the trial began, and still be seen as fair and impartial? And had the substantial contacts revealed in these documents been known, would Sirica still have been able to appoint himself to preside over the trial? The answers to these questions lay bare a series of improprieties that call into question the legitimacy of the Mitchell, Haldeman, and Ehrlichman verdicts.
On November 1, 1973, Leon Jaworski, a past president of the American Bar Association and founding partner of the prestigious Houston law firm of Fulbright & Jaworski, replaced Archibald Cox as head of the Watergate Special Prosecution Force (WSPF). Upon arrival, he found himself sandwiched between the team of eager, politically partisan prosecutors he inherited from his predecessor, and a hanging judge who had taken a personal interest in the case and was eager to assist in its prosecution. Only now can we begin to appreciate how Jaworski responded -- and perhaps admire his ingenuity.
Jaworski served as special prosecutor for just one year -- but what a year it was. He was at ground zero during the denouement of the Watergate scandal, which included bringing the cover-up indictments of Nixon's top aides. Those indictments named Nixon as an unindicted co-conspirator and were accompanied by a grand-jury report designed to be transmitted to the House of Representatives. The grand-jury report was intended to be the "road map" for the House Judiciary Committee's impeachment inquiry.
The special prosecutor's successful litigation to gain access to Nixon's White House tape recordings, coupled with the Judiciary Committee's adoption of three Articles of Impeachment, led Nixon to announce his resignation on August 8, 1974. A month later, President Ford fully and unconditionally pardoned the former president.
When Jaworski resigned as special prosecutor, at the end of October 1974, the only unfinished business was the trial of Nixon's senior aides in the Watergate cover-up case. He didn't hide the fact that he longed to leave the political intrigue of Washington to return to his beloved Texas.  His resignation was announced just days after the cover-up trial jury had been sequestered.
As the special prosecutor's files gradually became available for public review in the decades that followed, one of the troubling omissions was the noticeable absence of any documents from Jaworski's personal files. (Records become available only in response to a Freedom of Information Act request, and even then only after extensive substantive review by National Archives staff. Investigatory files not resulting in indictments become available only upon the death of the individual involved -- meaning that Watergate material is still slowly emerging, even after 40 years.)
This mystery was solved only last year, when Jaworski's Watergate files were discovered to be a part of his posthumous donation to his Texas alma mater, Baylor University. These documents and memoranda were duly retrieved and reviewed by the National Archives, and portions of them became available to researchers earlier this year. If not the first to review these files, I am the first to note the impact and significance of those selected for discussion below.
Jaworski's Predicament
Before reviewing some of the documents that have come to light, it is helpful to review the context in which they were written.
The WSPF had already been in existence for six months before Jaworski's arrival. Many Republicans were critical of this totally independent organization, because its assembled attorneys consisted almost exclusively of Democrats from elite Ivy League law schools and its leadership consisted almost entirely of Democrats who had worked together in Robert Kennedy's Department of Justice. Archibald Cox's pedigree as a Harvard Law School professor and his hand-picked prosecutorial staff of Kennedy alumni and partisans only served to intensify the lines of combat as the WSPF's investigations expanded well beyond the Watergate break-in itself.
Rumors were rife in Washington that Jaworski -- a graduate of Baylor and the George Washington University Law School, and a conservative Democrat who had twice voted for Nixon -- might not fit in with what had become known as Cox's Army, and might interfere with their intended prosecutions of senior Nixon Administration officials. Within the WSPF, the Texan was seen as an untrusted and unproven leader, and it appears that he was sometimes kept in the dark about the full extent of ongoing investigations.
Jaworski's ongoing concerns regarding his staff's partisan attitudes are captured in his draft reply to a memo from his deputy, Henry Ruth, dated January 21, 1974. In it, he complains not only about their lynch-mob attitude towards Nixon but also about his inability to obtain forthright and objective advice:
Now let me address myself to the general tenor of your memorandum which reflects an attitude I discussed with you before – the subjective conviction that the President must be reached at all cost.

What is of some concern to me are the discussions, plans and understandings had and reached between staff members prior to any discussions with me. This results in convictions already formed and frankly, under such circumstances, the meetings are of no help to me.
At the same time, Jaworski had to operate in a judicial environment presided over by Sirica, a feisty former boxer who had been appointed to the bench by President Eisenhower in 1957. While invariably described as a Republican, Sirica had chosen as his career mentor Edward Bennett Williams, counsel for the Washington Post and the Democratic National Committee, and the two men remained very close. Popularly known as "Maximum John" because of his harsh sentences, Sirica was the most frequently reversed judge in the U.S. District Court for the District of Columbia. His clashes with the liberal D.C. Circuit Court of Appeals were legendary -- and frequently turned on questions of giving defendants their rights of due process under the Constitution.
Sirica had appointed himself to preside over the original Watergate burglary trial when the burglary indictments were handed down on September 15, 1972, and had become something of a national hero for his relentless pursuit of the origins and responsibilities for the Watergate break-in. The Watergate burglars themselves -- Gordon Liddy, Howard Hunt, James McCord, and four Cuban Americans -- were convicted when that trial ended on January 23, 1973. Indeed, Sirica's prosecutorial trial conduct and harsh sentencing of these burglary defendants was credited with bringing about the collapse of the Watergate cover-up, which had sought to limit responsibility for the Watergate break-in to low-level officials in the president's reelection committee.
Proving that "the cover-up can be worse than the crime," there was a renewed interest into just who had been responsible for the failed cover-up. After 10 months of intensive investigation, WSPF prosecutors contended that those indicted on March 1, 1974, along with some 17 unindicted co-conspirators, had worked together to protect higher-ups in the Nixon White House and the president's reelection committee from being brought to justice in the first trial. Those higher-ups included Nixon's three top aides -- Mitchell, Haldeman, and Ehrlichman.
It was widely suspected that Sirica was eager to preside over the trial of the cover-up's criminal conspiracy and the obstruction of justice that had come to light as a result of his own actions.
Sirica had become chief judge of the D.C. District Court in 1971. Under federal rules, the longest-tenured judge in each district automatically served as chief judge until he turned 70, when he was required to step down. Thus Sirica would cease to be chief judge on March 19, 1974.
As long as he was chief judge, however, Sirica's duties included two specific responsibilities. First was general oversight of the grand juries operating under the auspices of the district court. These were ministerial and not substantive duties, and involved primarily housekeeping matters. Second was the authority to identify special cases and to assign specific judges to preside over them -- including himself -- rather than have the trial judge assigned by the usual and random system of rotation.
Our system of justice envisions proceedings before fair and impartial judges, who are expected to stay above the fray as they preside over the trials unfolding before them. Those defending Nixon felt Sirica had become anything but disinterested -- and was both biased in favor of WSPF prosecutors and had acquired a vested interest in securing the convictions of Nixon's senior aides. Such convictions would not only vindicate his conduct in the earlier Watergate break-in trial, which had been criticized by many observers for its aggressiveness, but would further cement his national reputation as a vigilant, valiant, truth-seeking judge.
Sirica exercised his authority as chief judge to name himself to preside over the cover-up trial on March 1, 1974 -- the very day the cover-up indictments were announced, and less than three weeks before he would have to step down as chief judge.
This self-assignment was the defendants' worst nightmare. They immediately sought an order from the D.C. Circuit Court to mandate his removal. Their petition requested two actions: First, an evidentiary hearing to inquire into the nature and extent of Sirica's suspected ex parte contacts with WSPF attorneys; and, second, a determination by an independent three-judge panel as to whether Sirica should be the one to preside over their trial. Their appellate briefs noted that the American Civil Liberties Union had concurred in the latter request.
Trying to remove a determined and opinionated judge is a chancy proposition. Failure can trigger adverse consequences -- and Sirica was known to have a long memory. Fueling this concern, WSPF attorneys denounced allegations in the defendants' briefs about Sirica's possible bias as "scurrilous" and totally unfounded. Even so, the WSPF brief did not respond to the defendants' request for the evidentiary hearing, or otherwise contain any comment in response to the defendants' questions about Sirica's possible ex parte meetings with WSPF prosecutors.
The appellate court did not take kindly to the defendants' petition: Without even holding a hearing on the matter, a majority of its nine judges quickly and succinctly denied their request in an unsigned order, issued on behalf of the court sitting en banc (as the full nine-judge court, rather than the normal three-judge appellate panel), on June 7, 1974.
A lone dissent was filed by Judge George MacKinnon, who expressed surprise at the suddenness of his brethren's actions. MacKinnon questioned how the court could characterize the matter as being "of exceptional importance" -- a necessary precondition to sitting en banc -- and then issue a one-sentence order, without further explanation; on a per curiam basis (that is, not signed, even by a single judge); and without providing the opportunity for oral argument. MacKinnon also found that the defendants' two requests were reasonable on the basis of the facts presented in their briefs. His was, however, only a minority opinion, filed a month after the majority had ruled otherwise.
The defendants filed an appeal to the Supreme Court. Not to be outdone by the abruptness of the Circuit Court, the Supreme Court voted to deny the defendants' petition without waiting for the WSPF's own reply brief even to be filed.
It was as though the very act of questioning Sirica's conduct and objectivity was an attack on the integrity of the judiciary itself -- and these judges wanted no part of it. The defendants' suspicions of illegitimate ex parte meetings were never given a fair hearing -- or any hearing at all. The evidence supporting their concerns has now come to light only with the nearly accidental discovery of the documents in Jaworski's confidential Watergate files.
The cover-up trial began the first week of October 1974. After a three-month trial, the principal defendants were convicted on all counts of conspiracy, obstruction of justice, and perjury. Their post-conviction appeals were unsuccessful; the Circuit Court, again sitting en banc and again issuing an unsigned, per curiam opinion, found no basis for reversal. The opinion dismissed any question of Sirica's possible ex parte meetings with prosecutors as unworthy of concern, on the grounds that had any such meetings occurred, they would only have been in connection with Sirica's official duties. The Supreme Court declined to hear any appeal.
And this is where matters stood for four decades -- until Leon Jaworski's papers became available earlier this year at the National Archives. Several of the documents I found among his papers suggest that the defendants' concerns about Sirica's impartiality and coordination with WSPF prosecutors were very well founded.
The Prosecution's Ex Parte Meetings With Judge Sirica
A review of the nature and extent of the disclosures from these newly available Jaworski documents is best done on a calendar basis, but it is important to note that facts concerning each of these meetings are surfacing here for the first time. Not one of them has been mentioned in any of the hundreds of books written on the Watergate scandal.
- December 14, 1973: At Sirica's request, four top WSPF officials participated in a private, ex parte meeting with Judges Sirica and Gerhard Gesell. In addition to Jaworski, the prosecutors present were Henry Ruth, deputy special prosecutor; Philip Lacovara, special counsel; and Richard Ben-Veniste, associate special prosecutor and head of the Watergate Task Force. Because no record was kept, we do not know the extent of the meeting or all of the topics that were covered. None of the participants mentioned this meeting in their subsequent books.
We also do not know why Judge Gesell was singled out to attend, to the exclusion of all other District Court judges. But we do know that Gesell ultimately presided over all but one of the Watergate-related trials that Sirica did not take for himself.
With these six participants, this could not have been a casual or informal meeting. Jaworski had assumed office just the month before, so the meeting may have been a full-blown review of what was going on and where things stood with regard to the status of ongoing and anticipated WSPF criminal investigations. Only two days before this meeting, Sirica had provided WSPF prosecutors with the tape of John Dean's March 21, 1973*, meeting with Nixon, in which Nixon described the monetary demands from convicted Watergate burglar Howard Hunt, which Dean described as blackmail. It seems quite likely that Sirica was curious as to the prosecutors' reactions to this particular tape.
Of course, any ex parte discussion between judges and prosecutors of actual evidence in a criminal case is strictly forbidden.
The reason we now know about the December 14 meeting is because of Jaworski's file copy of a letter he sent Sirica nearly two weeks later, on December 27. It is interesting that in the intervening 40 years, no other copy of this letter has come to light. Jaworski's letter predicts the timing and nature of indictments that could be forthcoming should the respective grand juries choose to follow the recommendations of his five WSPF task forces.
Obtaining some idea of the anticipated indictments was a perfectly legitimate concern for a chief judge responsible for management of the court's docket. But this could not have been the sole basis for the December 14 meeting of those six people. If this were all Sirica wanted to know, he could have had his law clerk convey such a request to WSPF officials.
If Jaworski had wanted to protect Sirica from subsequent questions about the nature and extent of this unusual get-together, he could have supplied the requested information without also describing their ex parte meeting. Instead, his letter opened with the following sentence:
When Messrs. Ruth, Lacovara, Ben-Veniste and I met with you and Judge Gesell at your request on Friday, December 14, you suggested that it would be helpful if we could provide you with some sense of the caseload that we would be generating for the Court over the next several months.
It may be that Jaworski intended to make record of this questionable meeting, even while providing some administrative justification for its occurrence. Jaworski's letter can be read to have sent the judge a none-too-subtle signal that such meetings could not be expected to remain secret. Sirica might himself have reached the same conclusion, because the original copy of this letter from Jaworski has not been found among Sirica's papers at the Library of Congress.
A key prediction in Jaworski's December 27 letter states that the comprehensive cover-up indictments were anticipated "by the end of January or the beginning of February." This was information Sirica very much welcomed: The date gave him assurance that the cover-up indictments would be presented fully six weeks before he would have to step down as chief judge and lose the ability to appoint himself to preside over the trial.
- January 7, 1974: Early in the new year, Time announced its selection of Sirica as its 1973 "Man of the Year" in an extensive and laudatory cover story. Time's choice confirmed that Sirica's conduct of the Watergate break-in trial had turned him into an authentic, nationally recognized American hero. Many contemporary and subsequent observers think that the article also affected Sirica's impartiality and objectivity with regard to all subsequent Watergate-related matters. He enjoyed being in the spotlight -- and was looking for ways to stay there.
- January 21, 1974: The next indication of proposed prosecutorial coordination with Sirica came from within Jaworski's own staff. His files contain a memo from Philip Lacovara on this date, describing the recommended procedure for handling the exceptionally sensitive grand-jury report about Nixon, which the prosecution force was drafting for transmittal to the House of Representatives.
Lacovara urged that another private meeting be held with Sirica, in order to be sure that the judge appreciated what was coming and would be prepared to order that the sealed report be forwarded to the House of Representatives in the manner that WSPF attorneys desired. As Lacovara explained:
It would be most unfortunate, for example, for the grand jury to return a presentment without forewarning and then have the judge summarily refuse to receive it because of his lack of awareness of the basis for such a submission.
The goal of this suggested ex parte meeting, then, was to educate Sirica in advance with regard to the grand-jury report, and to gain his concurrence on how it should be handled -- but to do so in a manner that would not tip off the other side as to what was intended.
Had the other side learned of the intended grand-jury report, it might have moved swiftly to seek a finding before Sirica or on appeal that the grand jury had no authority to issue any report at all -- that its sole function was to indict or not to indict. Indeed, there was no precedent for grand-jury reports in the D.C. Circuit. Congress, in passing organized-crime-control legislation in 1970, did provide for the creation of "special grand juries" that could issue such reports -- but the Watergate grand jury had not been so designated.
Even if the defendants did not prevail in court, their challenge could have triggered a demand by congressional Republicans that the White House be provided the opportunity to review the report in advance and offer a rebuttal at the same time the report was transmitted to the Judiciary Committee. By keeping their initiative secret -- possibly with Sirica's advance concurrence -- WSPF prosecutors could obtain a significant procedural advantage over Nixon and the cover-up defendants.
While the memo does advocate another ex parte meeting and offers to prepare a legal analysis for the judge's eyes alone, at this point the meeting and offer were just suggestions. Unless Lacovara's memo was acted upon, explaining its existence might not be all that difficult. Nonetheless, the only copy that appears to exist is the one in Jaworski's confidential Watergate files.
Alternatively, if the suggested meeting had occurred, this sort of collusion between prosecutors and judges, including multiple ex parte meetings and the submission to the judge of undisclosed -- and therefore uncontestable -- memoranda justifying such a grand jury report, would raise serious questions about Sirica's impartiality and about whether the defendants were being accorded the fundamentals of due process of law.
If the written record had ended at this point, with disclosure of just these two documents, questions could have been raised, but no dramatic and indefensible revelations would have been forthcoming. It is the two secretly dictated memos that Jaworski prepared for his confidential files after this that totally undermine any claim of Sirica's impartiality.
- February 11, 1974: The predicted "end of January or the beginning of February" time frame for the cover-up indictment was now past, and the March 19 end to Sirica's tenure as chief judge was fast approaching. So he occasioned another ex parte meeting with Jaworski on this date. As with their earlier private meeting, no mention of this one was made in subsequent books by either of the two people involved -- or even in subsequent WSPF appellate briefs.
Jaworski did, however, dictate a memo to his confidential Watergate file the following day. This memo has to be read in its entirety to be believed, because the audacity of what Sirica had proposed is breathtaking. It is not clear which is the greater surprise: that Sirica would make such requests in an ex parte meeting or that Jaworski would record the meeting and the requests in such a forthright manner. In the opening paragraph of an initial draft, Jaworski writes:
On Monday, February 11, I met with the Judge at which time several matters were covered as we sat alone in the jury room. He again indicated that provided the indictments came down in time, he would take the Watergate Case, stating that he had been urged to do so by any number of judges from across the nation the most recent of them being those who were in attendance with him at a meeting in Atlanta. He expressed the opinion that these indictments should be returned as soon as possible. He also stated that henceforth all guilty pleas would be taken by him. We talked about the Vesco case and he merely expressed the thought that perhaps a sealed indictment would be of some help.
Jaworski's choice of words raises several issues. First, he makes it very clear that he and Sirica had been alone, in a private room, and that the meeting had occurred at Sirica's instigation. Second, Jaworski uses the term "again," confirming this was not the first time the judge had informed Jaworski of his desire to appoint himself to preside over the cover-up trial. Third, there can be no doubt that Sirica was urging that the indictments be hurried along. Indeed, Jaworski notes that Sirica made this point two separate times. Sirica's reason seems clear: In just over a month, he would be forced to step down as chief judge, after which he could no longer appoint himself to preside over the cover-up trial. Jaworski was already aware -- because Sirica had told him -- that he wanted to run this trial, too.
It is a huge procedural advantage for the prosecution to know in advance precisely which judge is going to preside over the trial of the indictments they have under consideration -- and that the judge will hear all guilty pleas. The prosecution can tailor its indictments, garner its evidence, and consider whether to enter any plea bargains, aided by its knowledge of the peculiarities of a particular judge.
Jaworski's mention of Sirica's discussion of the Vesco case is troubling in and of itself. John Mitchell was one of the defendants accused of improperly helping Robert Vesco to resolve an SEC investigation in exchange for a $200,000 political donation, which was then about to go to trial in New York. But the actual reference is worse. When pressed to hurry the cover-up indictments, Jaworski would have explained that the prosecution did not want to bring the cover-up indictments in Washington, D.C., until after the Vesco jury had been sequestered in New York, lest Mitchell claim that those indictments had poisoned potential jurors' minds for his case. Sirica's apparent response was to suggest that the cover-up indictments be brought quickly anyway, so that he could appoint himself as judge. But, he apparently suggested, the indictments should be kept under seal so as not to potentially influence New York jurors. It is difficult to imagine a more egregious example of a judge working with the prosecution toward a common goal.
Much of the remainder of this Jaworski memo reflects Sirica's providing his legal views as to the propriety of a grand-jury report about Nixon -- about which even Sirica had severe reservations. Since Sirica was going to rule on these very issues, he should never have discussed his views with Jaworski, alone and in advance.
The Judge commented upon the status of matters before the grand jury which led into further comments on the possibility of the grand jury considering some type of special report or presentment. He considered this a very touchy problem and cautioned as to what the public's reaction would be to a grand jury stepping out with something that was beyond its normal bounds. He cautioned that the whole effort could be tainted by something irresponsibly being done by the grand jury. He stated that the public would rightfully conclude that the entire proceeding had not been judicious but simply one of wanting to hurt the President. He further said that it was not the function of the grand jury but that of the House Impeachment Committee to express itself on that point. He then told me that in the event that I observed anything along that line being considered by the grand jury that he thought it would be appropriate for him to meet with the grand jury in camera. I expressed the belief that it was appropriate for the grand jury to refer to having in its possession evidence that it believed to be material and relevant to the impeachment proceedings and to suggest to the Court that it be referred to the House Committee for that purpose. He countered by stating that he believed he should be informed of the discretion that he could exercise in matters of that kind and further requested that I have a memorandum prepared for him that covers this subject. I agreed to have this done.
This memo confirms that the ex parte discussion that Lacovara had urged in his February 21 memo did actually occur. Yet this was much more than an ex parte meeting in which Sirica was being informed of an anticipated grand-jury report; this is a record of the legal advice that Sirica offered Jaworski upon learning of the proposed grand-jury report, along with their give and take discussion that followed. In sum, this is a judge giving legal advice to a prosecutor on matters that are certain to soon come before him for rulings -- conduct that is indefensible as a matter of law.
- March 1, 1974: The comprehensive cover-up indictments were unsealed in Sirica's courtroom at 11 a.m. The prosecution had met Sirica's birthday-imposed deadline -- albeit with less than three weeks to spare.
Jaworski then moved for special treatment of the cover-up case, so that Sirica could assign a judge out of the usual rotation to preside over it. Indeed, Sirica signed the order naming himself as trial judge later that same day.
The hearing was beautifully orchestrated, with everything coming off precisely as Jaworski and Sirica had discussed. Only the defendants were caught by surprise by the dramatic presentation of the sealed road map, designed for transmittal to the House of Representatives.
John Wilson, Haldeman's criminal-defense attorney, was so incensed at the surprise (and sealed) grand-jury report that he wrote a formal letter to Sirica demanding to know if the judge had met with WSPF prosecutors in advance of this grand-jury action. His letter remains in Sirica's papers at the Library of Congress. He never received any sort of answer or response. Some of the new Jaworski files reveal why any honest answer would have been difficult to write.
Once again, this memo must be read in full to be believed. Here is a portion, which confirms the worst fears of prosecutorial and judicial collusion:
On the morning of March 1, I met with Judge Sirica in chambers at 10:30am. We reviewed the agenda consisting of (1) presentation of indictments and sealed special report of the grand jury; (2) unsealing of the special report and reading by Judge Sirica, and the acceptance of the report and its resealing. I told Judge Sirica that I would ask the Court to specially assign the case in view of its length and protracted nature ....

After [the 11:00am hearing's] opening, Judge Sirica looked at me, asked if I had anything to take up with the Court. I then rose, went to the lectern, and said, "May it please Your Honor, the grand jury has an indictment to return. It also has a sealed report to deliver to the Court." The rest of the agenda was then followed including delivery of a briefcase of material, along with the special report to the Court -- also a key to the briefcase. The Judge indicated that he would have an order on the special report on Monday (he told me he would transmit to the counsel for the House Judiciary Committee under rules that would not interfere with the trial of the accused). The Judge in open court asked if I had any further comments, and I stated: "Due to the length of the trial, conceivably three to four months, it is the Prosecution's view that under Rule 3-3(c), this case should be specially assigned, and we so recommend." This meant that Judge Sirica could assign the case to himself, which he did do by order later entered that day.
Such a documented agreement between the prosecutor and the judge -- that Jaworski would move for special handling so that Sirica could appoint himself to preside over the trial -- would have been enough on its own to have Sirica removed from the case before the trial or to have any resulting convictions overturned on appeal. But it has remained undisclosed until now.
On March 19, Sirica turned 70 and stepped down as chief judge of the District Court, as required. He had already appointed himself to preside over the cover-up trial and Gesell to preside over the Watergate Plumbers trial. Those assignments did not change with his stepping down.
Sirica's meetings with WSPF prosecutors were never publicized or discussed in any way, because they would have raised substantive questions as to his objectivity. Virtually any ex parte meeting with an interested party, including prosecutors, is condemned by the Code of Judicial Conduct and the Canons of Ethics governing attorney conduct. Their substantive purpose, explicit judicial coordination with the prosecution, would certainly have been grounds for disciplinary actions -- against Sirica for initiating them, and Jaworski for not refusing to participate in them.
Jaworski knew this, and chose to make no public disclosure. His risks became more complicated when the defendants attempted to have Sirica removed as their trial judge. Here is the dilemma he faced when they sought Sirica's removal in Mitchell v. Sirica -- and requested an evidentiary hearing into his alleged ex parte contacts with WSPF prosecutors: Had the meetings described above been disclosed, the resulting firestorm over Sirica's injudicious conduct and Jaworski's seeming acquiescence could well have jeopardized his license to practice law. This is why the WSPF reply brief, filed May 20, 1974, in response to the defendants' appeal, did not directly respond to their requested evidentiary hearing in any manner whatsoever. The prosecutors could not represent to the appellate court that no such ex parte meetings had taken place or that they were ministerial in nature, so they chose to ignore the issue completely in their brief. This is highly questionable conduct for any officer of the court, who has an overarching responsibility not to deliberately mislead any judicial panel. Willful non-disclosure concerning a matter so squarely before the appellate court could be grounds for disbarment.
Caught between his own politically partisan staff and an exceptionally aggressive judge, Jaworski seems to have behaved in a way in which one can perhaps empathize -- by making a record of these improper meetings which would eventually become public. Alternatively, he may simply have been keeping a thorough, contemporaneous record of events on which he could draw for his subsequent book. If so, then – much like Nixon's similarly intended use of his White House tapes – the precise accuracy of the record he kept gives everyone pause for concern about what really took place. A third alternative is that Jaworski did destroy the final versions of his own memos once his book had been written, but didn't realize that his secretary had kept earlier drafts in a separate file.
Regardless of the reasons that these records exist, they raise disturbing questions about the fairness of the Watergate trials. For the cover-up defendants, of course, these disclosures come far too late.
As revealing -- and disturbing -- as these Jaworski memos are, they are but the beginning. More material on Sirica and his conduct and coordination of the Watergate trials with interested parties has also come to light. For now, it is clear that Sirica should never have been allowed to preside over the cover-up trial, that Jaworski's memos seem to indicate that he was cognizant of this at the time, and that he took pains to document Sirica's judicial misconduct.
There were real crimes and real criminals in Watergate. But those who prosecuted these cases or presided over the trials did our Constitution no favors in their denials of due process of law to the defendants.
This article has focused primarily on Leon Jaworski's role. Under the circumstances in which he found himself, did Jaworski do the right thing? Is this all we have any right to expect from distinguished counsel in times of intense political turmoil? Jaworski's dilemma -- and his response -- remains well worth pondering in this, the 40th anniversary of the unfolding of the Watergate scandal.
---
* Correction: This post originally misstated the year of Nixon's meeting with Dean. We regret the error.