The Little Group Behind the Big Fight to Stop Immigration Reform
A powerful coalition supports reforming immigration. But on the other side is a scrappy, tech-savvy organization that's won before.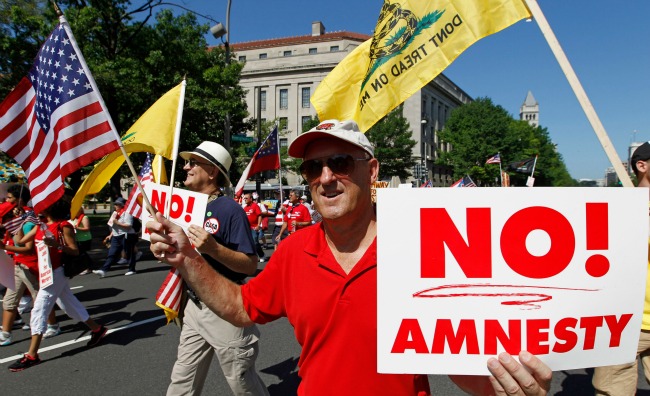 The man behind the grassroots movement to stop immigration reform has been busy lately, preparing for the coming fight.
"No other August has been this critical," Roy Beck, the executive director of NumbersUSA, said in a recent interview in his group's Northern Virginia office -- a large but somewhat shabby suite with a panoramic view over the Potomac.
A massive, bipartisan immigration bill passed the Democrat-led Senate in June, putting major reform as close as it's ever been to passage. There are even signs it is gaining momentum to overcome the biggest obstacle, the Republican-controlled House of Representatives. Beck's mission is to halt immigration reform in its tracks.
The real battle is about to begin. All those wavering Republican congressmen, most of whom have been noncommittal thus far, head home next week to their districts for Congress's traditional August break. It's Beck's job to ensure that what comes next is a flood of news stories about town-hall meetings across the country flooded with angry voters, reminiscent of the anti-Obamacare town halls of the summer of 2009.
Groups that favor immigration reform are planning their own massive mobilization for the congressional recess -- a once-informal period that has turned into a political pressure point. From Hispanic groups to local chambers of commerce, they're planning a large-scale deployment of activists from across the political spectrum.
But Beck, a bespectacled 65-year-old Sunday-school teacher and former newspaper reporter, is ready to match this blitz. "It's interesting," he said. "I keep reading about the plans the other side has, and I go, check, check, check. Get people to town-hall meetings. Get people visiting the offices. Keep communicating in all the ways you communicate -- the phone calls, the faxes, the emails."
The movement in favor of immigration reform unites Democrats and Republicans, business and unions, churches and human-rights activists. More than 400 companies and groups, from Adobe to the Washington Farm Bureau, recently signed a pro-reform letter to congressional leaders. Beck's side of the immigration debate is not that kind of broad coalition. It consists of about 2 million ordinary Americans, backed by a functional, unadorned website, an email list, and a lobbying office on Capitol Hill. There are local groups here and there and some Tea Party chapters that have taken up the fight. But of the groups devoted to grassroots activism against immigration reform, "there's no question we are by far the largest," Beck said.
To Beck, this is a David-and-Goliath story -- his humble legions pitted against the well-financed campaign of the "corporate lobby," which wants more immigrants chiefly to supply businesses with cheap labor. (The Sunlight Foundation estimates that $1.5 billion has been spent lobbying for immigration reform over the last four years; NumbersUSA consists of two affiliated nonprofits with a shared annual budget of about $6.5 million, according to public filings.) To his opponents, the group's ties to white supremacism prove that it is merely a front for racist hatred, a charge Beck strenuously denies.
It is a small operation with undeniably fringe views. And yet it's not at all far-fetched to think that NumbersUSA will win this fight. After all, they've done it before.
An Unorthodox Ideology
Opposition to "amnesty" -- that is, a reform of the immigration system that allows most of the millions of current undocumented immigrants eventually to become citizens -- is generally considered a right-wing view. But NumbersUSA's roots are more unorthodox than that -- in the population-control movement that has counted environmentalists and abortion-rights activists among its allies. When Beck started the group in 1996, he was working for John Tanton, a reclusive 79-year-old ophthalmologist who lives in rural Michigan and once founded local chapters of the Sierra Club and Planned Parenthood.
Tanton has also left a long paper trail of eugenicist, anti-Semitic, and white-supremacist views. According to a report by the Southern Poverty Law Center, Tanton has a record of "fretting about the 'educability' of Latinos, warning of whites being outbred by others, and publishing a number of white nationalist authors." He has also "corresponded with Holocaust deniers, former Klan lawyers and the leading white nationalist thinkers of the era." At the same time, he has raised millions for the network of organizations he founded to push his agenda -- primarily stopping immigration. NumbersUSA is the grassroots-activism arm; there's also the Center for Immigration Studies, a D.C. think tank, and the Federation for American Immigration Reform, an activist organization labeled a hate group by the SPLC.
Republican politicians opposed to amnesty often insist that what they oppose isn't immigration but lawbreaking; they are the "party of legal immigration," they stress. That is not the line taken by Tanton and his disciples, however. They oppose immigration, period, legal or illegal. They believe the U.S. should simply let fewer people in, by whatever means. That's where the name NumbersUSA comes from: They seek to radically curtail the "population boom" created by an influx of foreign migrants. Beck travels the country with an Al Gore-style slideshow on the dangers of out-of-control population growth, the climax of which is a demonstration involving gumballs. The original 1996 video has been viewed more than 6 million times online; an updated version posted in 2010 has 1.5 million YouTube views.
Immigration is an issue on which reasonable people can disagree, and it's tempting to view Beck and his allies as merely the radical fringe -- the ugly but marginal elements to which more legitimate opposition groups get unfairly tied. But the "legitimate opposition" doesn't exist. There aren't any prominent groups opposed to immigration reform but separate from the Tanton network and its radical population-reduction ideals. A recent analysis of national broadcast advertising found that, through June, $838,000 had been spent on television ads opposing immigration reform, including $457,000 by NumbersUSA, $256,000 by FAIR, and $126,000 by another Tanton-tied group, Californians for Population Stabilization. And that's it. These groups aren't the seedy underbelly of the movement against immigration reform; they are the movement against immigration reform.
"You can tell from the polling on this issue that there is a sizable constituency, especially among Southern Republicans, that does not want amnesty or any pathway to citizenship" for undocumented immigrants, said Heidi Beirich, who studies anti-immigrant activism for the SPLC. "But there are no organizations that represent them except this handful that are all basically rooted in racism and extremism."
Of the three major anti-reform groups, however, NumbersUSA is the least tainted by Tanton's toxic views. Beck worked for Tanton for a decade, editing his newsletter and speaking at his conferences. But Beck has always kept his own hands clean of anything smacking of racism. In his journalism days, he claims, he reported aggressively on the injustice of Jim Crow. A prominent link at the top of NumbersUSA's website urges, "No to Immigrant Bashing," and leads to a special message from Beck: "Nothing about this website should be construed as advocating hostile actions or feelings toward immigrant Americans; illegal aliens deserve humane treatment even as they are detected, detained and deported."
"NumbersUSA has always been the mildest of the three" major anti-immigration-reform groups, Beirich told me. "In his public statements, Roy Beck has consistently said it's not about race, it's about the impact on the environment and the economy."
Beck told me the campaign to tie his group to racism has been personally hurtful. He believes that keeping immigrants out benefits African American and Latino citizens by increasing jobs and wages. "The fact is, after 17 years, if any of that [racism] has anything to do with us, it ought to show up in NumbersUSA," he said. "If we really are dealing with these other things we're supposed to have guilt-by-association with, surely there would be something that we've done or said or written that would indicate it. Otherwise, these people who are supposedly using us for a conspiracy -- they are not getting very much for their money."
The accusations, Beck said, have "served to put a lot of nasty things on the Internet," but he insists they have not succeeded in blunting the group's effectiveness. "We are not aware of a single member of Congress that it has disrupted a relationship with or made it harder for us to deal with," he said. "Most of them just wave it off."
Record of Success
It was 2007, and the congressional fight over then-President George W. Bush's immigration-reform push was coming to a head. NumbersUSA orchestrated a calling and faxing offensive so massive it overloaded the Senate switchboard. Senator Jeff Sessions of Alabama, who remains the most vocal opponent of immigration reform, memorialized the blitz with a statement in the Congressional Record last year:
The big lobbies pulled out all the stops, spent millions of dollars, and bore down hard in their push for mass amnesty. But Goliath fell to the grassroots David, whose faxes, e-mails, rallies, visits to our offices, and phone calls registered the clear message that the American people would not accept Washington rewarding lawbreaking. The overwhelming grassroots response actuated by the NumbersUSA coalition was most evident when citizens called Capitol Hill in such volume that it shut down the Senate's telephone system.
Long before Howard Dean and Barack Obama, NumbersUSA was at the forefront of using the Internet for political activism. Founded in 1996, the group soon stumbled upon a new technology that allowed faxes to be sent over the Internet. "In 1997 we started political faxing, and the rest is history," Beck said. Practically every day, the group's millions of members get chatty updates by email. And with the click of a button they can send a fax -- a technology that, though largely antiquated, still prevails on Capitol Hill.
When you sign up online to join NumbersUSA, entering your name and home address, a fax is automatically sent in your name to the White House, your two senators, your member of Congress and your state's governor. This is what it says:
I oppose the Senate Gang of Eight's amnesty proposal to legalize millions of illegal immigrants in a time of budget deficit crisis and high unemployment. Combined with current laws, the legalization would be a pathway to massive new welfare expenditures, job competition, chain migration and more illegal immigration.

1. It would cost trillions of dollars in extra government spending on social services.

2. It would immediately put millions of illegal aliens in front of the employment line to hold or take U.S. jobs while 20 million Americans who want a full-time job can't find one.

3. It would allow amnestied aliens to begin endless chains of relatives to come and add further competition for jobs and government resources.

4. It would immediately legalize 11 million illegal aliens without requiring triggers that fully implement enforcement first. The previous seven amnesties between 1986 and 2000 had no enforcement triggers and served only to entice 11 million new illegal immigrants who now demand their own amnesty.
NumbersUSA originally took its inspiration from the U.S. Commission on Immigration Reform, a bipartisan panel created in 1990 to make recommendations about the American immigration system. Chaired by Barbara Jordan, a civil-rights heroine and former Democratic congresswoman from Texas, the group, often called the "Jordan Commission," issued its findings in 1996. It called for sharply curtailing immigration levels, increasing border enforcement, and cracking down on employers who hired the undocumented.
The recommendations were largely ignored by policymakers. NumbersUSA remained a small organization with fewer than 20,000 members until 2004, when Bush's push began. "That's when we came into our own," Beck said. By early 2005, its membership had tripled; by the time the Senate debate ended in 2007, it was more than half a million.
This year has been another good one for the group's membership levels, which now stand at about 1.6 million by email. NumbersUSA has also taken to Facebook, where it has more than 1 million combined "likes" on the group's page and the "Stop Amnesty" page it also maintains.* (The number has increased from 35,000 in January. "Thank you, Marco Rubio!" Beck says mischievously.) Counting the overlap of email and Facebook members, Beck conservatively estimates his membership at about 2 million. NumbersUSA even takes some credit for those anti-Obamacare town halls in 2009: Beck claims a NumbersUSA action alert highlighting the potential provision of health care to illegal immigrants drew many of the protesters out that summer.
Today, the group still does all its technology in-house, unlike many political groups that outsource those functions. In email surveys, its members volunteer detailed information about themselves -- not just their address but their religious denomination, political persuasion, organizational affiliations such as civic groups and union membership -- allowing NumbersUSA to conduct microtargeted campaigns. It's similar to the pioneering data-crunching tactics of the Obama campaign, except that NumbersUSA isn't trying to persuade a general electorate; it's using its base of volunteers to target and persuade policymakers.
"We're in communication with people every day. We're holding their hands," Beck told me. Members can be deployed to town-hall meetings or protests targeting their individual representative, talking points in hand; members of Congress tend to be acutely sensitive to activism indigenous to their district. They can, Beck claims, get even more specific. If a particular congressman is known for his union bona fides, NumbersUSA might send union members to make the case to him; if she's known to base her political views on religious faith, NumbersUSA might specifically send members of that denomination to make the case.
"We have our Southern Baptist members particularly contacting Southern Baptist members of Congress, identifying their local church, and then talking from the standpoint of being a Southern Baptist," Beck said. The Southern Baptist hierarchy favors allowing undocumented immigrants to become citizens as a matter of compassion. But NumbersUSA hopes to counteract that by sending the message that the rank and file of the church may not be on the same page as their leaders -- and they vote.
Reform proponents make the case that undocumented immigrants, especially those brought to the U.S. as children, deserve to "come out of the shadows" and contribute more fully to society. Within the Republican Party, which is sharply divided on the issue, reform proponents also urge lawmakers to consider the growing clout of Hispanic voters, who overwhelmingly favor immigration reform.
Beck's mission for the month ahead is to change the terms of the debate. "Our members have got to get these members of Congress to see that it's not about who the immigrants are. It's about who the immigrants affect," Beck said. "Immigration policy should serve the interests of Americans. It's not about immigrants. It's about immigration policy, and how that policy affects the people in your district -- the wage-earning people."
By the time August is over, Beck hopes Republicans who were feeling pressured to support immigration reform will have had that temptation quashed. "Our goal is to help the Republican representatives that are already fearful of sending something to the floor to feel comfortable," he said. "To feel that they've got a highly principled position that the voters back home will honor them for."
This, for Beck, is what the immigration debate comes down to: the interests of the ordinary folk -- the churchgoers and union members and everyday American workers -- against the manipulations of the moneyed elite. He gazed out his window at the Washington Monument, encased in scaffolding, and the Capitol, bathed in sunshine. Despite the prime view, NumbersUSA enjoys cheap rent because the building is slated for demolition.
"We've been on a demolition lease for 15 years," he said. "They've marked in the stairwell where they're going to put the explosives. But they haven't torn us down yet."
---
* Clarification: This post has been updated to clarify that NumbersUSA maintains two separate Facebook pages.