The Ideology Behind Michael Grunwald's Repugnant Assange Tweet
The Time correspondent wrote, "I can't wait to write a defense of the drone strike that takes out Julian Assange."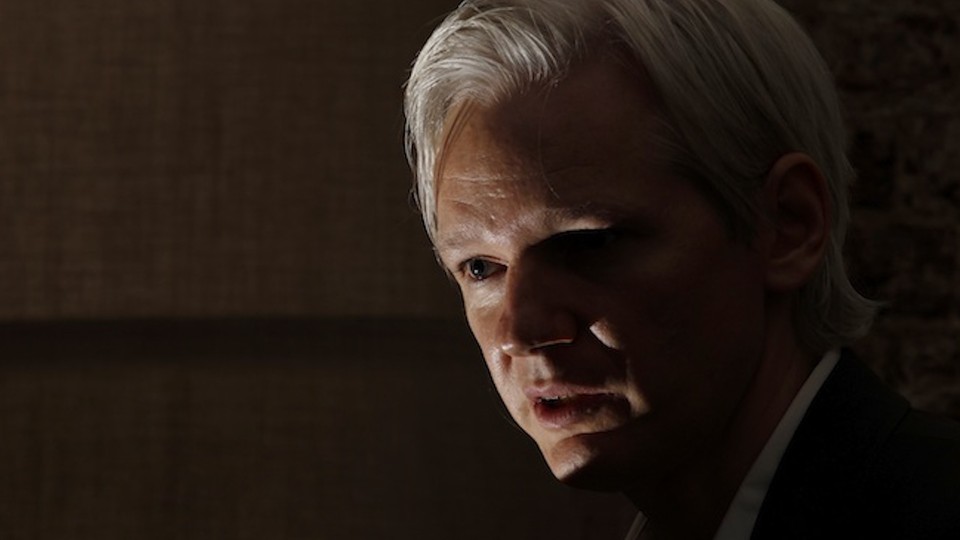 On Saturday, Michael Grunwald, a senior correspondent at Time, stoked controversy by tweeting, "I can't wait to write a defense of the drone strike that takes out Julian Assange." The tweet triggered an immediate backlash among people who believe that murder is wrong, and that expressing preemptive delight at the prospect of defending murder is wrongheaded and repugnant. Shortly thereafter, Grunwald apologized to his followers, called his tweet "dumb," and deleted it. Folks on Twitter called for his job. Even though, as Amy Davidson noted at the New Yorker, "Grunwald seems a bit oblivious as to what was wrong with what he said," I'm allergic to anyone being fired over any one tweet, especially if they express regret for sending it.
We're all better than we are at our worst moments.*
It is nevertheless worth dwelling on his tweet a moment longer, because it illuminates a type that is common but seldom pegged in America. You see, Grunwald is a radical ideologue. It's just that almost no one recognizes it. The label "radical ideologue" is usually used to describe Noam Chomsky or members of the John Birch Society. We think of radical ideologues as occupying the far right or left. Lately a lot of people seem to think that The Guardian's Glenn Greenwald is a radical (often they wrongly conflate the style with which he expresses his views with their substance).
But Grunwald graduated from Harvard, spent a decade at the Washington Post, and now works as a senior correspondent at Time. How radical could someone with that resume possibly be?
Extremely so.
That doesn't mean that he's a bad guy, or that he shouldn't be a journalist. But as someone who finds Grunwald's ideology as problematic and wrongheaded as I'm sure he finds aspects of my worldview, I tire of the fact that people who share it are treated as pragmatic centrists while their critics, whether on the libertarian right or the civil liberties left, are dismissed as impractical ideologues.
Grunwald's tweet took a lot of centrists by surprise, as if it was way beyond the pale. And I think it was! But it didn't surprise me. It was totally consistent with his ideology for him to write, "I can't wait to write a defense of the drone strike that takes out Julian Assange." The mental mistake that led to the tweet is present elsewhere in his work, and springs from his worldview. Don't take my word for it. Prior to issuing his apology, Grunwald briefly stood behind his remark, explaining his thinking as follows:
It's a fascinating statement.
He reflexively assumed that objections to a tweet about the extrajudicial killing of a transparency activist came from the "Don't Tread on Me crowd" -- as if only right-wing libertarians would object to such a sentiment! The link delivers us to a Time essay, "Tread on Me," that surveys a whole range of controversies and lays out his overarching attitude, which manages to combine anti-libertarian and anti-civil-libertarian aspects.
Now, no one thinks of Time as a magazine that publishes radicals. But Grunwald's article fit comfortably in its pages, and he cited the article to explain the thinking that made him eager to defend a murder. Perhaps Time occasionally publishes material that is far more ideological than most of its readers or even its editors realize -- a radicalism not of the left or right, but of the establishment.
Consider a passage from the essay:
America was born from resistance to tyranny, and our skepticism of authority is a healthy tradition. But we're pretty free. And the "don't tread on me" slippery-slopers on both ends of the political spectrum tend to forget that Big Government helps protect other important rights. Like the right of a child to watch a marathon or attend first grade without getting killed -- or, for that matter, the right to live near a fertilizer factory without it blowing up your house.

Our government needs to balance these rights, which is tough sometimes. But not always. Requiring gun owners to pass background checks and restricting access to high-capacity magazines would be a minuscule price to pay to help avoid future Newtowns and Auroras. If the FBI waits a few days to read Dzhokhar Tsarnaev the Miranda boilerplate he's already heard a million times on Law and Order, the Republic will survive, and the authorities might learn something that will help prevent another tragedy. (In fact, if America's ubiquitous surveillance network hadn't captured Tsarnaev on video, he might still be at large.) Even in a free-enterprise system -- especially in a free-enterprise system -- a factory owner's right to run his business without government interference is trumped by the public-safety rights of the local community.
__
*Everyone with a personal archive years deep is better judged by its contents than a fleeting, off-the-cuff statement, however ugly. It is worth nothing that Grunwald would likely be fired had he tweeted that he'd eagerly write in defense of a drone strike that targeted and killed Hillary Clinton or John Boehner or Lloyd Blankfein or Oprah Winfrey or any number of people whose lives the American establishment implicitly value more than a figure like Julian Assange. In that case, I'd be much lonelier in my argument that no one should be fired for a single tweet. But Grunwald managed to choose a relatively powerless target, and is therefore safe.
**Call the ACLU impractical purists all you want. Then look back two and three and four and five decades, and ask whose track record looks better, the ACLU or its opponents.