The Case for Manning's Gender Reassignment in Prison
Two ongoing legal proceedings may pave the way for her treatment.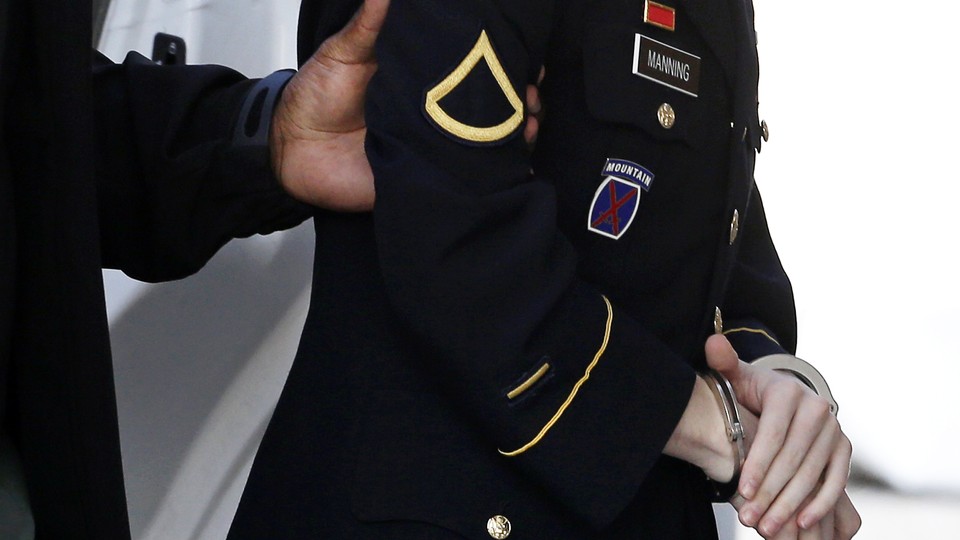 As of Thursday morning, the person behind the largest leak of government secrets of all time wants to be known as Chelsea Manning.
"I am Chelsea Manning," she wrote to the Today show, shedding the name Bradley. "I am a female. Given the way that I feel, and have felt since childhood, I want to begin hormone therapy as soon as possible." She requests to be called such in all references, save for official prison correspondences.
This announcement is perhaps a long time coming for Manning. Before the arrest, before the trials, before Wednesday's sentencing to 35 years in jail, Manning was a young Army private struggling with gender-identity issues. As early as 2009, Manning reached out to an online counselor; Wired published the resulting transcripts from those chats in 2011. "Bradass87" is Manning.
Manning's internal conflicts, the defense lawyers argued during the trial, factored in her decision to leak the more than 250,000 diplomatic cables and other military files. Perhaps those pleas partially explain why she only received a 35-year sentence. Prosecutors were gunning for 60.
But due to current procedures at Fort Leavenworth, the Kansas facility where she will be serving her sentence, the complete gender transition she is hoping for isn't likely to happen (at least without a legal intervention). In an interview with the Court House News Service, a Leavenworth spokesperson said, "The Army does not provide hormone therapy or sex-reassignment surgery for gender-identity disorder." Manning will, however, have access to other forms of psychiatric care.
"I'm hoping Fort Leavenworth will do the right thing and provide that [treatment]," Manning's lawyer told the Today show. "If Fort Leavenworth does not, then I'm going to do everything in my power to make sure they are forced to do so."
And he may have the grounds to establish one. Right now, two ongoing legal proceedings about transgender treatment in prisons may pave the way.
**
Ophelia Azriel De'lonta was born Michael A. Stokes, and she has been in a Virginia prison for 30 years. Per a 2004 legal victory, she is allowed to dress in women's clothes and has recieved hormonal-treatment therapy. But still, according to court documents, these interventions haven't quelled her desire for a complete sex change. She has attempted self-castration several times.
"De'lonta's complaint alleges that, in light of their knowledge of her ongoing risk of self-mutilation, appellees' continued denial of consideration for sex-reassignment surgery constitutes deliberate indifference to her serious medical need in violation of the Eighth Amendment," the Fourth Circuit Court of Appeals wrote in January. The Eighth Amendment forbids "cruel and unusual punishment."
The World Professional Association for Transgender Health sets the standards for care for a person who is transgender. And it states that care culminates in sex-reassignment surgery. After all, the judges reasoned, it would be cruel to deny surgery to a person who needed it for, say, a broken bone. If gender-identity disorder is indeed a medical condition, it needs to follow the same guidelines. The judges wrote:
By analogy, imagine that prison officials prescribe a painkiller to an inmate who has suffered a serious injury from a fall, but that the inmate's symptoms, despite the medication, persist to the point that he now, by all objective measure, requires evaluation for surgery. Would prison officials then be free to deny him consideration for surgery, immunized from constitutional suit by the fact they were giving him a painkiller? We think not.
While the judges did not order that Virginia provide a surgery, they did say De'lonta had a valid Eighth Amendment claim (which a lower court had thrown out).
And a second case, out of Boston, might set the precedent for transgenders being eligible for surgery while in prison (though Manning's only current request is the hormone treatment). In 1990, when Michelle L. Kosilek was still known as Robert, she murdered her wife. She's now serving a life sentence. Over the past few decades, her legal proceedings have followed a similar path as De'lonta's. First in 2003, she successfully sued to receive hormone treatment. And in September 2012, again citing the Eighth Amendment, she won the right to a state-funded sex change. The court ruled:
The Eighth Amendment does not permit the unnecessary infliction of pain on a prisoner, either intentionally or because of the deliberate indifference of the responsible prison official. Any such infliction of pain is deemed "wanton." The wanton infliction of pain on an inmate violates the Eighth Amendment. Prisoners have long been held to have a right to humane treatment, including a right to adequate care for their serious medical needs.
The state quickly appealed the ruling, and the case remains unresolved. It proved to be a tricky point for many, even Sen. Elizabeth Warren, D-Mass., a liberal who supports many gay-rights initiatives. "I have to say," she said, "I don't think that's a good use of taxpayer dollars."
If the appeal rules in Kosilek's favor, the Court's decision can serve as an outline for Manning's lawyers. The judge spells out the five requirements for a transexual to present to successfully argue for a surgery:
Therefore, in this case to obtain an order directing the DOC to provide sex-reassignment surgery, Kosilek has been required to prove that: (1) he has a serious medical need; (2) sex reassignment surgery is the only adequate treatment for it; (3) the defendant knows that Kosilek is at high risk of serious harm if he does not receive sex-reassignment surgery; (4) the defendant has not denied that treatment because of good faith, reasonable security concerns, or for any other legitimate penological purpose; and (5) the defendant's unconstitutional conduct will continue in the future.
And be assured: Manning will continue to make headlines, as her story highlights not only the problems transgender people face in the penal system, but also on the military's stance on these issues. Since transgender is considered by the military to be a "psychosexual disorder," it was effectively left out of the "don't ask, don't tell" repeal in 2012. And if it's true that her struggles factored into her decision to leak the information, maybe the military will take a keener look at transgender issues overall.
{{ BIZOBJ (video: 4396) }}