The Bipartisan Effort to ... Induct Yes Into the Rock and Roll Hall of Fame
Democrats and Republicans come together for an unlikely cause: prog rock. Can they save Washington along the way?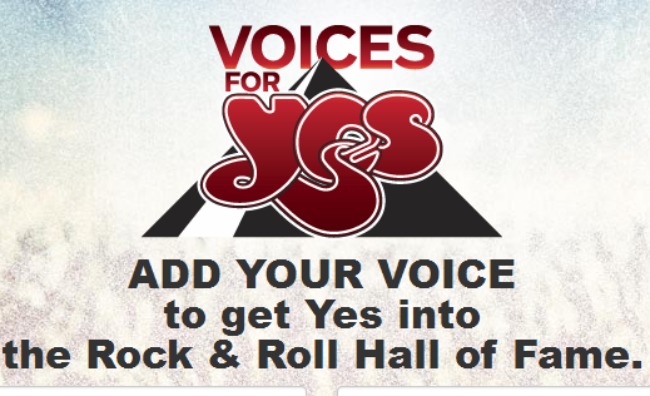 Voicesforyes.com
"REPUBLICANS AND DEMOCRATS AGREE," blared the press release. "PROGRESSIVE ROCK BAND 'YES' SHOULD BE INDUCTED IN THE ROCK AND ROLL HALL OF FAME."
Styled like a campaign document, the announcement touted "An Independent Campaign To Promote the Band's Undeniable Influence on Rock and Roll." It called itself "the only known bipartisan effort in Washington DC" (take that, Senate Gang of 8) and even had a super-PAC-like name, "Voices for Yes."
It sounded like a joke. But the effort, backed by some big names in political consulting and media, is totally serious.
"You've got to understand, I've been a Yes fan for decades," John Brabender, the political admaker whose Republican credits include Rick Santorum's presidential campaign, told me. Wherever he goes, he said, Brabender finds unexpected pockets of Yes fandom, from Michael Smerconish, the pundit and radio talk-show host, to Mike Huckabee, the bass-playing former Arkansas governor-turned-media personality. Being a conservative, it seems, is no obstacle to liking "progressive" rock. In the words of Brabender lieutenant Hogan Gidley, also a former Santorum and Huckabee staffer: "How can we be the party of no if we're the party of Yes?"
In conversation after conversation, Brabender has found people are shocked that Yes -- the multiplatinum-selling English artists behind such '70s and '80s hits as "Owner of a Lonely Heart" -- isn't already in the hall. (The Canadian prog-rock trio Rush just got in last year; prog fans generally nurse a sense of grievance that the grandiose, cerebral genre isn't taken seriously enough.) And because political types have never met an injustice they couldn't turn into a crusade, Brabender decided to do something about it.
"The genesis -- that's a pun -- was two things," Brabender said. "One, wouldn't it be fun to work for once on a campaign where you were really passionate about the candidate and knew it was the right thing to do?" (No offense, Rick Santorum.) "And two, wouldn't it be fun if you brought together Democrats and Republicans in an all-star team to go out and do it?"
The top Democrat on the effort is Tad Devine, a former top strategist to the Al Gore and John Kerry presidential campaigns. For Devine, the effort seems to be more of a lark: "Yeah, sure, I like them, I think they're great," he said of Yes. "Some of the people involved are like superfans. They know every song and every album, they've been to concerts. I'm a fan, like, I like their music -- that kind of fan." Devine has never been to a Yes show. Brabender has been to about 40, including one of his first dates with his now-wife in 1975.
Brabender recruited Devine, who he'd come to know through joint appearances and a fictional Internet series about the political ad business they'd collaborated on. There have been multiple conference calls; Brabender's firm has conducted extensive research into who selects Hall of Fame inductees (a music-industry committee with little fan input), what they value (rock-historical significance, not popularity), and how the process might be influenced. "We're really trying to do something here!" Devine, who was on a film shoot in Florida when I spoke to him, said with a half-incredulous laugh.
The effort is independent of the band itself. Indeed, a Yes member recently told Dave Weigel, the Slate political writer who is working on a book about prog-rock, that the band isn't focused on getting into the Hall of Fame. In political terms, Brabender notes, "it's an independent expenditure." All the consultants are also working pro bono. Brabender is even filming a documentary about the Voices for Yes campaign, starting with the Yestival that drew thousands of fans to New Jersey last weekend. "A question I get all the time is, what do political consultants do in off [non-election] years?" Brabender said. "Well, here's something we're working on."
The campaign expects to roll out more high-profile supporters in the coming weeks. Steve Capus, the former president of NBC News, is one of the bigger names announced thus far. Brabender heard through a mutual friend that Capus was a fan, left him a message, and immediately got a call back: "I'm intrigued, let's talk." The effort has already been featured by MSNBC's Chuck Todd and CNN's Jake Tapper, and received supportive tweets from the likes of Huckabee and The Today Show's Savannah Guthrie. In the first day it went live, the online petition received more than 2,000 signatures. As Weigel noted, Voices for Yes will entail "a sort of national coming-out campaign of political prog fans," of which there appear to be a surprising number.
Like all political campaigns, this one claims to be far more concerned with the ordinary folk than a few big-name consultants. "One of the things we're trying to be very careful about is not letting us become the story," Brabender said. "This really is a grassroots effort to help this band." The hope is that, like Oscar campaigns, the petition drive and the publicity surrounding it will create the sense that there's popular momentum for this choice, even as prominently placed endorsements of Yes's influence from Rush, Pearl Jam, and Led Zeppelin cement the notion of its artistic merit.
Brabender also hopes the Yes campaign can serve as a model for future bipartisanship. "The novel thing about this is it's something Republicans and Democrats are able to come together on," he said. "You know, maybe this isn't a bad start. Maybe the first step to ending gridlock in Washington turns out to be music."