SEC Chair Mary Jo White Is Edna Mode From The Incredibles
The SEC's spree of enforcement actions makes the parallels plain: Both are diminutive, bespectacled, and part of a crime-fighting organization.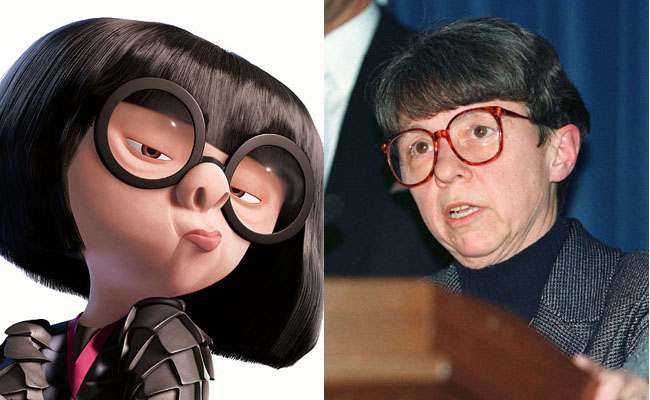 Wikimedia Commons/Reuters
Mary Jo White's SEC is out to fight crime.
This week, the Securities Exchange Commission and the Justice Department filed separate lawsuits in North Carolina against Bank of America and two of its subsidiaries, claiming that the company defrauded its investors when it sold them $855 million worth of "toxic waste," i.e. risky mortgage-backed securities, but forgot to tell them about the "toxic waste" part.
This is the latest in a series of SEC crackdowns on firms caught up in the financial crisis. In the past month, the agency has charged hedge-fund manager Steven Cohen with failing to supervise two employees accused of insider trading, and it recently decided to renege on its previous settlement with Philip Falcone, a money manager accused of market manipulation, so that it can pursue harsher punishment against him.
White, the recently appointed SEC chairwoman, is alternately described as a Wall Street-loving regulation softie and a knight-like enforcer leading the charge on government crackdown. It's too soon to tell what her record at the SEC will look like, but in this newest effort to take on a banking giant, it seems like she might set a tone of strong enforcement.
But let's not pretend -- this is not a deep analysis of the SEC's record or future. This is a nod to the force of being that unites White and the similarly diminutive Edna Mode, super-hero costumier to The Incredibles. Take a look at this video from the Wall Street Journal, in which White outlines the SEC's intent to extract explicit admissions of guilt from the companies it pursues. As James B. Stewart noted in the New York Times, this posture shift could bring new power to the SEC in negotiations, as statements of guilt may make companies more vulnerable to lawsuits from individual investors and others.
White is calm and reasoned but firm, bringing to mind President Obama's comment when he nominated her: "You don't want to mess with Mary Jo."
Now compare: A fierce and historically assured Edna Mode, enforcing one of the more important lessons of superhero life -- no capes.
In other news on the Obama Administration/animated character-doppelganger beat, see Secretary of Education Arne Duncan (secret life: Scooby Doo zombie).