Republicans Find a Senate Candidate They All Agree On
Rep. Tom Cotton of Arkansas is a rare candidate who excites both the GOP base and establishment.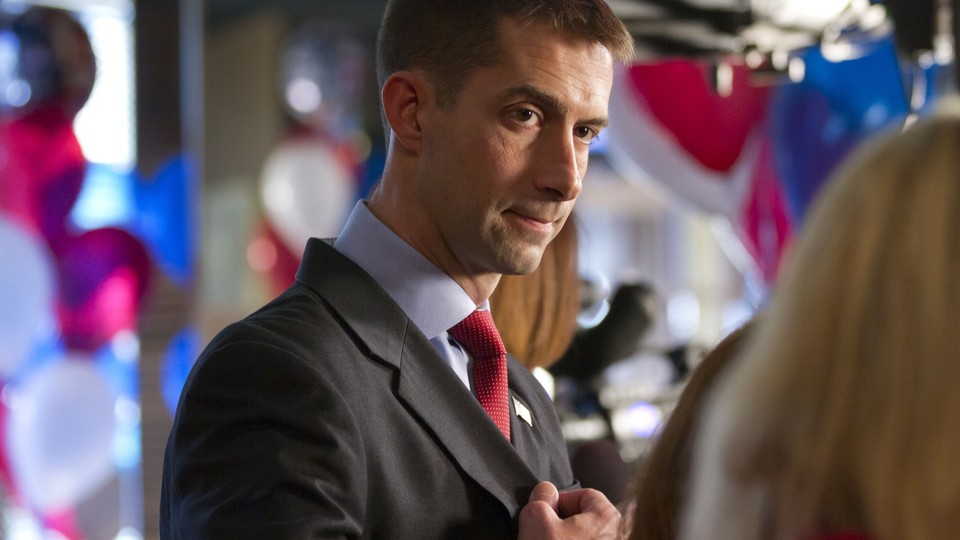 The Republican Party's establishment and activist wings rarely agree on anything. But in Arkansas, the two normally warring factions are united behind one freshman House member.
Rep. Tom Cotton, who declared his candidacy for the Senate on Tuesday, is a rare consensus choice for a party with a history of destructive infighting. He has no primary opponent and strong conservative bona fides, and Republicans have little doubt he has the chops to knock off Democratic Sen. Mark Pryor.
"It's time to say enough," Cotton said while announcing his campaign. "Arkansans need a senator who will stand with them and stand up to Barack Obama. A senator who will say no more to the crony capitalism, the giveaways, the reckless spending, the unfair taxes, the job-killing regulations, and the concentration of unaccountable, unconstitutional power in Washington. Arkansans need a senator who won't just stand by and accept the status quo. I will be that senator."
The unusual unity is owed to Cotton's — and Arkansas's — unique circumstances: Grassroots Republicans see not only a guaranteed conservative vote but an articulate and forceful champion. And party leaders see a polished politician capable of taking advantage of a vulnerable incumbent in a state that has taken a sharp right turn.
Neither can afford to be wrong. Without victory in the Razorback State, Republicans won't win back the Senate majority in 2015. Any plausible pathway to control — in which the GOP must win a net of six seats — starts with Pryor, who is regarded as the weakest incumbent on the midterm map.
It's easy to see why the 36-year-old Cotton has been the recipient of glowing coverage in the conservative media since arriving in Washington. He graduated from Harvard University in three years before returning to Cambridge, Mass.,  for law school. Afterward, instead of beginning a lucrative law career, Cotton enlisted in the Army and did tours of duty in Iraq and Afghanistan. He won the Bronze Star and rose to the rank of captain before being discharged in 2009.
The mix of highfalutin education and military service proved a strong foundation for his political career. In 2012, he faced long odds in a Republican congressional primary against a GOP opponent who had won the party's nomination two years earlier and who carried the endorsement of former Republican Gov. Mike Huckabee. Cotton overcame a 40-point deficit in early polls to win the race comfortably, thanks in part to the support he received from the well-heeled conservative group Club for Growth.
At the time, Cotton had no legislative record, but he demonstrated a rare commitment and understanding of conservative values, according to group spokesman Barney Keller.
"Over the course of a political cycle, we meet with dozens upon dozens of candidates," he said. "And when you talk to them about what they believe and why they believe it, there are a few who stand out. Tom Cotton was one of those."
Cotton's eloquence — notable enough that one GOP official compared him to a "modern-day Republican Party Bill Clinton — explains why many Arkansas Republicans are eager to elect him, believing the national party could benefit from giving him a larger platform. Talk to Cotton's friends, or to the party's activist base, and they quickly brag about the congressman's ability to defend conservative principles.
It's a skill, they say, he's learned after years of study and thought; in between his stops at Harvard, for instance, Cotton spent a year studying the Federalist Papers at Claremont Graduate University. One of his friends, campaign adviser John Burris, compared Cotton to Charles Krauthammer, the conservative columnist who is considered one of the leading conservative intellectuals.
"You have to have people who stand up, who are courageous; people who are not going to get lost in the sea of the U.S. Congress," said Jason Rapert, a state senator in Arkansas who considered running for Senate before Cotton expressed interest in it. "Cotton is physically a tall man, and when it comes to integrity, he's a tall man."
Despite entering office only this year, Cotton's name surfaced early on as Republicans searched for an opponent to take on Pryor. And, according to Republicans there, once the congressman expressed interest, the field cleared quickly. It didn't hurt that the Club for Growth was already airing TV ads targeting Pryor, an attempt to draw the freshman lawmaker into the race.
"This guy, as we say, he's been out behind the shed studying for his entire life and getting ready for this particular moment," said Ed Bethune, a former Republican congressman who remains involved in the state's politics. "People realize he would be a tough customer to face a Republican primary. I think as much as anything, the reason the field cleared."
It's not just talk, either: Cotton has voted like a conservative activist since arriving in Congress. That includes opposing the Hurricane Sandy relief aid, the recent student-loan compromise, and, of particular importance in rural Arkansas, the farm bill. None of his votes have alienated the GOP base. (One senior Republican in Arkansas suggested Cotton's short tenure is a major asset because he hasn't had time yet to anger his strongest supporters with a tough vote.) To boot, he's earned a reputation as one of the party's foremost hawks, a notable turn in a party that has embraced elements of Sen. Rand Paul's foreign policy views.
In Cotton's record, Democrats see opportunity for Pryor. In their view, the GOP has fallen in what one what Democrats described as a "faux love affair" with the freshman congressman despite a similar resume to failed GOP candidates like Richard Mourdock and Sharron Angle.
"The establishment is choosing to ignore those fundamental problems in this case. It's sort of baffling," said Matt Canter, a spokesman for the Democratic Senatorial Campaign Committee. "This is Rick Berg with Sharron Angle's policies."
On Monday, the DSCC issued a press criticizing Cotton's "arrogance" and "bad judgment" in voting against the student-loan legislation. The congressman, the committee said, also showed hypocrisy because he himself accepted government-backed loans at Harvard.
Establishment Republicans, however, brim with confidence that Cotton will win. And although their optimism is rooted partially in the candidate — and his ability to raise money — it's just as much a testament to the changing political environment in Arkansas.
Arkansas Republicans control the state's four congressional seats and hold majorities in the state House and Senate. The last Democratic senator to run there, Blanche Lincoln in 2010, lost her reelection to Republican John Boozman by more than 20 points.
"I wish I had the environment Tom Cotton does," said Bethune, who ran against Pryor's father, David, in the 1984 Senate campaign and lost by double-digits.
Even favorable polls of the Arkansas race paint a bleak picture for Pryor. A survey released Monday by AFSCME found Pryor leading Cotton, but only at 43 percent to the congressman's 35 percent. That's a low number against a Republican challenger with little name recognition, although the poll did find Pryor's favorable rating at a respectable 47 percent (with 34 percent unfavorable).
"One of the weakest Democrats in the Senate this cycle is now facing potentially the strongest Republican challenger of the cycle," said Steven Law, president of the Republican super PAC American Crossroads, in a statement issued last week after reports surfaced Cotton would declare as a candidate.
"Representative Cotton is a conservative leader and rock-star candidate. Arkansas is now one of the very top pickup opportunities for Republicans this cycle and we are excited to get engaged in the race on behalf of Rep. Tom Cotton."
CORRECTION: An earlier version of this story misidentified when Cotton had been discharged from the military. He left in 2009.