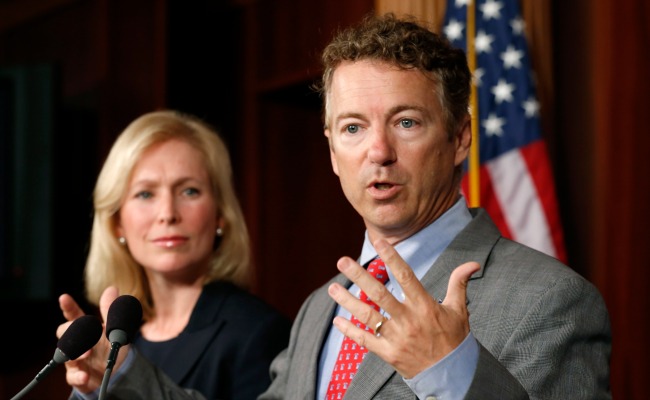 Rand Paul knows the Republican Party needs to broaden its base. He knows that few other Republicans are willing to reach out, and that many members of the party are content to hunker down with older, white voters. And he knows it's personally beneficial to his political career to do the reaching out.
So why is he so bad at doing it?
Check out this passage from an interview he did with Atlantic alum Joshua Green of Businessweek:
What is your plan to refashion the GOP to draw more minority and younger voters?
All voters, but particularly young people, and often young people who are African American or Hispanic, I think they have a sense of justice, and they sometimes mistrust government with achieving justice. So one of the big issues that I've fought here is getting rid of the provision called indefinite detention. This is the idea that an American citizen could be accused of a crime, held indefinitely without charge, and actually sent from America to Guantánamo Bay and kept forever.

I think there is something in that message of justice and a right to a trial by jury and a right to a lawyer that resonate beyond the traditional Republican Party and will help us to grow the Republican Party with the youth. Defending the Internet's privacy, these are all things that broaden the appeal of Republicans.
That's amazing. Rand Paul's top idea for reaching out to minority and youth voters is talking about indefinite detention. Not a plan to contend with sky-high unemployment rates among young people and minorities. Not a nod to the increasingly dizzying cost of a college education. Not a discussion of police injustice inside the United States, a swipe at tactics like stop-and-frisk or a nod to the Trayvon Martin trial.
Rule of law is important, and it's been systematically marginalized and ignored for the last dozen years. To his credit, Paul has been a leading voice in insisting on it (at least in most cases!). But one can admire his principle while being baffled by his politics, that this is the first idea he comes up with when put on the spot about minority and young voters.