Obama Condemns Morsi, Interim Egyptian Government, but Makes No Mention of U.S. Aid
In a statement, the president amps up the rhetoric on Egypt, but takes modest action.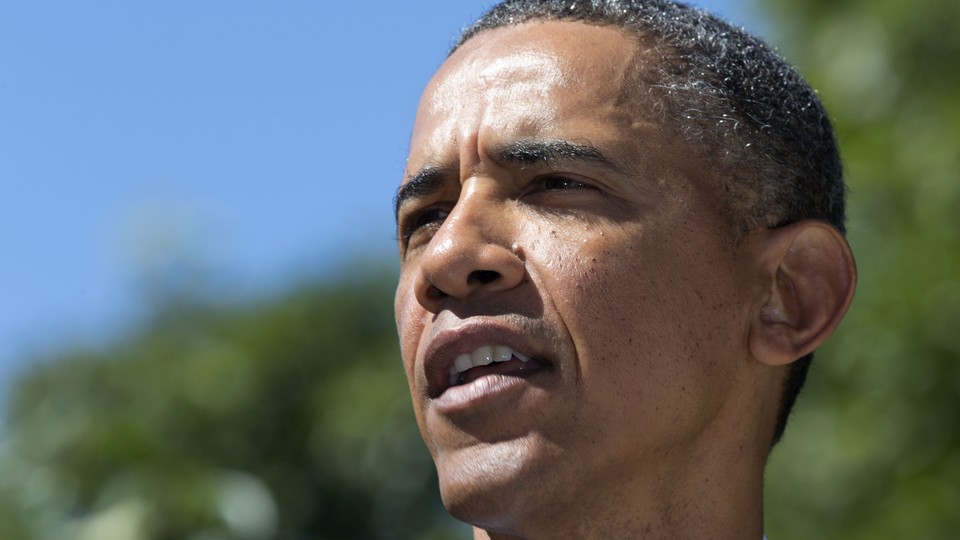 President Obama on Thursday offered tough talk and a small — and perhaps symbolic — action to condemn the bloodshed in the streets of Cairo, keeping strategic aid in place while canceling a long-standing military exercise with Egypt.
"Our traditional cooperation cannot continue as usual as civilians are being killed in the streets, rights are being rolled back," the president said in a statement while on vacation in Martha's Vineyard. But don't mistake these words for the president completely cutting off ties with the region. He made no mention of the contested $1.3 billion that the U.S. sends in aid to the Egyptian government, which includes such items as jet fighters. Instead, the president announced he will cancel a joint military exercise between the U.S. and Egypt called Bright Star, a tradition stemming from the 1978 Camp David Accords.
Obama also stressed that the United States will not be taking political sides in Egypt. "America cannot determine the future of Egypt," he said. "That is a task for the Egyptian people. We don't take sides for any particular party or political movement."
Yet he had some harsh words for the now-defunct Morsi government. "His government wasn't inclusive and didn't respect the views of all Egyptians," Obama said. But the current power structure in place is objectively no better. The latest reports say more than 520 are dead in Egypt after Wednesday's violence in Cairo. "We've seen a more dangerous path taken," the president said. "The United States strongly condemns the steps that have been taken by Egypt's interim government and security forces. We deplore violence against civilians."
This is the latest in a series of incremental increases of "concern" by the president. Up to now, the administration's response to the ongoing unrest has been more rhetorical than action-oriented. Obama has called for cooler heads and democracy to prevail, but as his critics will point out, he has not yet decided to label the unrest a "coup" and cut off $1.3 billion in aid to the nation. (For some perspective, George Packer in The New Yorker points out that Qatar provided $8 billion to Morsi, "and Saudi Arabia, the United Arab Emirates, and Kuwait immediately promised $12 billion to the interim regime"). O n Wednesday, when asked if the changes in Egypt should now be considered a coup, deputy White House press secretary Josh Earnest said,  "It is not in the interests of the United States to make that determination." Though, Secretary of State John Kerry called the events "deplorable" and "a serious blow to reconciliation."
Last month, when mass protests forced then-Egyptian President Mohamed Morsi out of office, Obama said, "I now call on the Egyptian military to move quickly and responsibly to return full authority back to a democratically elected civilian government as soon as possible through an inclusive and transparent process, and to avoid any arbitrary arrests of President Morsi and his supporters."
Clearly, automatic rifle fire and tear gas were not what the president had in mind when he said "move quickly and responsibly."
{{ BIZOBJ (video: 4388) }}