Obama Calls on Spirit of '63 March to Address 'Unfinished Business'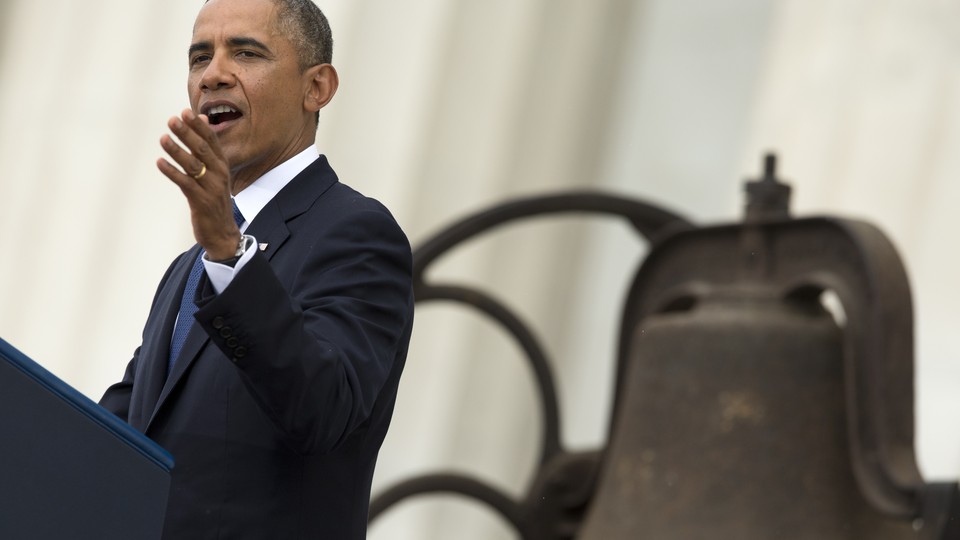 President Obama on Wednesday hailed the civil-rights pioneers who risked so much in the struggle, using the 50th anniversary of the epochal March on Washington to credit them with his own historic election while outlining their unfinished agenda of greater economic security. He also called on today's generation of marchers to "have the courage to change."
"The test was not and never has been whether the doors of opportunity are cracked a bit wider for a few," he said, standing on the steps of the Lincoln Memorial where Martin Luther King Jr. stood in 1963 and delivered his renowned "I Have a Dream" speech. "It was whether our economic system provides a fair shot for the many, for the black custodian and the white steelworker, the immigrant dishwasher and the Native American veterans. To win that battle, to answer that call — this remains our great unfinished business."
The president was the final speaker of the day, following to the microphone two former presidents, the children of other presidents, ambassadors, labor leaders, and veterans of decades of civil-rights battles. The theme of most of the speeches on this rainy, overcast day was, as Obama suggested, the work still to be done, the injustices still to be righted, the challenges still to be met. That was expected. No vibrant political movement can spend all its time looking backwards, even on a day designed to commemorate a shining moment in the movement half a century earlier.
But it would be impossible not to look back on the battles won when Obama stood under the gaze of Abraham Lincoln, peering out at the Reflecting Pool. Even Obama had to pause for a second in his speech to take note of the history he represents as an African-American twice elected president of a nation whose "original sin" was slavery. Paying homage to the civil-rights pioneers of the 1960s, Obama said, "Because they kept marching, America changed." He added, "Because they marched, city councils changed and state legislatures changed, and Congress changed."
As cheers rose from the tens of thousands before him, he concluded, "And, yes, eventually the White House changed."
Indeed, a black president was not on anyone's list of demands when the March on Washington was staged in 1963. They wanted passage of President Kennedy's civil-rights bill, desegregation of all public schools, voting rights, federal training for the unemployed, and an increase in the minimum wage to $2 an hour. In the week of the march, they lobbied for the appointment of the first black captain on the Washington, D.C., police force. They pushed for the right to sit in a steak restaurant on Route 301 in Prince George's County, Md., whose owner was refusing service to blacks. Their sights were set far below the White House.
At the time of the march, there were only five black members of the House and no black mayor of a major city. Soon, Washington would have black mayors and black police chiefs, and Prince George's County would be majority black. It would be four years after the march before Carl Stokes in Cleveland would become that first mayor; 26 years before Doug Wilder in Virginia would become the first post-Reconstruction black governor; and 45 years before Obama would win the presidency.
So this was a day for taking stock of progress even while setting the future agenda. It was, said Delegate Eleanor Holmes Norton, D-D.C. — a staffer who helped organize the 1963 march — "a worthy encore." That was especially true for Rep. John Lewis, D-Ga., the only surviving speaker from the original march.
"Sometimes," he said, "I hear people saying nothing has changed. But for someone to grow up the way I grew up in the cotton fields of Alabama to now be serving in the United States Congress makes me want to tell them come and walk in my shoes. Come walk in the shoes of those who were attacked by police dogs, fire hoses, and nightsticks, arrested and taken to jail."
Recalling his first trip to Washington in 1961 — the year Obama was born — he spoke of the Freedom Rides to allow blacks to ride on Greyhound buses. "Over 400 of us were arrested and jailed in Mississippi during the Freedom Rides. A bus was set on fire in Anniston, Alabama. We were beaten and arrested and jailed," Lewis said. "But we helped bring an end to segregation in public transportation."
In his speech, the president recognized the sacrifices of Lewis's generation. "America changed for you and me," he said. "But," he added, "we would dishonor those heroes as well to suggest that the work of this nation is somehow complete." The marchers of 1963 were here for "jobs as well as justice." And that promise has not been met, he noted, with black unemployment still double white joblessness.
To meet that challenge, Obama suggested that a dysfunctional government will have to improve. "Our politics has suffered," he said, blaming "entrenched interests" and elected officials "who found it useful to practice the old politics of division, doing their best to convince middle-class Americans of a great untruth, that government was somehow itself to blame for their growing economic insecurity."
He said the country faces "a choice" between "our current path in which the gears of this great democracy grind to a halt" or a return to the idealism of those who assembled here in 1963. "We'll have to reignite the embers of empathy and fellow feeling, the coalition of conscience that found expression in this place 50 years ago."
Obama's remarks followed shorter speeches by Presidents Carter and Clinton; all living former presidents were invited to speak, but George H.W. Bush could not travel because of his health and George W. Bush is recovering from surgery.