Obama, Bayard Rustin, and the New LGBT Civil-Rights Movement
As the U.S. celebrates the equality movement of the 1960s, a new one is on the march. Could anyone have tethered the two like the first black president?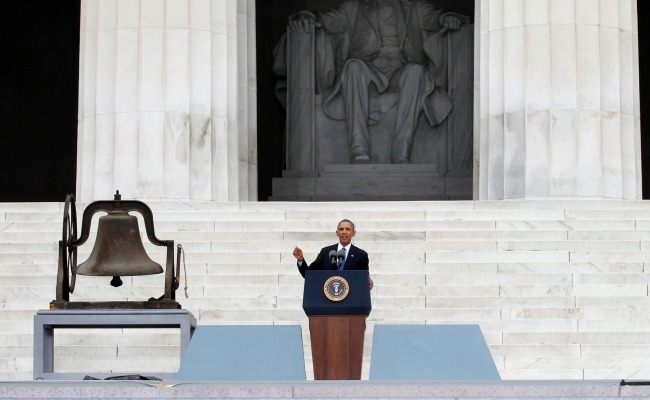 On the eve of Martin Luther King Day in January 2008, Senator Barack Obama took the lectern at Atlanta's Ebenezer Baptist Church, where King had served as a pastor nearly half a century earlier.
As one might expect, Obama echoed the words of the civil-rights icon who had helped pave the way for his own career.
"'Unity is the great need of the hour,' is what King said,'" noted Obama, who was in the middle of a primary showdown with Senator Hillary Clinton and John Edwards. But instead of serving up a plate full of feel-good gospel to the faithful before him, he challenged the audience later in his speech.
"If we're honest with ourselves, we'll acknowledge that our own community has not always been true to King's vision of a beloved community," Obama said. "We have scorned our gay brothers and sisters instead of embracing them. The scourge of anti-Semitism has, at times, revealed itself in our community. For too long, some of us have seen immigrants as competitors for jobs instead of companions in the fight for opportunity."
Ten days later, Edwards ended his candidacy and his supporters -- who included a number of high-profile LGBT-rights advocates -- scrambled to make sense of the field that was left and figure out where to throw their support. Among their major considerations were the candidates' basic positions on gay rights, their stance on the Iraq war, and then there was the question of who would best understand and embody their yearning for freedom and equality: the first female president or the first African American president?
"We felt that more than anybody, someone who had been a result of the civil-rights movement of the '60s would understand the civil-rights movement of this century," recalls David Mixner, a longtime gay-rights activist. So just two days after Edwards dropped out, Mixner and a couple dozen peers on the Edwards LGBT steering committee announced that they would move over to the Obama camp.
Reflecting back, Mixner acknowledges that the conversations preceding that decision weren't entirely comfortable.
"There were those who were reluctant to call us a civil-rights movement because they felt it would be offensive to African Americans, and for some it was," he says. "But we felt that until we really defined ourselves as a civil rights movement, beyond partisan identity, beyond political identity -- and certainly not as a political interest group -- we would not be successful."
But after taking office, President Obama's progress on LGBT equality did not initially match the expectations he had created during his presidential bid. By May 2009, Mixner was calling for a national equality march to register discontent with what he and many others saw as the administration's anemic effort to advance gay rights.
Five months later, a throng of approximately 200,000 queer activists and straight allies gathered on the National Mall to call on Obama to make good on his promises to the gay community. But instead of meeting with Mixner and the march's young organizers, Obama spoke the night before the march to a well-heeled crowd of about 3,000 at the annual Human Rights Campaign gala.
Yet the foot soldiers at the march were undeterred. They would launch an aggressive direct-action campaign over the next year that helped provide the juice to finally repeal "don't ask, don't tell" before the close of 2010, when Democrats lost control of the House of Representatives. If that effort had failed, the law would likely still be on the books..
Though the early days of his administration left many LGBT activists wanting, not only was the military's gay ban overturned on his watch, but he declared the love of committed same-sex couples equal to his own and, at the outset of his second term, his Justice Department made forceful arguments to the Supreme Court on behalf of marriage equality and against the Defense of Marriage Act.
And during his inaugural address, a newly reelected President Obama made explicit the connection to which he'd alluded at Ebenezer Baptist, likening the protesters at Stonewall to the suffragettes at Seneca Falls and civil-rights marchers at Selma. In doing so, he anointed LGBT equality the civil-rights movement of the current generation.
As Mixner and others had wagered, it would take the product of one great American movement to recognize the heart of another. Indeed, perhaps only an African-American president could have bestowed that type of legitimacy on the fight for gay rights.
When Obama invokes the lessons of the civil-rights movement -- as he did Wednesday at the 50th anniversary of the March on Washington -- he does so imbued with the understanding that history repeats itself.
While Martin Luther King and his mesmerizing "dream" are rightly remembered as a flash point for the justice that black Americans have sought, we are a nation constantly in search of new heroines and heroes and history and causes. This week, Secretary of Labor Tom Perez, the former head of the Justice Department's civil-rights division, wrote a White House blog post honoring Bayard Rustin, whom President Obama honored posthumously with a Presidential Medal of Freedom earlier this month.
Rustin was an openly gay black man who helped mastermind the 1963 March on Washington. But he and especially his sexuality have routinely been overlooked by historians.Perez, who used to teach law at University of Maryland, noteD that when he would write "civil rights" on the board and ask his students what came to mind, the answers were typically "Martin Luther King" and "Brown v. Board of Education" or sometimes "Elizabeth Cady Stanton."
 "I can't remember a single time that anyone ever said 'Bayard Rustin,'" he writes. "That's a failure of history."
 But it's one that is in the process of being rectified.