No Matter What, D.C. Insiders Don't Lose Expert Status
The latest staggering example: treating John Yoo as an authority on the president's authority to intervene in Syria.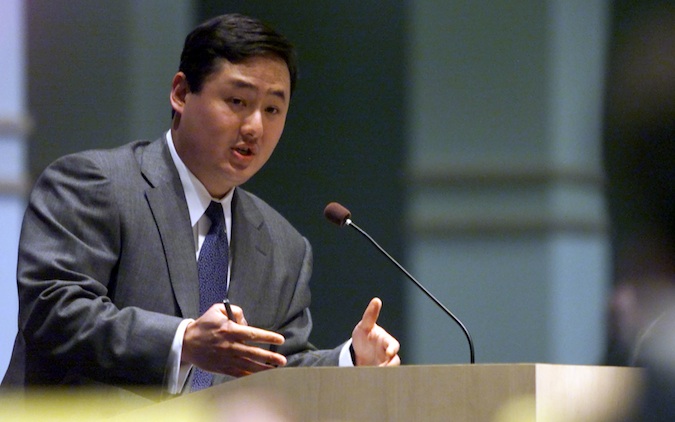 Earlier this week, I complained that no one ever seems to lose expert status in Washington, D.C., especially in the realm of national security. Being proved repeatedly, catastrophically wrong by events just isn't all that damaging -- so long as you have the right affiliations, social standing, or partisan connections. Status as an expert is almost totally severed from one's track record.
On Wednesday I came across an example.
The Federalist Society alerted journalists, via a PR firm, that they'd be holding "a teleforum conference call to discuss the President's authority to intervene in Syria." Look at the experts they lined up:
John Yoo, Professor of Law at the  University of California Berkeley School of Law and Saikrishna B. Prakash, Professor of Law at the University of Virginia School of Law will be the featured experts on the call.
John Yoo.
As a former Bush Administration official, he's well-connected in Washington conservative circles. A bogeyman of liberals, he enjoys a certain standing in the conservative movement. His track record?
Let's take a trip down memory lane:
The ethics lawyers, in the Office of Professional Responsibility, concluded that two department lawyers involved in analyzing and justifying waterboarding and other interrogation tactics -- Jay S. Bybee, now a federal judge, and John C. Yoo, now a professor at the University of California, Berkeley -- had demonstrated "professional misconduct." It said the lawyers had ignored legal precedents and provided slipshod legal advice to the White House in possible violation of international and federal laws on torture. That report was among the documents made public Friday.  
What saved Yoo from an official finding of professional misconduct on his record?
David Margolis, a career lawyer at the Justice Department, rejected that conclusion in a report of his own released Friday. He said the ethics lawyers, in condemning the lawyers' actions, had given short shrift to the national climate of urgency in which Mr. Bybee and Mr. Yoo acted after the attacks of Sept. 11, 2001. "Among the difficulties in assessing these memos now over seven years after their issuance is that the context is lost," Mr. Margolis said.  
And what did Margolis think of Yoo's legal analysis?
Mr. Margolis said that in rejecting harsher sanctions, "this decision should not be viewed as an endorsement of the legal work that underlies those memoranda." But he said the legal advice of Mr. Yoo and the other lawyers, while "flawed" and insufficient in some areas, did not rise to the level of "professional misconduct," which could have resulted in bar reviews or other disciplinary action. Indeed, Mr. Margolis's 69-page report was often more critical of the ethics office than of the Bush administration lawyers themselves. Mr. Margolis, who has served at the Justice Department for more than three decades and handles many high-level disciplinary issues, saved some stinging criticism for Mr. Yoo.

"While I have declined to adopt O.P.R.'s findings of misconduct, I fear that John Yoo's loyalty to his own ideology and convictions clouded his view of his obligation to his client and led him to author opinions that reflected his own extreme, albeit sincerely held, view of executive power while speaking for an institutional client," Mr. Margolis said.  
So let's review.
On the subject of his purported expertise, Yoo is an extreme outlier. Ask 100 experts on executive power about his analysis, and 99 will say it goes too far, assuming he is in the group consulted. If every Supreme Court justice wrote a treatise on executive power, none would grant the executive as much power as Yoo, and his views are in a tiny minority in both Congress and among the public. He once asserted that the president may be empowered to crush the testicles of an innocent child to glean more information from his father during an interrogation.
But that isn't all.
When Yoo last worked in his area of purported expertise, he empowered an illegal program of torture. His memos were repudiated by the executive branch when they came under scrutiny. Some colleagues deemed Yoo's analysis so poor that it constituted professional misconduct. The most that could be said in Yoo's defense, by the man who saved him from that verdict, is that his ideology and extreme views so clouded his judgment that it compromised his ability to give analytically sound advice -- exactly the sort of skill one needs in a conference call with reporters.
Despite all that, the Federalist Society has chosen Yoo, among all the available options, to be one of its experts on legal questions -- executive power prominent among them -- surrounding intervention in Syria. "Expert status" is never taken away for being repeatedly, catastrophically wrong in D.C.