NewsBusters Wants You to Know That Karen Finney Is 'Half-Black'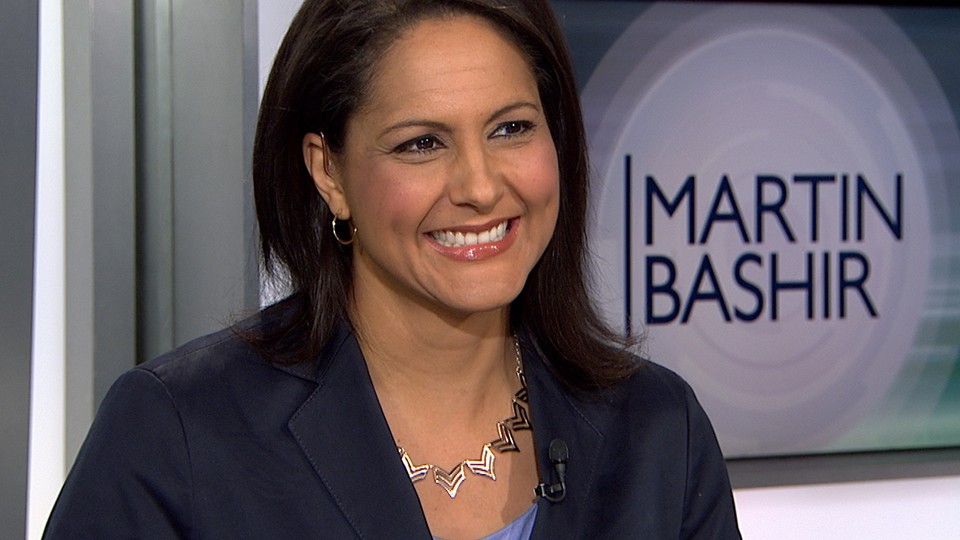 NewsBusters, the right-leaning media watchdog, identified MSNBC host Karen Finney as "half-black" in its criticism of her reporting, drawing the host's ire and taking the publication into the perilous territory of racial politics.
In a Thursday evening post accusing Finney of bias in her reporting on Republicans' legislative agenda in North Carolina, NewsBusters noted Finney's former position as a Democratic National Committee press secretary, saying that a segment on her Sunday show betrayed a liberal bias against conservative policies.
"Former DNC press secretary Karen Finney continues to use her MSNBC show to brazenly fly her partisan flag," On Sunday's Disrupt with Karen Finney, the half-black host slammed North Carolina as a state that showcases the Republican "agenda on steroids."
Finney tweeted at NewsBusters Friday, questioning why it had chosen to identify her race in the post.
Paul Bremmer, a Media Research Center intern and author of the post, declined to comment to National Journal on why he identified Finney's race, saying interns weren't authorized to speak to the media. He said he had been an intern at MRC since January.
Bremmer referred questions to Tim Graham, MRC's Director of Media Analysis.
"I'm completely puzzled as to how describing a host as "half-black" on a racial subject (voter ID) is in any way exceptional, not to mention inappropriate," Graham said via email Monday.
The current AP Style Guide on "race" says:
Identification by race is pertinent:
""In biographical and announcement stories that involve significant, groundbreaking or historic events, such as being elected U.S. president, being named to the U.S. Supreme Court or other notable occurrences. Barack Obama is the first black U.S. president. Sonia Sotomayor is the first Hispanic justice of the U.S. Supreme Court. Jeremy Lin is the first American-born NBA player of Chinese or Taiwanese descent.
""For suspects sought by the police or missing person cases using police or other credible, detailed descriptions. Such descriptions apply for all races. The racial reference should be removed when the individual is apprehended or found.
""When reporting a demonstration or disturbance involving race or such issues as civil rights or slavery.
In other situations with racial overtones, use news judgment.
Do not use racially derogatory terms unless they are part of a quotation that is essential to the story.
This post was updated at 3:49 Monday to include NewsBusters' response.