Kerry Asserts Syrian Regime Used Chemical Weapons, Says Assad Must Be Held Accountable
Meanwhile, Russia's foreign minister says there is no proof, and urges the U.S. to show restraint.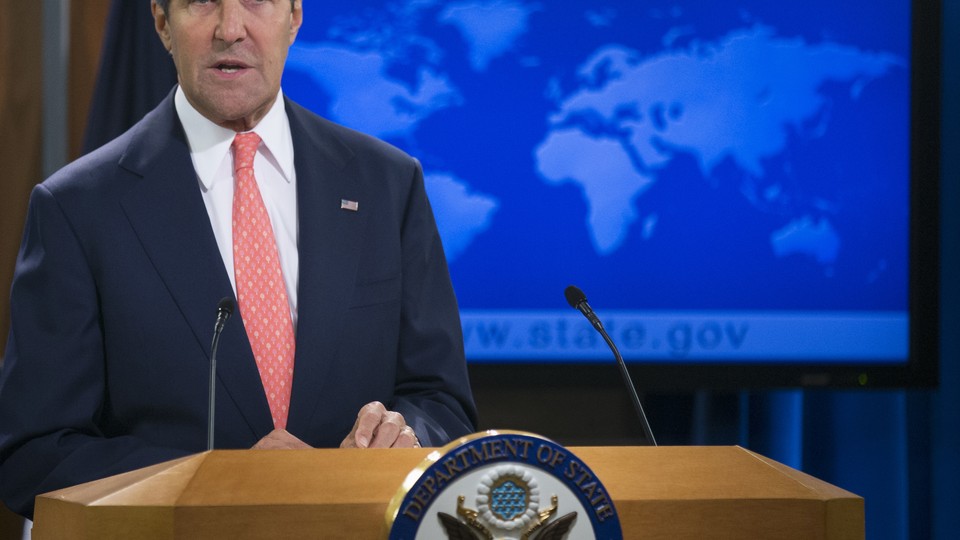 Five days after an attack that claimed the lives of hundreds of civilians in a Damascus suburb, the United States is declaring that the Assad regime did indeed use chemical weapons against Syrian civilians.
Though United Nations inspectors have not been able to investigate the attack in full, U.S. officials seem to have enough information to confirm responsibility and the weapon used in the attack that killed 355 people, according to Doctors Without Borders.
Secretary of State John Kerry was the first administration official to speak openly about the attack since President Obama and his top national security advisers met in an emergency session Saturday. Speaking from the State Department on Monday, Kerry said the Assad regime's suspected chemical-weapons use last week "defies any code of morality."
"The indiscriminate slaughter of civilians, the killing of women and children and innocent bystanders by chemical weapons is a moral obscenity," Kerry told reporters. "By any standard it is inexcusable, and despite the excuses and equivocations that some have manufactured, it is undeniable."
Now, the question shifts from whether the U.S. will use force against the Assad regime to when it will use force. Indeed, the U.S. is in talks with its allies, including France and the U.K., on what sort of force it will use. According to several reports, a cruise-missile launch from the sea is the leading option. Whatever Washington decides, it is clear that the U.S. will act, at least according to Kerry.
"President Obama believes there must be accountability for those who would use the world's most heinous weapons against the world's most vulnerable people," Kerry said. "Nothing today is more serious, and nothing is receiving more serious scrutiny."
Such force does not need congressional approval, but some lawmakers have called on the White House to consult with Congress before taking any action. And with Congress on its extended vacation currently, it's unlikely congressional leaders could get something passed. Nor, however, would congressional authorization be easy to come by. In 1991, congressional authorization for the U.S. to invade Kuwait to chase Saddam Hussein out of the oil-rich nation passed with only 52 percent.
Kerry said the Obama administration would consult with congressional leaders in the coming days. Over the weekend, several lawmakers on both sides of the aisle said they were open to taking action in Syria.
In his remarks, Kerry referenced videos that showed people convulsing, struggling to breath, foaming at the mouth. These images, he said, show "human suffering that we can never ignore or forget."
"Anyone who could claim that an attack of this staggering scale could be contrived or fabricated needs to check their conscience and their compass," Kerry continued. "What is before us today is real, and it is compelling."
Right now, U.N. scientists are on the ground attempting to investigate this latest attack. But with the persistent shelling by the Assad regime on the area, it will be difficult to find conclusive evidence.
"That is not the behavior of a government that has nothing to hide," Kerry said. "That is not the action of a regime eager to prove to the world that it had not used chemical weapons. In fact, the regime's belated decision to allow access is too little and too late to be credible."
On Monday morning, the U.N. said investigators were under sniper fire. Their vehicles were replaced and they went back to work later in the day.
In a press conference that can be seen as the mirror opposite of Kerry's, Sergei Lavrov, the Russian foreign minister, on Monday urged restraint on part of the United States, saying there is no evidence to confirm that the chemical attack happened or if it happened by the direction of the Assad regime. As The Washington Post reports, he said if the United States and its NATO allies attack without a U.N. sanction, it would amount to a "severe violation of international law."
While Kerry was speaking of the Assad regime's "moral obscenity" and threw out accusations of a cover-up, Lavrov's outrage was focused westward. "Official Washington, London, and Paris say they have incontrovertible evidence that the Syrian government is behind the chemical attack in Damascus, but they have not yet presented this evidence," Lavrov said, as transcribed by the Russian news outlet RT. "Yet, they keep saying that the 'red line' has been crossed."
He also repeated a similar statement to British Prime Minister David Cameron over a phone call. While on the call, "they both reiterated the position agreed by all leaders at the G-8 in June: No one should use chemical weapons and any use would merit a serious response from the international community," according to a Downing Street press release. But while Cameron maintained little doubt of the Syrian leader's guilt, Lavrov said Russian President Putin believes there is little evidence.
Any action by the U.S. and its allies, however, will likely happen in the next few days. Any longer, and the window for action closes.
{{ BIZOBJ (video: 4402) }}