If You're an Old Republican, You Probably Want to Go Back to the '50s
Meanwhile, Democrats and millennials love the 1990s. What do our partisan and generational nostalgias say about us?
Obviously, things were better back in the day. The question is, when was that day?
As this great graph from The Economist and YouGov shows, more Americans seem to think those days were the 1950s than any other decade. Perhaps it's unsurprising that the post-war decade -- with the economy thrumming, steady Ike in the White House, and Vietnam still far off in the future -- score highly, but it's a bit surprising just how highly. (Nostalgia is a disease, folks!)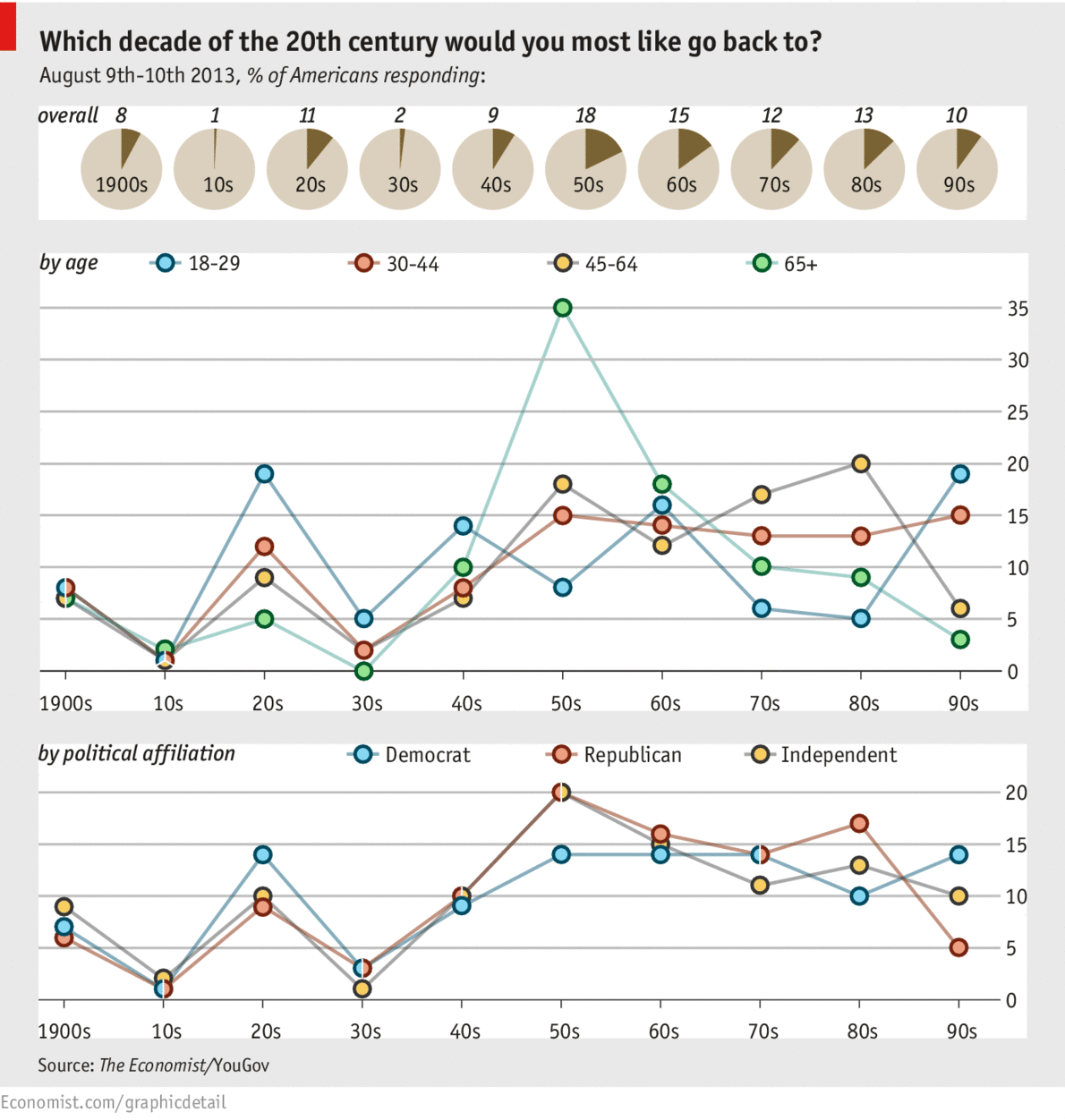 The biggest fans are the senior citizens who were enjoying their youths back then, along with Republicans. (Although what's the difference? Data from elsewhere show there's a strong correlation between age and GOP affiliation.) And why are young people so down on that decade in comparison to the rest of the population?
It's striking how divergent the trends are starting after the 1960s. Perhaps it's that recent history remains subject to conflicting interpretations, or maybe this diffusion reflects a real disaggregation in American society after the turbulent 1960s, as the culture wars took off and groups that had once cohered came apart along both partisan and generational lines. The most dramatic illustration is between how ages 45-64 and Republicans love the 1980s and detest the 1990s, while Democrats and millennials show a nearly perfect mirror. (As a millennial, let me say that the 1980s hold no allure for me whatsoever. I mean really.)
There seems to be something about pre-recession booms for Democrats, who yearn for the Roaring '20s or the Roaring '90s at about the same rate. But if there's one decade that got robbed, it's the 1910s. Obviously, no one wants to go back to the Depression era of the 1930s, and yet it did better than the teens. And sure, World War I sucked. But that's also the decade that gave us the golden age of the Model T, Einstein's theory of general relativity, The Lovesong of J. Alfred Prufrock, and Charlie Chaplin.
Hat tip: Rebecca J. Rosen