How Richard Nixon Fooled Friends and Influenced People
A colorful 1974 account shows how the 37th president set elaborate verbal traps for his closest allies.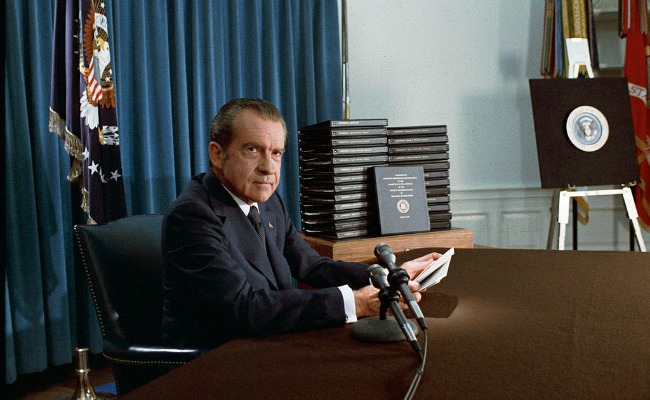 Thirty-nine years ago today, President Richard Nixon resigned from office with a speech as earnest and noble as circumstances would allow.* The public wasn't in the mood to forgive and forget. In 1974, lawyer and crime novelist George V. Higgins wrote a colorful account for The Atlantic of how Nixon fooled and humiliated his most loyal supporters, right up to the very last minute.
What made Nixon unique among presidents, Higgins explains, wasn't his arrogance or his ruthlessness. It was his passion for lying. The author uses official transcripts to show how Nixon ensnared the attorney general in a particularly brilliant verbal trap: "It was as well-machined as a Porsche, as well-proportioned as a beautiful woman, as fragile and as strong as Charlotte's web. Some pig."
Read "The Friends of Richard Nixon" in the November 1974 Atlantic.
---
* Correction: This post originally stated that Nixon resigned 40 years ago. We regret the error.