How Obama Is Heeding the Lessons of Martin Luther King Jr.
The president's renewed call for economic fairness echoes King's push for jobs 50 years ago during the March on Washington.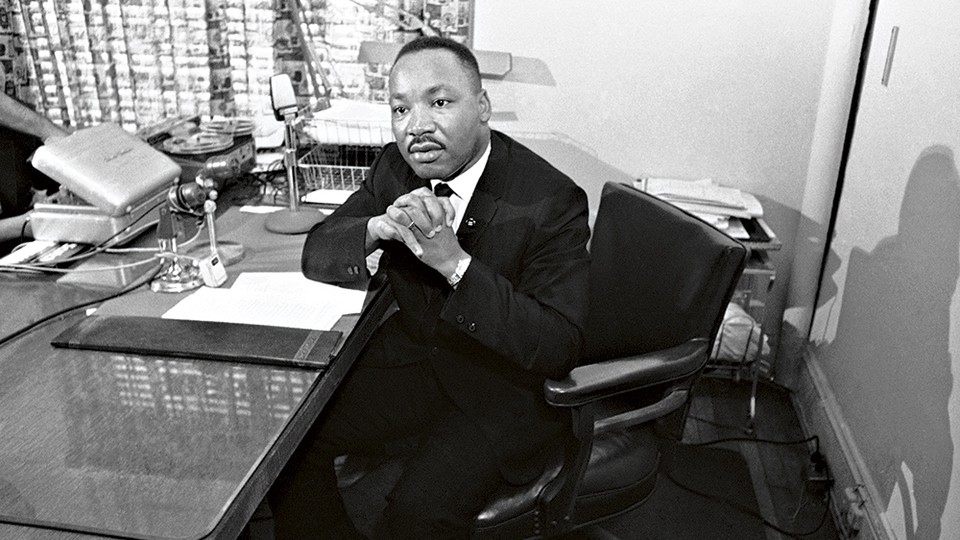 Barack Obama has always seen himself as a member of the "Joshua generation" in the fight for civil rights in America, one who paid tribute and offered respect to the "Moses generation" but wasn't there when his elders were fighting those tough battles against Jim Crow and segregation and racism. Given the obvious generational differences, perhaps it wasn't surprising that Obama and the civil-rights establishment were not an immediate fit when he declared his candidacy in 2007. Pillars of the movement, such as John Lewis, Vernon Jordan, and Andrew Young, were slow to embrace the young senator — who was only 6 years old when Martin Luther King Jr. was assassinated.
But as the capital prepares for the commemoration later this month of the 50th anniversary of King's historic March on Washington, the president has revealed an unmistakable appreciation of the civil-right icon's motivations. That came through this week in a little-noticed segment of Obama's interview with The New York Times. The president drew a direct line between his economic policies, his belief that growing income inequality is threatening the American Dream, and the jobs crusade that King was mounting in his final days.
"When you think about the coalition that brought about civil rights, it wasn't just the folks who believed in racial equality," Obama said. "It was people who believed in working folks having a fair shot. It was Walter Reuther and the UAW coming down here because they understood that if there are some workers who are not getting a fair deal, then ultimately that's going to undercut their [own] ability to get a fair deal." The point, he stressed, "is that America has always worked better when everybody has a chance to succeed."
Aides say the president has been heavily influenced by the writings of Harvard's Robert Putnam, who has argued that class issues are more daunting today than race issues. In the interview, he cited Putnam's theories on growing inequality, something Obama believes has been made worse by the recession. "Everything I am proposing and everything I will be proposing over the next three years goes right at that issue," said Obama in the interview. He added, "And racial tensions won't get better; they may get worse, because people will feel as if they've got to compete with some other group to get scraps from a shrinking pot."
Noting the Trayvon Martin verdict has provoked another national conversation about race, Obama said the true debate should be about jobs, suggesting that would be in the tradition of King. It has been widely reported that soon after becoming president, Obama placed a bust of King in the Oval Office. But less well-known is that he imported something else: a framed original of the program from the 1963 March on Washington, now on his bookshelf. "I always remind people," he told The Times, "that was a march for jobs and justice, that there was a massive economic component to that."
The linkage is welcomed by today's civil-rights establishment, leaders troubled by the stubbornness of the recession in the African-American community but encouraged by the latest White House moves. They read that Times interview and they listened to Obama's jobs speech in Galesburg, Ill., and they liked what they saw and heard. It wasn't that the president outlined any new proposals — he didn't. It was that he talked openly about what he called in his speech "this growing inequality" and declared, "Reversing these trends has to be Washington's highest priority." These are words many civil-rights leaders had wanted to hear in his second Inaugural Address and his State of the Union speech this year.
And the movement leaders underscored the jobs and justice connection when 17 of them — representing groups including the NAACP, the Leadership Conference on Civil Rights, and the National Council of La Raza — came to the White House on Tuesday. Ostensibly, they were there to talk about the Supreme Court's evisceration of the Voting Rights Act. But with black unemployment at an unacceptable 14.3 percent, first they wanted to talk about jobs.
"That's how we began our meeting," said Wade Henderson, 65, president and CEO of the Leadership Conference on Civil Rights. Jobs, he stressed, "are a civil- and human-rights issue, and we are so glad the president lifted up that topic for future conversation." Roslyn Brock, chairman of the NAACP's board of directors, told National Journal, "We applauded the president and his understanding that ... living-wage jobs is a civil right for all Americans."
Barbara Arnwine, president and executive director of the Lawyers' Committee for Civil Rights Under Law, said the president is responding to a crisis in the minority community. "People have just lost their class status. They have gone from middle class to poor," she said passionately. "It is a civil right. If you don't have a job, who are you?"
Arnwine sees the president's recent comments as pointing the way to second-term policies that will attack economic inequalities with more vigor than he did in the first term. "On the 50th anniversary of the March on Washington, remember that a big focus of that march in 1963 was on jobs," she said. "And, today, here we are again." As a self-described Joshua trying to carry on Moses' work, the president faces the challenge of tackling growing economic inequalities, to provide hope to the hard-hit African-American community while also demonstrating to struggling whites — many of whom did not support him in last year's election — that they, too, will benefit from policies that lift them into the middle class.