Hotline's Inaugural 2014 Senate Rankings
Republicans have the majority in their sights, but they haven't expanded the playing field.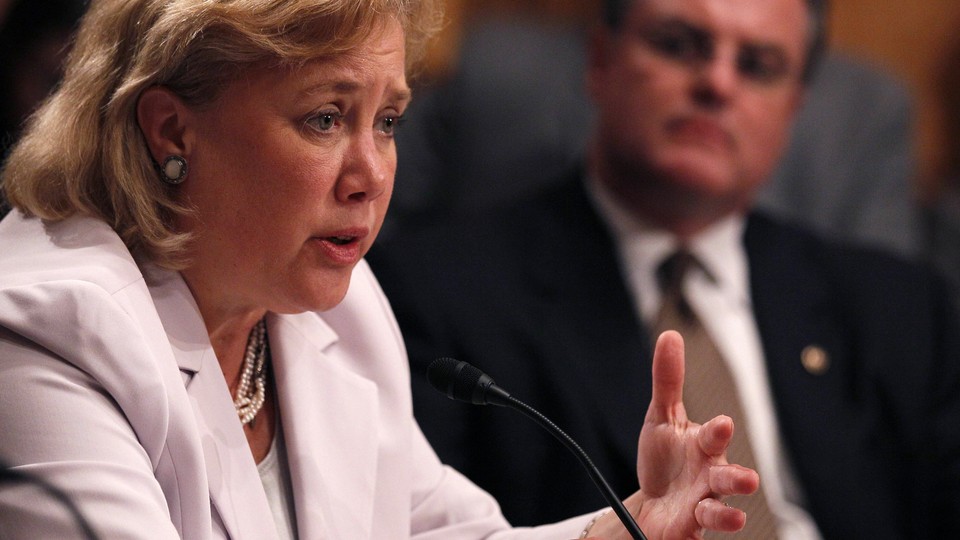 The battle for the Senate is primed to go down to the wire. Democrats can lose up to five seats while retaining the majority — assuming Cory Booker wins October's special election in New Jersey — but the party is threatened by members facing tough races in the Deep South and other conservative states. Already, races for three Democratic-held open seats (Montana, South Dakota, and West Virginia) are favoring Republicans, and Sen. Mark Pryor is looking in tenuous shape in Arkansas.
But as strong a cycle as this is looking for Republicans, that's as attributable to the very conservative bent of the "playing field" as it is to the environment or strong recruitment. Democratic Sens. Al Franken, Mark Udall, Jeanne Shaheen, and Mark Warner look like solid favorites to win second terms, without facing formidable opposition (yet). Republicans have struggled with recruitment in Iowa with a muddled field of candidates, and in Michigan, where the party isn't thrilled with its likely nominee, Secretary of State Terri Lynn Land.
These are all battleground states, and the lack of quality candidates doesn't give the GOP much margin for error in winning a majority. Democrats, meanwhile, landed solid candidates in states where the party faces longer odds: Kentucky and Georgia.
So bet on a late night next November to see which party runs the show. One intriguing scenario for political junkies: Republicans take enough seats to win control, but GOP Leader Mitch McConnell loses his own race, costing the party. That's not likely, but it's not impossible, either.
Here are The Hotline's inaugural 2014 Senate rankings of the seats most likely to switch parties. (We're not including New Jersey on the list, which was held by Democrats until Gov. Chris Christie appointed GOP Sen. Jeff Chiesa on an interim basis.)
1. South Dakota (Democratic-controlled)
The most interesting part of this race is the Republican primary. Former Gov. Mike Rounds is the heavy favorite, but fiscal conservatives aren't fans of his gubernatorial record. State Sen. Larry Rhoden is challenging Rounds for the GOP nomination. Democrats aren't looking like they'll be able to exploit the intraparty rift, losing out on their top recruits. For now, that leaves them with former Tom Daschle staffer Rick Weiland, who isn't expected to put the seat in play.
2. West Virginia (Democratic-controlled)
Republican Rep. Shelley Moore Capito is the solid favorite to win. The Democratic Party's position on energy (read: coal) has made it increasingly difficult for it to compete — or even recruit — in what was once a solidly Democratic state. Senate Majority Leader Harry Reid has hinted that a surprise Democratic candidate could be announcing. If it's Secretary of State Natalie Tennant, the race would be worth watching.
3. Montana (Democratic-controlled)
Democrats can win in Montana — they've won 19 of the past 22 Senate races in the state — a point proven by the election of Gov. Steve Bullock and reelection of Sen. Jon Tester last year. But the party can't find any candidates willing to run this time around. After former Gov. Brian Schweitzer stunned supporters by passing on the race, a host of second-tier candidates opted out, too. Republicans are rallying behind freshman Rep. Steve Daines, even though he hasn't announced his intentions yet. Daines would start out as the early favorite, after winning statewide in a federal race last year.
4. Arkansas (Democratic-controlled)
The next several months will determine whether the state's deeply conservative bent will overwhelm Democrat Mark Pryor's personal popularity. Remember: Blanche Lincoln lost by a 21-point margin in 2010. And polls already show Pryor in trouble. Even if the environment isn't quite as bad and Pryor runs a better campaign than Lincoln, he still has to overcome a punishing statewide environment. Rep. Tom Cotton, an Iraq war veteran, gives Republicans one of their strongest recruits this cycle. But he could be vulnerable over leaving the House so quickly for a promotion. Democrats are also hitting him for lonely votes against reducing student-loan interest rates and on the farm bill — and are betting that his hawkish views on national security won't sell.
5. Alaska (Democratic-controlled)
Joe Miller's fall from grace within the Alaska GOP is one bit of encouraging news for Senate Republicans. A PPP poll confirmed the state intel: The erratic tea-party favorite faces long odds against the early favorite, Lt. Gov. Mead Treadwell. The survey also found Democratic Sen. Mark Begich polling at only 44 percent, a low number, against Treadwell. Also: Keep an eye on Alaska's Natural Resources Commissioner Dan Sullivan, a Marine Corps lieutenant colonel who recently deployed to Afghanistan. Republican operatives in Washington think his biography is more compelling than that of the low-key Treadwell.
Alaska polling is notoriously volatile, and Begich is still well-liked. But as in Arkansas, the national environment could be the decisive factor here if Republicans nominate the right candidate. Expect Democrats to focus on Begich's Alaska roots, in contrast to Treadwell and Sullivan, who grew up in the lower 48.
6. Louisiana (Democratic-controlled)
Mary Landrieu's seat could be the Democratic firewall to protect the party's majority. Despite the state's conservative electorate, she's a strong incumbent, with a history of outperforming early expectations. Her brother's popularity as mayor of New Orleans should help Landrieu win a little crossover support. And she benefits from Louisiana's unusual election rules, where all candidates compete on the same November ballot and head to a runoff if no one wins 50 percent. That could mean the GOP front-runner, Bill Cassidy, will have to focus efforts on protecting his right flank rather than taking on Landrieu full time.
7. Kentucky (Republican-controlled)
Republicans are as nervous as ever about McConnell, even though they view him as the favorite. His own polling shows him with middling approval ratings, and he faces a well-funded challenger (Matt Bevin) on his right. In Alison Lundergan Grimes, the Democrats have a dynamic candidate who should make this a competitive race until the end. Her biggest challenge is distancing herself from President Obama, his health care law, and the national Democratic positioning on energy, all of which are toxic in Kentucky. There's a reason her campaign slogan is "Team Switch." If the race becomes a referendum against McConnell, she can win. If her stances on issues become the focus, it becomes a lot harder.
8. North Carolina (Democratic-controlled)
Comparing the vulnerable Southern Democratic senators, there are two schools of thought among strategists. Some posit that Kay Hagan is more vulnerable than Landrieu and Pryor because she's the least experienced and isn't well-known. Others believe her anonymity could be an asset and that she stands to benefit from North Carolina's changing demographics in favor of Democrats.
Hagan's biggest asset may end up being the middling quality of the Republican opposition. The early front-runner, state House Speaker Thom Tillis, has seen his campaign defined early on by the Legislature's rightward turn. He'd much rather be talking about his previous business background and the economy, not the GOP's restrictions on voting accessibility. If he can't rebound with a stronger message or if Republicans don't land a more compelling alternative, Hagan may be in for a smoother ride than expected.
9. Georgia (Republican-controlled)
The race will come down to whom Republicans nominate and whether Democrats can mobilize African-American turnout in the state. The three House members running — Reps. Paul Broun, Phil Gingrey, and Jack Kingston — all look like underwhelming candidates. Broun and Gingrey, in particular, have a history of controversial statements that spark memories of Todd Akin. But Republicans also have former Secretary of State Karen Handel and businessman David Perdue, who don't have Washington baggage, in the mix. Handel, who gained fame from her outspoken opposition to Planned Parenthood grants at the Komen Foundation, would probably be their strongest candidate.
As in Indiana last year, Democrats have a capable candidate in Michelle Nunn, daughter of the former senator. They face the arduous but necessary task of identifying black voters and getting many to show up when Obama isn't on the ballot. If Republicans nominate another not-ready-for-prime-time candidate, they could make this a race to watch.
10. Iowa (Democratic-controlled)
Make no mistake: Democrats hold a clear advantage in the race to succeed liberal Sen. Tom Harkin. Rep. Bruce Braley is a talented politician who banked more than $2 million after the second quarter, and none of the Republican challengers look ready for prime time — right now. But Iowa should be a state where the GOP can win an open seat. Obama's job-approval number is down to 41 percent, per Quinnipiac, and Republicans have time to sort out their crowded field.