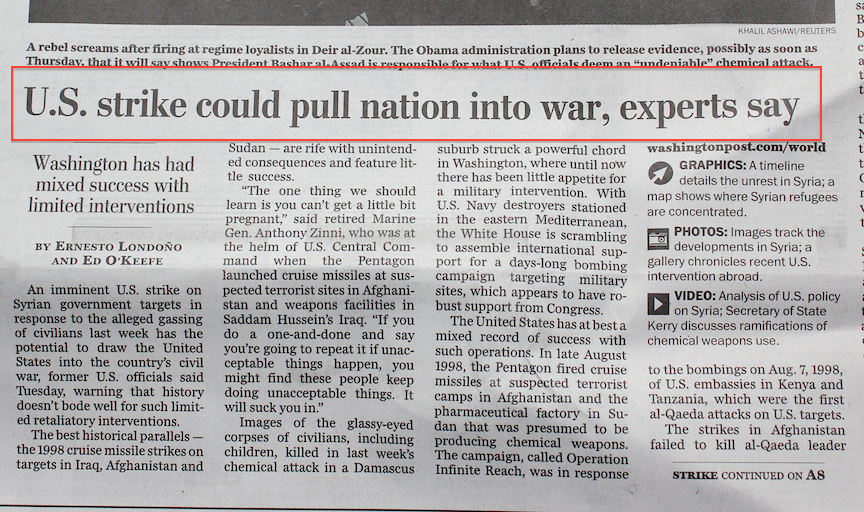 Now that I think about it, I kind of see how that could happen. You bomb a country, and the next thing you know you are pulled into a war. Good thing we have experts to help us connect the dots. 
(Actually, apart from the Onion-esque headline, the contents of this front-page piece from today's WaPo are excellent, based on interviews with real military experts about the unforeseen and unforeseeable consequences of "limited" and "surgical" military actions.)
Here's a note just now from another genuine expert, my friend and one-time teacher Charles Stevenson, long of the National War College and the Senate Armed Services Committee staff: 
I share your concerns about the consequences of punitive strikes against Syria -- too weak to change the military situation yet making America militarily involved with all manner of risky consequences.
 

I don't believe the President really needs congressional approval for a deliberately short and limited set of attacks on Syria, though he obviously should consult with congressional leaders. I also doubt that the current Congress could give advice and consent in a timely or coherent way, given the hyperpartisanship there and its failure to do more than bluster at the time of the Libyan raids.
 

On the other hand,

I'm pleased that Britain, which lacks our explicit constitutional provisions for war powers, is still going to have a parliamentary vote

 on the issue. I wish we would do the same.
To Stevenson's proposal in the third paragraph: No kidding. And Obama himself should be the first to grasp the point. Completely apart from the procedural nicety of involving the rest of the government in authorizing the use of force, he has a compelling political interest in spreading the responsibility for this decision.