Ezra Klein Wishes He Had More Creative Epiphanies in the Shower
The veteran journalist discusses the slow, hard work of writing about politics.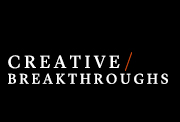 A series of interviews with leaders in media, tech, and the arts
See more
"It sounds like you wake up, you take a shower… and all of a sudden, you get this great idea. I've not found that it ends up working all that well," Ezra Klein says in the video above, from Atlantic Video's Creative Breakthroughs series.
Klein, the writer behind Washington Post's Wonkblog, a columnist at Bloomberg View, and a contributor at MSNBC, has won widespread recognition for his journalism. But there's no such thing as easy insight in political writing, he says; "It's much more 'slow boring of hard boards.' You're learning a little bit at a time."
His casual reference to the famous phrase from Max Weber's essay, "Politics as a Vocation," seems appropriate after a decade of writing about the political world.
This interview was filmed at the 2013 Aspen Ideas Festival.